An introduction to coarse fishing in BC
By Rodney Hsu, Fishing with Rod | Published in April 2001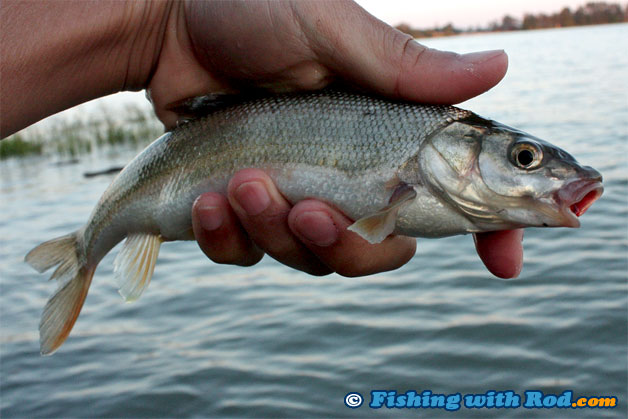 Often when people talk about fishing in British Columbia Canada, the species that pop up on their minds are often the salmonid species, such as the large chinooks, fast cohos and chrome sockeyes. However, people tend to overlook the other species and forget the fact that there are so many other types of fishing available on the west coast of Canada. These fish species include the many types of perch, rockfish and cod. In this month's article, I focus on a family of fish species that people tend to neglect, the minnows. Some representative species of minnows found throughout this province include the northern squawfish, peamouth chubs and carps.
Although they are relatively small compared to the mighty salmon, these fish can still provide excellent fishing time on light tackle, especially for the kids. In Europe, these freshwater fish are known as "coarse species". Anglers often worship them and there are even world coarse fishing championships every year in England!
The coarse fishing techniques are completely different to the types of fishing in North America. In North America, anglers find their catches by being mobile, such as moving up and down the river to find pools where trout and salmon are holding, or drifting along the edge of the lake for that big bass. Coarse fishing does not require much mobility from the angler. Instead of finding the fish, you are letting the fish to find you. Instead of using 10 to 15 pound line for salmon, you fish with 2 to 6 pound line due to the smaller size of the fish. The rods are also thinner, longer and more flexible. The hooks are also smaller, and only a small spinning reel is needed.
In general, coarse fishing employs the lightest tackle in the market to achieve that successful catch. Some other terminal tackles you need include small split shots, small swivels and a few types of float. In the remaining section of this article, I will explain in details the where, what and how of coarse fishing.
Every year between the months of May and September, besides the coastal salmon fishing and trout fishing in the interior, there are not much fishing left in Southern BC. Both salmon fishing and trout fishing can be expensive. Often most anglers don't know there are great fishing right outside their doorsteps. During the summer, the Fraser is filled with many other fish species besides salmon and trout. These include suckers, northern squawfish, peamouth chubs and bullheads.
What I've found so far is that fishing for these species has not been properly documented in magazines or books. When the water warms up, they can be found anywhere along the banks of Fraser River, particularly peamouth chubs. These fish are omnivores, meaning they would eat anything that they can fit in their mouths. There are some preferred food groups though, and I shall get into that later on in this article.
Like all other gamefish, dawn and dusk are the periods when these fish are often active, but on a lucky day they can be caught throughout the day. Peamouth chubs are usually around 20 to 30cm long, but occasionally one can encounter the monstrous 40cm fish. Larger fish are usually caught later on in the season. Squawfish can be excellent on light tackles, these fish can average between 30 to 40cm long, but it is very common to hook large ones up to 70cm long! During the summer months, there are many juvenile squawfish ranging between 10 to 15cm long, which can be a pest when targeting larger fishing.
Where should I go?
These coarse fish can be found anywhere on the Fraser River during the fishing season. Ideal places to go are sandbars or jetties, simply because it is more comfortable to fish in these areas. For those who are more adventurous, fishing on rocks or dykes can provide optimal results.
When searching for new places to fish, some important features you should look out for include:
Structure: Are the rocks, logs and vegetation present in the water? These small fish often look for structures to hide from predators such as sturgeons and dogfish (yes, the dogfish do come that far up!). Jetties or piers are also good spots.
Depth: How deep is the water? Coarse fish can live in relatively shallow water. I have caught fish in 1-foot deep water. However, ideally you want to look for water that are up to 5 feet deep.
Turbidity: This is quite important. Since we are fishing with scented bait that doesn't require the fish to see, clarity of the water is not important. However, if the water gets too clear, fish can often gets spooked. In the Fraser River, this probably is often solved by the amount of silt coming down the river during spring.
Current: Coarse fish prefer calmer water where they don't have to work hard. Again, look for structures that produce calm waters.
When should I fish?
In the tidal portion of the Fraser River, timing is very important. Choosing the right time can result in a great day of fishing. On the other hand, when the timing is wrong, you will go home empty handed. As mentioned earlier, coarse fish will bite throughout the day, regardless the weather or tide. However, there are optimal times. Low tide is generally not ideal just like any other types of fishing. I have found that fish are extremely active 2 hours before and after the high tide. Ironically, often I don't hook any fish when the tide is at its highest and stationary. If the high tide corresponds to the time of sunrise and sunset, then this is the time you would like to fish. There have been times in the past when I hit the water just after sunrise and the tide was still rising, peamouth chubs would create boils in the water. On occasions like these, I would have over 100 hookups within one morning, a great way to start a day!
What should I use?
As mentioned earlier in the article, coarse fishing requires the lightest tackle there is, simply because the fish are smaller. Personally, I prefer to use lines between 2 to 4 pound, with minimal amount of weight and a small hook between size 12 to 16. There are two types of fishing methods, bottom fishing (also known as bar fishing in the Fraser River), or float fishing. Float fishing should be done in shallow waters near rocks and large structures where fish can hide. The best types of float to use are long, thin ones, and require only a few grams of lead to balance it. When balancing the float, add enough weight until only a few cm of the float tip rises above the surface. This allows you to strike before the fish feels the weight of your float when biting. The hook should be 3 to 5 feet below the float, depending on the depth of your fishing spots.
When bottom fishing, I prefer to use a 1-ounce weight at the bottom of the rig, with two hooks at 20 and 40cm above the weight, respectively. This method is used in faster and deeper water. When fishing with this rig, keep the line in an angle instead of perpendicular to the fishing ground. For both fishing methods, I prefer to use a long, flexible rod, around 8 to 10 feet long. These rods are harder to find, and very often I would use a fly rod fitted with a small spinning reel. The fly rod is flexible and has a thin tip, which allows you to feel every single bite. When fighting these fish, you will have more fun with a fly rod than a thicker and shorter rod. As for bait, squawfish and chubs are scavengers, and they will feed on anything. There are some preferred food of course. Dough, corn, shrimps are all quite good. When making a dough for bait, be sure to add some scent to the bait, this will increase the number of bites tremendously.
Although coarse fishing does not produce catches as large as the salmon, it is an inexpensive way to fish. Next time, if you don't want to spend an hour driving to your favorite salmon fishing spot, maybe coarse fishing is an alternative. It can be great fun for the kids!