Drop Shotting for Bass on Clear Lake
By Mark Sakakibara| Published in September 2005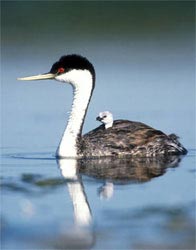 As I rolled out of bed, I glanced at the radio alarm clock, which read 5:30am, still another hour to go before my fishing day was to begin. It occurred to me that I never seem to need an alarm before a day of fishing, yet repeatedly hit the "sleep" button before starting a work day. As I waited for my wife to complete her morning ritual, I ventured out onto the dock in front of our lakeside condo to admire the lake in its morning glory.
It was a typical mid July morning in Lake County, Northern California, and the air was already beginning to warm. Later in the day the temperature would rise to 40C so taking advantage of the cooler mornings for fishing was our plan. A large number of Western Grebes were busily fishing for their breakfast. Many of the mothers could be seen carrying their newly hatched offspring on their backs. I had become very fond of the "Kreet!" "Kreet!" call of these birds during my stay at the lake. Clear Lake is a great destination for bird watchers due to the abundance of nesting sites and feed. It was clear that the birds were feeding on the very abundant threadfin shad in the lake.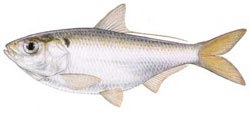 In recent years, the threadfin shad population had drastically increased in the rich waters of Clear Lake. Huge schools of these introduced herring-like plankton feeders could be seen boiling all over the lake. These schools were so large and thick, they often register on a sounder as a false bottom. With such abundant food sources, the bass here are plentiful and grow fast and big. If fact, the lake record for bass is 17.52 lbs, caught in 1990 and large bass between 7-15 lbs are frequently caught in the lake. I was eager to hook one of these hogs on this morning. Bob Myskey (our guide and instructor) met us at our dock promptly at 6:30am and after the initial introductions we were off to our first fishing location.
Bob runs a fully rigged 519 Ranger boat powered by a 225 Mercury motor. Having never bass fished before, or been on a bass boat, I was surprised how stable a fishing platform and fast these boats are. I had picked Bob from a long list of Clear Lake guides because of his experience and the fact that he describes himself as an "Instructor" on his website. I had chosen well! Bob was a patient and attentive teacher who knew where the fish were, and what they wanted. Bob gave us a mini lesson on the lake's biology and demonstrated and explained the setup to be employed: dropshotting.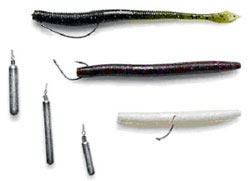 Dropshotting (aka down shot, or under shot) is a technique that was first developed in Japan and is now heavily utilized for bass in the waters around Clear Lake. Prior to our arrival it had been the most productive method, although crankbaits, jerk baits, spinner blades, and all other types of bass techniques will also catch bass here. This is an effective method of targeting fish suspended off the bottom or off structure as it keeps your bait in front of the fish. Bob uses 6.5 foot medium/light action spinning rods spooled with Powerpro braid for mainline joined to a 6 foot light leader section of 6-8 lb Seaguar fluorocarbon. A #1 or #2 offset soft plastic hook or "G" hook is attached with the palomar knot about 6-18 inches above the small dropshot weight of 1/8 to 1/2 ounce found on the end of the leader. The weight will be attached to the tag end of the palomar knot. Droppshotting weights are useful as if they get hung up, the clip to which the line is attached will simply cut the line and all you need to do is replace the weight and you are back in action.
Baits for dropshotting are varied and could include almost any type of plastic or live bait however we used 4 & 6 inch worms. We used 2 different colored worms. One which closely resembled the blue iridescent back of the shad, and one with red flecks in it that resembled the crawdad (crayfish) that these bass also feed on. Bob, also had previously infused the worms with the sent of crawdad and shad. Both color patterns were effective, the blue worm under docks, and the red worm on rock piles. The worms are attached either hooked in the middle (wacky style), or through the head of the worm.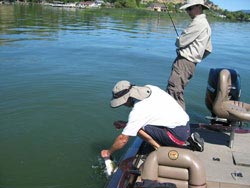 This rig is cast to holding water or onto structure or can be fished vertically below the boat. We found success along rocky outcroppings especially when this was also associated with weeds, as well as under the shaded side of docks (fish were almost always hooked on the shady side of a dock). The rig is cast out an allowed to hit the bottom, then twitched while very slowly retrieving. The twitch pattern is the MOST important factor, and we started to get consistent bites after mastering the timing. I found it useful to create a slight slack bow in my line and then by sharply lifting my rod a bit to produce jolts of tension along the line. The worms are slightly buoyant and thus "dance" very enticingly in the water if done correctly. It is important to twitch your worm 3 or 4 times and then wait for a couple of seconds and then repeat. Twitch Twitch Twitch Wait…The bite was always during the wait period and the bite is very soft. You may feel a slight tap if you are using a sensitive rod, often however we did not detect the bite till we checked. Bob had us slowly and carefully lifting the sinker off the bottom a tiny bit during the wait period to check for extra weight on the line. This is the signal to set the hook. I am sure I missed many hits during that morning. I think this is where the scented baits are useful. It may not increase the number of fish that pickup your worm, but I think it will increase the time the fish holds the bait before spitting it out.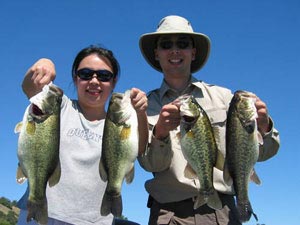 Over a 4.5 hour fishing period we hooked and landed 42 fish between Alice and myself. Although our largest fish did not cross the 4 lbs mark, all of our fish were a respectable 2-3.5 lbs. We noted the distended bellies of the fish, which were full of shad. On several occasions we found bass schooled up along a rocky drop-off and managed to hookup 3 double headers. This was exciting fishing with periods of frenzied action (fish every cast) interspersed with quiet periods.
I was surprised at the determination of some of these bass to obtain their freedom. Several of the larger fish actually managed to take line from my reel. Furthermore, once bass reach the surface they go nuts. Many of our bass did some pretty impressive tail walking. One thing I loved about bass fishing is the ease to which catch and release is accomplished. Grabbing the lower lip seems to immobilize the fish and their large mouth makes removal of the hook easy.
Clear Lake has other fishing to offer. Besides bass, this productive lake also holds black crappie, tones of bluegills, catfish, and some very large carp (we saw several carp to about 15 lbs swimming around). All of these species are targeted by sports fishermen. This is great fun for the kids (and those, like me, who have a kid-like outlook when it comes to fishing…). All that is required here is a simple worm fished beneath a bobber around structure or weeds.
If you every find yourself in the Lake County in Northern California, give Clear Lake, and Bob Myskey a try, I promise, you won't regret it!