Durrance Lake, Mount Work Regional Park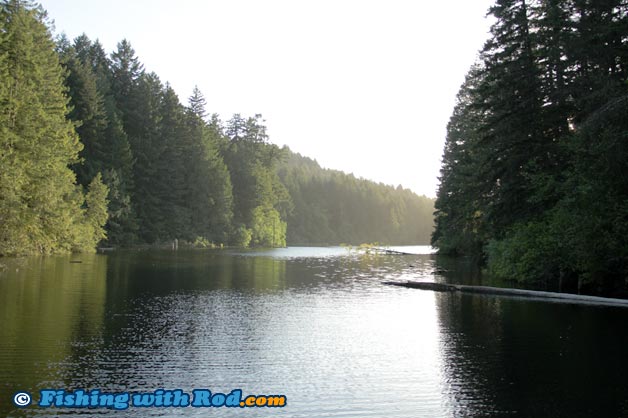 Just a short drive from either Victoria or the ferry terminal in Sidney, Durrance Lake is an excellent fishing location for families who also want to include other activities such as swimming, picnicking and hiking on the same day. While categorized as an urban fishery with rainbow trout being regularly stocked, this lake is surrounded by trees and wildlife. If you are thinking about leaving the city life behind for a quick fishing getaway, then this is the lake for you.
How to Get There?
Durrance Lake is located in Mount Work Regional Park. It takes approximately 20 minutes by a vehicle from Victoria. To get there from Victoria, travel north on West Saanich Road (17A) and turn left onto Wallace Drive, then turn left again onto Willis Point Road. Continue on Willis Point Road for five minutes and you should see a sign for Durrance Lake on your right. Parking is limited at the lake especially during the summer months but you can also park on Willis Point Road if it is full. A boat launch is also available for those who wish to use a small boat or canoe at the lake.
Fishing Season
Freshwater Water Fisheries Society of BC stocks catchable rainbow trout at Durrance Lake in spring and fall, therefore fishing is best during these months. Summer time can be too hot for trout fishing but evenings should still produce. Fishing is also available in the winter as it does not get too cold. The lake also contains smallmouth bass and a variety of sunfish species, which are invasive in British Columbia. These fish are usually more active in the warmer months.
Fishing Techniques
Shore fishing is readily available at Durrance Lake. The floating dock, which was installed in 2013, is designed to cater those who are less mobile. This is only a short walk away from the parking lot. The shoreline along the north side of the lake is quite open so fishing can be done easily here, some spots are slightly steeper so you have to watch your steps.
The east side of the lake is very open so ideal for those who wish to try a bit of fly casting from shore, however this part of the lake is generally pretty shallow. With that said, there are plenty of structures at this end of the lake where fish may hide.
The south and west sides of the lake can be reached by a trail, but the trees are quite dense so fishing is not really doable from this section of the lake.
When trout fishing from shore on the north side, you can try fishing bait on the bottom. Bait such as shrimp, krill, single eggs, artificial bait are all productive. While fish are usually seen jumping further out in the middle, do not be surprised to find fish close to shore because the water becomes quite deep within the first 50 feet from shore. Float fishing is also possible, but line control can be difficult if your float is far out from shore. If fish are rising actively, try casting and retrieving a lure.
Important Notes
Before your first fishing trip to Durrance Lake, please make sure you know the following information: