Our Editors & Contributors
The People Who Make it Possible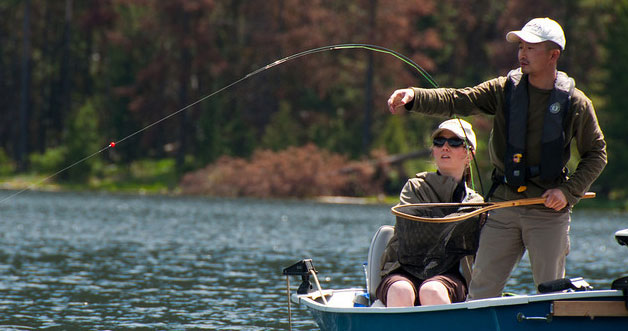 Nina Manique
Nina Manique has also been involved on Fishing with Rod since the beginning. Beside making sure our content remains error-free and moderating the discussion forum, she has been the person behind the video camera since our video section was established.
Nina also has a Danish fishing website called Lystfiskerinden that features fishing trips in British Columbia, catering Scandinavian anglers who wish to visit and fish in this province.
Rodney Hsu
Fishing with Rod is founded and owned by Rodney Hsu, who has been a keen recreational fisherman since the age of five. With an academic background in fisheries biology, Rodney is currently a public advisor for the Freshwater Fisheries Society of BC, a director for BC Family Fishing Weekend Society and a representative of Fisheries and Oceans Canada's Upper Fraser Valley Sport Fishing Advisory Committee. Each year, he also invests in a community kids fishing event called Fish for the Future, which he has organized since 2003.
Our Contributors
Our website is only possible due to content submission from our contributors. The following individuals have been our valuable contributors since 2001.
Adrian O'Connor, Reel Obsession - Fishing reports
Al Patton, Tunkwa Lake Resort - Fishing reports
Brad Stubbs, Kootenay KingFisher - Fishing reports
Brian Hampson - Discussion forum moderator
Carlo Ng - Photography and articles
Chris Gadsden - Articles and photography
Daniel Krenz - Articles
Dion Lauriente - Articles, photography and discussion forum moderator
Evan Patterson, Bites-on Charters - Fishing reports
Fred Watts, Nicola Valley Outdoors - Fishing reports
Jeff Hale, Fishing Tofino - Fishing reports
Kitty Kanhoffen - Photography and videos
Mark Sakakibara - Photography and articles
Nick Basok - Articles and photography
Noel Gyger - Fishing reports
Shane Ito - Photography and articles
Tom Vaida, Island Outfitters Sportfishing Centre - Fishing reports
Vic Carrao, STS Guiding Service - Fishing reports
If you would like to become a content contributor on our website, please contact us.