Glen Valley Regional Park, Langley & Abbotsford
By Rodney Hsu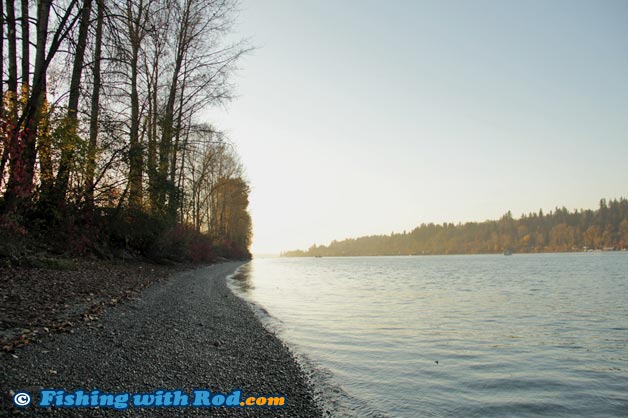 Glen Valley Regional Park is located along the border of Langley and Abbotsford. This stretch of the Tidal Fraser River provides excellent shore access and fishing opportunities for salmon, trout and a variety of coarse fish species. The shaded bars are spacious and not too steep, so anglers can bring a chair and rod holder to bar fish with. Spin casting can also be done convenient due to the lack of snags along the river bottom.
How to Get There?
Glen Valley Regional Park is located along River Road east of 264th Street. Half of the park sits in Langley while the other half sits in Abbotsford. To get there, travel north on 264th Street after exiting from Highway One. Turn right onto 88th Avenue, which ends and intersects with 272th Street. Turn left onto 272th Street and continue to the end where it meets the river. Glen Valley Regional Park begins from this point and you can find spots all along River Road as you turn right.
Three known bars are located in Glen Valley Regional Park, they are Two-Bit Bar, Poplar Bar and Duncan Bar. Two-Bit Bar is located at the end of 272th Street, a parking lot and washroom facilities are available here. Poplar Bar is found along River Road where Crescent Island can be seen in front of it. Duncan Bar is found at where River Road ends. A map of these bars can be found in this PDF file.
Fishing Season
In spring and summer, coarse fish can be caught along these bars, but freshet may reduce fishing opportunities between April and June because river level may be too high. In August, you are likely to encounter both adult and jack chinook salmon. Pink salmon can be found throughout September during odd years. Coho and chum salmon fishing can be excellent in October and November. In the winter months, if you can brave the cold, there is a possibility to encounter the odd winter steelhead. Cutthroat trout can be seen from time to time, usually in spring and fall.
Fishing Techniques
Unlike the spots further downstream in the Tidal Fraser River, the bars at Glen Valley Regional Park are mostly made of small round gravel rocks. To bar fish at these spots, slightly more weight is needed to anchor your bait. 2 to 3 ounces of weight works well. Try choosing weights which are less likely to roll along the gravel bed. Fishing with roe on the bottom is the most common method used by anglers who visit Glen Valley. This method works well for chinook salmon in late summer and coho salmon in October and November.
The tidal current is generally weak along this part of the river, except during spring freshet when the downstream current is strong. When fishing for pink and coho salmon, casting and retrieving a spoon can produce good results. Do not be fooled by the shallow water close to shore. More often than not, salmon can be found striking lures very close to shore.
For coarse fish in the summer, try using dew worm, dough balls, cheese very close to shore. Peamouth chub and northern pikeminnow are abundant, so enticing them to bite as long as your bait is in the water should not be too difficult.
For cutthroat trout and possibly bull trout, try fishing near the creek mouths found in this area. Trout and char will feed on small fish and juvenile salmon which often inhabit slower, more protected waters. Small spinners, spoons and flies all work well, as long as they produce plenty of movement in the water.
Important Notes
Before your first fishing trip to the Glen Valley Regional Park, please make sure you know the following information:
You must have a valid British Columbia tidal fishing licence.
Glen Valley Regional Park is located in Fisheries and Oceans Canada's Area 29. Please read the general tidal fishing regulations and Area 29's regulations. The salmon fishing openings are usually announced during the season, so it is always best to check for opening times and other restrictions before heading out.
There is often a bait ban for salmon fishing in September and part of October, so please be sure to check before you choose to use bait. Your local tackle stores will have the latest information.
Please release closed fish species with care.
Please respect other park users and wildlife by keeping this area clean.
Please respect local residents by keeping your noise down and slowing your vehicle down when driving by.
Watch your steps! The Fraser River can be very muddy and turbulent at times.