No. 3 Road Pier, Richmond
By Rodney Hsu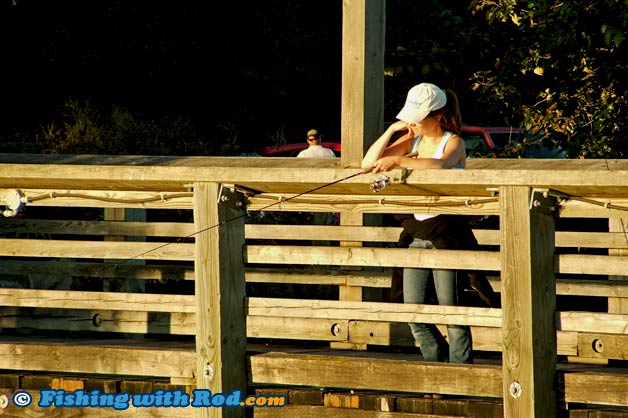 No. 3 Road pier was built in the early 90's for sportfishermen. It offers anglers excellent fishing opportunities between spring and fall. It is only a short drive from Metro Vancouver, making it a convenient hangout for those on weekends or after a hard day of work. Between May and September, kids have the chance to get hands on experience on catching small fish. It is not only a spot for novice anglers, because larger fish such as salmon and white sturgeon are caught from time to time.
How to Get There?
No. 3 Road Pier is located at the southern end of No. 3 Road in Richmond. The pier can be either accessed by car, or by bike as the area has a good network of bike trails.
Fishing Season
Fishing can be done year-round at No. 3 Road Pier, but the best months are between May and October. Between May and August, coarse fish such as peamouth chub and northern pikeminnow populate the area. You also have a chance to connect with a bull trout, but be sure to release these safely as the regulation requires you to do so.
The salmon fishing is best in September and October. Pink salmon only returns during odd years. During the pink salmon season, which is September, thousands of fish can be seen making their way upstream in an strong incoming tide. Coho and chum salmon fishing can be good at times in October and November, but this spot is not known for this fishery.
White sturgeon can be caught throughout the year, but they must be released with care as they are protected. In the winter months, saltwater species such as flounder, tomcod are often encountered.
Fishing Techniques
When fishing on this pier, it is most productive if you fish on the sides of the pier that are facing the shoreline. Fraser River South Arm can be turbulent during the outgoing tides, but the current is slowed down by the pier, where most of the fish take refuge. Many times people are surprised how close large fish are swimming to the rocky shoreline. Most salmon, trout, coarse fish are caught within 20 meters from shore.
A float rig is not ideal due to the river current. When fishing for coarse fish, a bottom rig that anchors the bait on the bottom is best. Dew worm, dough, shrimp, roe will all produce bites. When fishing for salmon, casting spoons and spinners from the rocks near the pier is best.
For saltwater species such as pacific tomcod, you would need to whip your line towards the middle of the river with a large weight due to the strong current. The best way to learn is to watch other anglers, local knowledge is always the key to success.
Important Notes
Before your first fishing trip to No. 3 Road Pier, please make sure you know the following information:
You must have a valid British Columbia tidal fishing licence.
No. 3 Road Pier is located in Fisheries and Oceans Canada's Area 29. Please read the general tidal fishing regulations and Area 29's regulations. The salmon fishing openings are usually announced during the season, so it is always best to check for opening times and other restrictions before heading out.
Quite often, many anglers' actions degrade this wonderful sport at this location. Due to the "infestation" of the bullheads, some anglers would catch and leave them to die and rot on the pier. This is clearly unacceptable. Although bullhead maybe useless to us and has no economical value, it may play a great role in the Fraser river ecosystem that we have not even encountered yet. It is also extremely cruel to leave unwanted fish to die, not to mention it is illegal.
Please respect other users and keep the area clean.