Sea-Run Fly and Tackle Spring Sale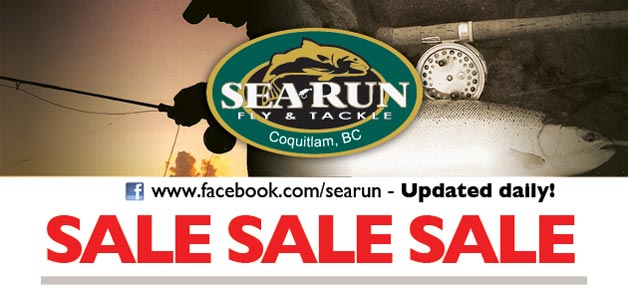 Sea-Run Fly and Tackle in Coquitlam is having its annual spring sale on March 30th to April 1st, 2012.
Everything in the store will be on sale! Brands that you can find include Sage, Simms, G Loomis, Rio, Scientific Angler, Scotty, Trophy, Dragonfly, St Croix, Bare, Renzetti, Minn Kota, Hummingbird, Abu Garcia, Shimano, Fenwick, Penn, Islander, Abel, Galvan, Kingpin Reels, Milner Reels, Mustang.
Three prize draws will happen on Saturday and Sunday. All attendees are automatically entered to win. You must be at the shop during the time of the draw to claim your prize. The prizes include:
Guided fishing trip with Kelly
Islander reel
Hummingbird 345 DI sounder
Simms G3 waders
St Croix Imperial fly rod
Grand Prize Spratley fly fishing boat $2,000 value!
Hot dogs and coffee will be available throughout the sale for those who get hungry while doing your shopping!
If you have questions, please feel free to contact the store by phone 604-931-5044 or email. You can also receive the latest store updates on their Facebook page.
Sea-Run Fly and Tackle
#110 1140 Austin Avenue Coquitlam
Door Crashers List
Below you will find our list. The first ten door crasher items are available on Saturday and Sunday only and there is only one of these crasher deals per day. (Ex. There is only one Sage rod at 50% off per day on Saturday and Sunday, NOT every Sage rod for 50% off all weekend). Items #. 11-50 have a quantity in brackets, and that's how many we have available for the weekend. These crashers will become available on Friday morning on a FIRST COME - FIRST SERVE BASIS. We're looking forward to seeing everyone at our BIGGEST Sale event of 2012!
1. 50% off any in stock Sage Fly Rod of your choice
2. 50% off any in stock pair of Simms Waders
3. 50% off any in stock Simms Wading Boots
4. 50% off any in stock St. Croix Rod
5. 50% off any in stock G. Loomis Rod
6. 50% off any Fly Tying Material Purchase up to $1000.00 (excludes vises)
7. 50% off any in stock Simms Rain Jacket
8. Humminbird Fish N Buddy 120 Portable Fish Buddy $184.98
9. 50% off any in stock Islander Reel
10. 50% off a fly line purchase of any manufactures fly lines up to three lines (in stock lines only)
11. Penn Captiva 5000 Spinning Reel Reg. $119.98 Sale Price $69.98 (2)
12. Dragonfly Machined Spey Reel Click Pawl Model Reg. $329.98 Sale $149.98 (1)
13. Simms Headwater Pant M (1), S (1), ML (1) Sale $139.98 each
14. Simms Rivershed Wader XXL Reg. $344.98 Sale $99.99 (1)
15. Caddis Deluxe Wading Boot Size 9 (1), 12 (1) Reg. $179.98 Sale $79.98
16. Simms G3 Guide Convertible Wader MK LL Sale $149.98 (1)
17. Simms Freestone Zippered Waders MK (1) XL $179.98 EA (1)
18. Freestone Boot Size 8 Felt Sole Sale Price $69.98 (1)
19. Temple Fork 10ft 6wt 4 piece Fly Rod Reg. $269.98 Sale $159.98 (1)
20. Temple Fork 9ft 6wt 4 piece Fly Rod Reg. $249.98 Sale $149.98 (2)
21. Temple Fork 9ft 9wt 4 piece Fly Rod Reg. $249.98 Sale $149.98 (1)
22. Shimano Talora 7ft Sturgeon/Halibut Rod Sale $49.98 (2)
23. Fenwick Pacificstick 7ft Sturgeon Rod $49.98 (1)
24. Shimano Tallus Halibut Rod $59.98 (2)
25. Shimano Calcutta Sturgeon/Halibut Rod Reg. $329.98 Sale $129.98 (1)
26. Shimano Talavara Rod Sale $49.98
27. Berkley Lightning Halibut Rod $39.98 (1)
28. Sage Z-Axis Fly Rod Reg. $720.00 Sale $389.98 (1)
29. Fenwick HMX 9ft 8wt Regular $189.98 Sale $99.98 (3)
30. Abu Garcia 502 Albi Spinning Reel Reg. $99.98 Sale $49.98 (3)
31. Abu Garcia Soron STX 40 Spinning Reel Reg. $179.98 Sale $89.98 (1)
32. Pflueger President Spinning Reel 6740 Reg. $89.98 Sale $44.98 (1)
33. Abu Garcia 506 ALBI Spinning Reel Reg. $99.98 Sale $49.98 (1)
34. Okuma Ignite Spinning Reel 30 (3) 40 (2) Reg. $49.98 Sale $29.98
35. Fenwick Blackhawk 5/6 Fly Reel Reg. $59.98 Sale $34.98 (2)
36. Fenwick Blackhawk 7/8 Fly Reel Reg. $59.98 Sale $34.98 (3)
37. Dragonfly Expedition Fly Rod 9ft 7wt. Reg. $74.98 Sale $29.98 (30)
38. Dragonfly Expedition Fly Rod 9ft 8wt Reg. $74.98 Sale $29.98 (10)
39. Shakespeare Mantis Spinning Rod and Reel Combo Sale $19.98 (8)
40. G. Loomis 8wt 10ft GLX Distance Rod Reg. $899.98 Sale $399.98 (1)
41. Daiwa Wilderness Lite Salmon Spin Combo Sale $9.98 (1)
42. G. Loomis Soft shell Hoody Medium Reg. $169.98 Sale $89.98 (1)
43. Simms Transit Vest Light Gray Large Sale $89.98 (1)
44. Simms Transit Vest Black Medium Sale $89.98 (1)
45. Bare Chilko Jacket XXL (1) XL (1) Reg. $149.98 Sale $89.98
46. Simms Windstopper transit Jacket Reg. $179.98 Sale $99.98
47. Simms Windstopper Guide Jacket Sale $99.98
48. G. Loomis High Performance Poly shirt XL Sale $15.00
49. Minn Kota Endura 40lb. Thrust Electric Trolling Motor Sale $199.98 (1)
50. Kingpin Sovereign Centrepin Reel Reg. $549.98 Sale $319.98 (1)