2012 Fingerling Festival
Posted on April 30th 2012, by Rodney Hsu, webmaster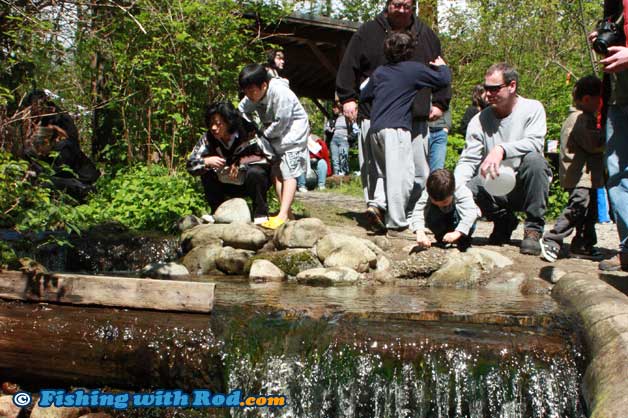 Port Moody Ecological Society is once again inviting the public to release salmon fry into Noons Creek on Saturday May 5th. It is the largest festival of its kind since it was established over 20 years ago, attended by up to two thousand people each year.
From 11:00am to 3:00pm, visitors have the opportunity to release 40,000 juvenile chum salmon in buckets into Noons Creek. These salmon have been raised at Noons Creek Hatchery, an ongoing community-run facility that is located beside Port moody Skating Arena at 300 Ioco Road.
Salmon release is not the only highlight of the day. This is also a large community stewardship convention. Over 50 stewardship groups from Metro Vancouver and Fraser Valley are expected to attend. They will have displays of their current projects exhibited at the Port Moody Skating Arena. Make sure you talk to these groups and find out how you can get involved in a community project near your residence.
Hot dogs and burger sales will take place throughout the event. Funds raised are used to operate the hatchery, school programs and maintain a water quality testing laboratory.
Parking is limited so you are encouraged to carpool, use public transit or cycle to make this a green event. For more information, please contact PMES by email or phone 604-469-9106.