Rice Lake Family Fishing Day
Posted on June 4th 2012, by Rodney Hsu, webmaster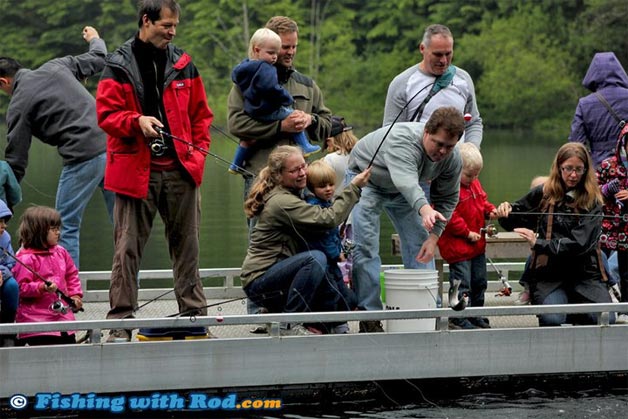 Seymour Salmonid Society will once again be hosting its annual family fishing day at Rice Lake in North Vancouver on Sunday June 17th. This is part of the BC Family Fishing Weekend, when anyone in British Columbia can take part in recreational fishing without a licence.
This event includes free fishing available on the floating dock at the lake, where fishing gear are provided for new comers. There will also be 17 watershed stewardship groups on site, where you can get plenty of information. Contests and prizes valued at over $2,400 will be ongoing throughout the event from 10:00am to 3:00pm. Wild salmon BBQ will be served at only $8 per plate!
Fishing with Rod will once again be at this event so be sure to drop by. We will have fish identification cards as well as some free fishing bait for you to try out!
The organizer of this event is currently looking for anglers who wish to volunteer on June 17th. Tasks which anglers can take part in include setting up prior to the start of the event at 8:30am, preparing fishing tackle, looking after exhibitors and volunteers, overseeing prize giveaways, helping with the BBQ and take-down/cleanup after the event.
For more information, please check the event page or contact:
Ken Knipelberg
Volunteer Coordinator
Seymour Salmonid Society
volunteering@seymorsalmon.com
604 288 0511