Family Fishing Day at the Fraser Valley Trout Hatchery
Posted on June 11th 2012, by Rodney Hsu, webmaster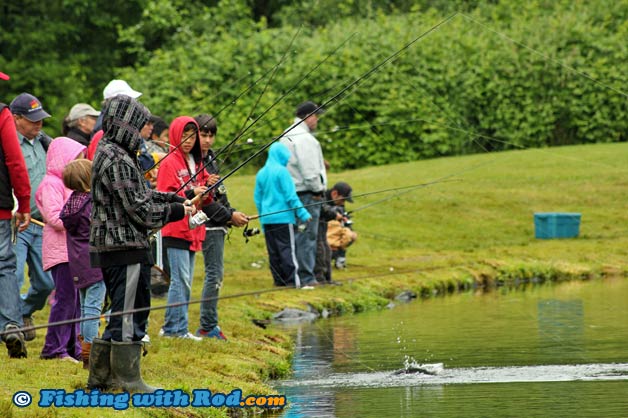 Fraser Valley Trout Hatchery will be hosting its annual family fishing day on Saturday June 16th. This is one of the main features of BC Family Fishing Weekend in the Lower Mainland and Fraser Valley. The event includes trout fishing, hatchery tour, door prizes and fish release.
Operated by the Freshwater Fisheries Society of BC, Fraser Valley Trout Hatchery is responsible for stocking hundreds of lakes in the Lower Mainland, as well as many other parts in this province. The hatchery also has a visitor centre, where learn to fish sessions are hosted throughout the year, teaching those who wish to start fishing. At this event, you will have the opportunity to go behind the scene and find out what is involved to produce trout that are released into your favourite lakes!
There will be plenty of entertainment for the whole family at this community event. Trout fishing will be available for the general public in the learn to fish ponds. There will also be a kiddie pond set up for kids who are seven or under. At the visitor centre, you will be able to see live fish species that are commonly found in BC. Guided hatchery tours will be available throughout the event, taking you to where eggs are incubated and juvenile fish are raised. Other fun kids activities include arts & craft, face painting. FlyBC.ca will also be doing fly tying instruction, so be sure to stop by and tie a new pattern to try out at your next fishing trip.
Admission to this event is free. The event will start at 8:00am and ends at 1:00pm. Fraser Valley Trout Hatchery is located at 34345 Vye Road in Abbotsford (at the corner of Riverside and Vye Road). For more information please phone 604-504-4716. Registration is required at the event when you arrive. No registration is required for the kiddie pond fishing. If you plan to retain your catches, please bring appropriate means of storage. Loaner fishing outfits and gear will be available for youth.
Event schedule
| | |
| --- | --- |
| Event registration: | 8:00am - 11:30am |
| Timed fishing on ponds: | 8:00am - 12:20pm *Note: Please register for time designation |
| Door prize draws at: | 8:30am, 9:00am, 9:30am, 10:00am, 10:30am, 11:00am, 11:30am |
| Guided hatchery tours: | 10:30am and 11:30am *Note: Please meet at the visitor centre front desk |
| Kiddie pond fishing (ages 7 and under only): | 8:00am - 12:00pm |
| Concession: | 8:00am - 12:45pm |
| Visitor centre: | 8:00am - 1:00pm movies, live fish aquariums, games, crafts and demos |
| Children's fish release: | 12:20pm at the fish ponds |
| Granze Prize draws: | 12:30pm at the registration tent |