New Tackle Store in Burnaby
Posted on July 17th 2012, by Rodney Hsu, webmaster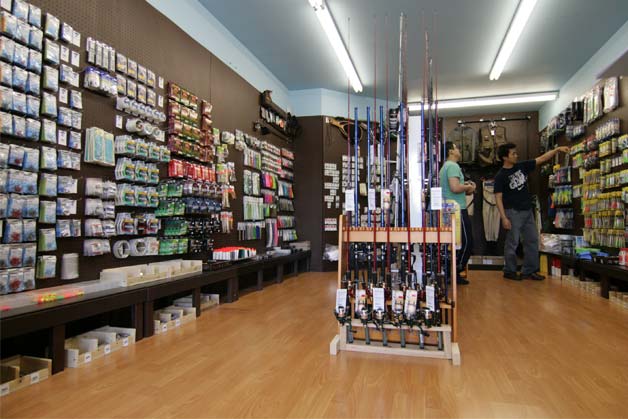 For many years, Anglers who reside in Burnaby have pretty limited choices when shopping for new toys. Now you no longer have to travel to Vancouver, Richmond or Coquitlam because there is a new player in town!
First Light Fishing and Tackle, located at #3-5901 Broadway in Burnaby, recently opened its door to customers who share the passion for both salt and freshwater fishing in the Lower Mainland.
Owner Steven Su, has been an avid angler who enjoy targeting all species in the Lower Mainland. Originally grew up in Taiwan, Steven started fishing for carp and tilapia since the age of 6. In the mid 90's, he arrived in Vancouver and continued the passion by chasing salmon, steelhead, sturgeon and halibut. While he enjoys fishing for these popular gamefish, Steven does not discriminate when it comes target species. At times, he also chases after bass, pikeminnow in lakes and flounders, perch on local piers. Due to this open mindedness, he is able to provide knowledge on all variety of fisheries this province offers.
Currently the store carries both Shimano, Amundson and Daiwa products when it comes to rods and reels. Products of other well known brands include Bare Waders, DNE Fishing Tackle, Gamakatsu Hooks, Mustad Hooks, Gibbs Delta Tackle, Berkley Powerbait, Yakima Bait, Pautzke Bait, Scientific Angler, Maxima, Power Pro, Seaguar Fishing Line are also available.
What makes this store unique in the Lower Mainland is its specialty on carp and other coarse fisheries. If you have been unable to find suitable tackle for these species, then look no further! First Light Fishing and Tackle currently carries a line of carp and creek fishing poles. Sensitive carp floats, lead wraps and eye-less hooks are also available. If you need carp fishing bait, then you will find dough ball powder in a variety of flavours. Finally, rod holders, bait boxes, umbrellas, special coolers are available to meet your comfort.
For more information on the store, please call 604-558-3474 or visit the store's Facebook page. The store is conveniently located near both Deer and Burnaby Lake, perfect for you carp and trout enthusiasts!