Welcoming Salmon Home
Posted on October 20th 2012, by Rodney Hsu, webmaster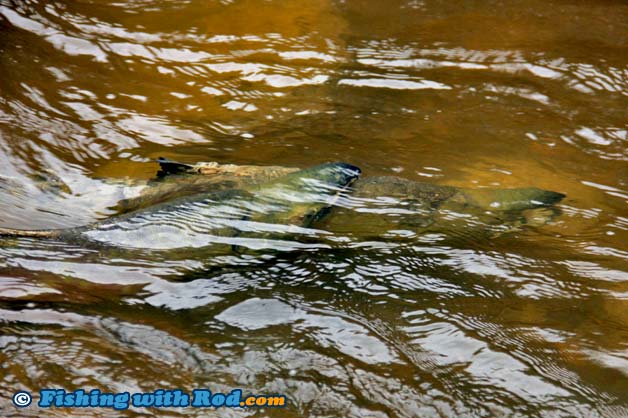 As we approach the end of October, spawning salmon are filling up streams across coastal regions of British Columbia. In Metro Vancouver and Fraser Valley, there are several spawning salmon viewing events taking place on Sunday October 21st. If you are not planning to fish this weekend, then consider taking your family to one of these educational events.
Return of the Salmon, Kanaka Creek in Maple Ridge
Kanaka Education and Environmental Partnership Society (K.E.E.P.S.) will be hosting "Return of the Salmon" on Sunday October 21st at the fish fence (240th Street and Kanaka Creek Road in Maple Ridge).
Kanaka Creek is a small stream that runs through the Eastern part of Maple Ridge. It has a small return of chum and coho salmon. The public is welcome to participate in this free family event. Volunteers from the society will be on hand to display live salmon and answer questions about their incredible life story.
The event runs from 11:00am to 3:00pm.
Salmon Come Home, Hoy Creek in Coquitlam
"Salmon Come Home" is a free family event at Hoy Creek Hatchery in Coquitlam. Public visitors can expect to observe spawning salmon and explore Hoy Creek. This is the 20th annual event, also taking place on Sunday October 21st.
Other activities include children's crafts and entertainment, salmon demos with Fisheries and Oceans Canada, Vancity Children's Fishing Hole, face painting and battery recycling with Pinetree, and Me to We Club.
Hoy Creek Hatchery is operated by Hoy Scott Watershed Society. It is located at 2975 Princess Crescent in Coquitlam.
This event runs from 11:00am to 3:00pm. Parking is available at Coquitlam City Hall and Douglas College. For more information, please call 604-927-3583.
Spawning Salmon Count - Stoney Creek in Burnaby
Stoney Creek Environment Committee will be hosting its annual spawning salmon count on Sunday October 21st. If you want to get some experience in identifying and counting salmon, you are welcome to meet at the Jennifer Atchison Environmental Centre (2730 Beaverbrook Crescent, on the north end of the Stoney Creek Community School grounds) at 9:00am. Volunteer leaders will provide equipment and guidance.
For more information, please email stoneycreek@handshake.ca.