STS Guiding Service December News
Posted on December 11th 2012, by STS Guiding Service
Welcome to STS Guiding Service's newsletter which updates you on some of the latest development on the fishing in Vancouver area, Fraser River and now Vancouver Island. Catch up on some of last season's stories as well as updates on local fisheries and some great opportunities for 2013 fishing adventures.
New West Coast Salmon & Halibut Adventures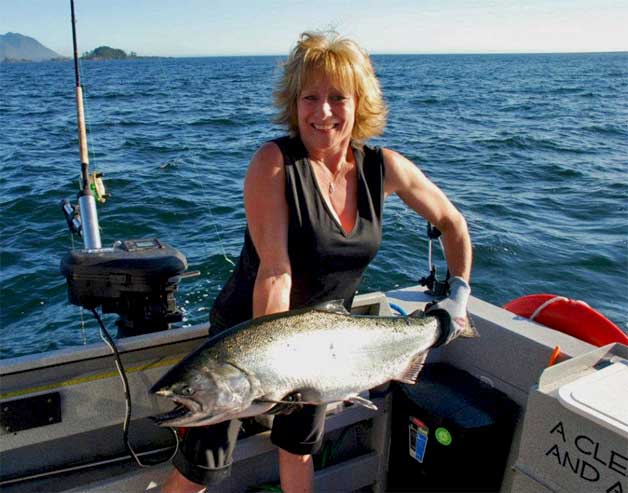 For the past six months STS Guiding Service has been working on a new West Coast Fishing Adventure that offers exciting fishing opportunities for our guests. Although this area of the West Coast is already known as some of the best fishing in the world, the new lodge at Coal Harbour will offer STS clients a wide variety of calm water salmon and halibut fishing.
Whales Reach Lodge is a new 8 bedroom lodge located in Coal Harbour just 17km west of Port Hardy. This quiet native community is the gateway to some of the best salmon and halibut fishing on the West Coast. The calm waters between Coal Harbour & Winter Harbour offer our guests world class fishing in the protected waters of Quatsino Sound. Chinook, coho, sockeye, halibut, black bass, cod, snapper, crab & prawn are all abundant in these waters.
Our 4 day 3 night package is just enough time to fill the coolers with salmon and halibut for the year. Calm water fishing with opportunities to head out to sea for those who like to fish the big West Coast water.

Trip details: All inclusive packages with 2 - 4 anglers per boat, 100% guided, all gear provided. Arrival day begins with meet & greet then head out onto the water for an afternoon of salmon fishing, returning for a crab feast by the fire. Day 2 & 3 are full days of fishing for salmon and halibut, followed by dinner and post fishing activities. Wrap up this incredible trip with a morning fishing trip before heading home with your cooler full of salmon, halibut, snapper, cod, bass, crab and some prawn.
2013 Trip Dates:

July 18 - 21
July 21 - 24
July 25 - 28
July 28 - 31
Aug 01 - 04
Aug 04 - 07
Aug 08 - 11
Aug 12 - 15
The above dates are Thursday to Sunday or Sunday to Wednesday. Weekend and longer stays are available, maximum group size of 6 anglers per date. Combination packages including Fraser Sturgeon fishing are also available.

2013 Rates:
2 anglers - $2770.p/p
3 anglers - $2100.p/p
4 anglers - $1875.p/p
To book your dates, please call toll free at 1-855-223-5453 or 604-671-3474, or email sts@guidebc.com.
Salmon Fishing Outlook for 2013
Last week DFO released their preliminary 2013 salmon outlook for Coastal BC. The outlook was only pertaining to Canadian returning stocks, the final salmon forecast for Canada and USA waters will be released later in spring 2013. What we heard is that West Coast salmon returns are expected to be much the same as 2012.
Vancouver Harbour/Gulf Islands - Early indications are showing much of the same results as we saw in 2012, winter and early spring fisheries around Vancouver Harbour will produce chinook salmon between 4 to 12lb with the occassional salmon over 15lb. The fishing is hit & miss but if you enjoy being on the water in one of the most beautiful cities in the world, it is worth a try. The crab and prawn fishing was excellent all through last winter and spring so I would expect much the same for this season. It is still too early to predict the summer fishery but your best bet after the May/June Gulf Island chinook salmon fishery is to head over to the west coast of Vancouver Island.
Fraser River - Salmon forecast for 2013 are not available at this time, preliminary trends would indicate the early Fraser chinook salmon runs are still low in abundance. The 4.2 & 5.2 stocks are salmon that enter the river between April & July, which are still well under escapement goals so for the time being our guess is that the Fraser River will not open for salmon fishing until mid July, similar to 2012. The sockeye salmon run is expected to be similar to 2012 with 2 to 3 million fish returning. 2013 is a pink salmon year with an average of 10 to 20 million pink salmon returning between late August & the end of September. This is a great fishery for all ages and abilities, including fly fishing. We book up fast for this fishery so book early. Fall chinook & coho salmon returns have been good to excellent over the past few years and this past season we had a record return of chum salmon reaching over 2.5 million fish.
Vancouver Island West Coast - Early season predictions are much like last year which is good news. May through June was good in the lower region of the island (Victoria, Ucuelet, Nootka) with mid and north coast producing best results from July to late August (Kyuquot, Winter Harbour, Quatsino, Coal Habour). We did well fishing on both East and West Coast of the island, Coal & Winter Harbour were on fire in July and August. Telegraph Cove, Port McNeil & Port Hardy really got going in mid August and was fishing best until early September.
Fraser Sturgeon Pre-season Forecast
Early season sturgeon forecast is looking good for the upcoming spring fishery. Quality and quantity of sturgeon are dependent on food availability such as eulachon (small baitfish) that migrate up the Fraser River each spring to spawn. The past two years we have seen good numbers of these baitfish which has resulted in good to excellent spring sturgeon fishing.
This past year we had our busiest spring ever with record number of fish caught and landed in the Mission area. All of our boats were out on the water daily producing some great results. Bookings for spring 2013 are already coming in, best dates are between April 10th to May 30th.
Pink salmon years are every odd years like 2013. Fishing for both pink salmon and sturgeon are epic to say the least, double & triple headers are common and sturgeon fishing is at its best. You need to book early for this fishery as it will be our busiest month of the year. 2011 we saw over 20 million pink salmon returning to the Fraser, we are looking forward to another great September. Best time to fish the Fraser for pinks and sturgeon is September 10th to October 10th.
In October 2012, we saw one of the largest returns of chum salmon to the Fraser River in many years. In fact, it was a record return of over 2.5 million fish. What does this mean for sturgeon? Lots of food in November & December! It is still early to predict the run size for 2013 but we do expect another good season of sturgeon fishing from middle of October to end of November.

Prime time sturgeon fishing is really dependent on where you are fishing, there are three regions to consider that offer great sturgeon fishing. Lower Fraser - Mission/Chilliwack area has two peak seasons: Spring - April/May & Fall - September, October, November. The Fraser Canyon between Hope & Hells Gate is best between July and September. Lillooet to Linton region is about the same but starts and ends a bit earlier. If you are looking for a wilderness sturgeon experience, these regions are the places to fish.
For the 2013 season STS Guiding Service will expand our Hope to Hells Gate Canyon trips to Lillooet Region. We are still working on accommodations in the region and will also offer day trips from Whistler with shuttle services.
2013 Seminars & Special Early Season Bookings
Book a spring sturgeon fishing trip before December 31st and receive an additional $60 off for our "Fill The Boat" spring special. Total Savings - $180 off our regular price. Trip must be taken before July 15th.
Sturgeon Seminar - Book 2 seats on our spring sturgeon seminar and receive a 3rd seat for free! Total savings - $175.
Jet Boat Seminar - Book 2 seats on our spring jet boat seminar and receive a 3rd seat for free! Total savings - $195.
Book any salmon or sturgeon fishing trip for the 2013 season and receive 10% off.
Please call toll free at 1-855-223-5453 or 604-671-3474, or email sts@guidebc.com to book one of these great package specials.
Seasons Greetings & Thank You for Choosing STS Guiding Service
As the season has come to a close, we finally have time to sit down and remember the highlights of the season that flew past us. We would like to thank you all for joining us this year out on the river. The people who we fish for make this job enjoyable and worth the hard work we put into it, without you, our loyal customers it would be all for nothing. We sincerlly hope that you all have a wonderful Christmas Holiday and hope to see you in the New Year.
Vic Carrao
STS Guiding Service
sts@guidebc.com
1-866-771-FISH (3474)