2012 Boxing Day Steelhead Derby Results
Posted on December 27th 2012, by Fraser Valley Salmon Society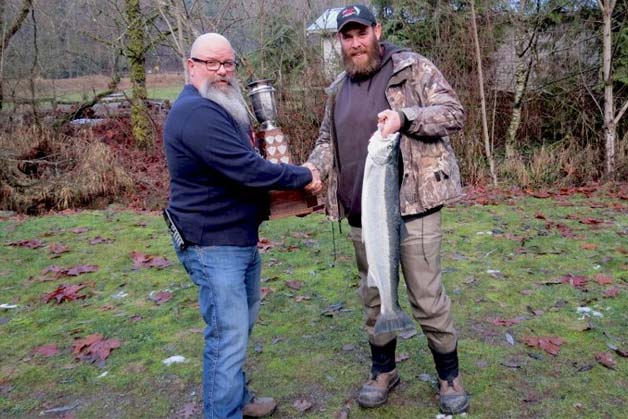 The 69th annual Steelhead Boxing Day Derby put on by the Chilliwack Fish & Game Protective Association on the Chilliwack River is now in the books. 334 avid steelhead anglers were greeted with ideal fishing conditions this year as they, of course were all after that Kingfish for 2012.
The top prize the anglers were angling for was, the Ferguson Furnell Trophy along with boasting rights among fellow fishers. This prestigious perpetual trophy was first awarded way back in 1938 by the late Carl Wilson. Many other top anglers' names also grace the Ferguson Furnell.
At the 2 o'clock derby deadline, 14 hatchery-marked steelhead had been weighed in by weigh master Clive Edwards. Bert Van Herk, a local angler from Chilliwack with a 13.03lb silver beauty edged out second place finisher Craig Pinsett's 12.74 pounder. Ryan Hutchinson was not far behind with a 12.24lb fish.
Other results
First fish brought in: Richard Klein, 10.59lb
Heaviest fish by a junior: Cody Lidstone, 10.95lb
Heaviest fish by a senior: Brent Marsh, 6.27lb
Smallest fish: Ian Warner(sp), 6.16lb
Hidden weight: Tyler Johansen, 7.92lb
Others fish: Kodi Diack (11.94lb), Jim Coers (11.83lb), Andrew Heathman (10.73lb). Kenneth Morrison (10.63lb), Travis Van Leeuween (9.96lb) and Beau Diack (8.01lb)