Advanced Stillwater Strategies
Posted on April 2nd 2013, by Hatch Match'r Fly & Tackle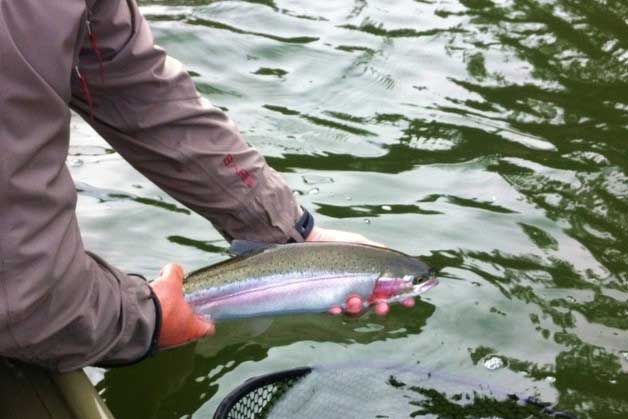 The "Advanced Stillwater Strategies" course is designed for intermediate and advanced fly fishers (beginners are also very welcome). This one-day advanced fly fishing course is packed full of invaluable information that will significantly improve your overall fly fishing abilities and knowledge of the sport.
Todd Oishi, a member of Canadian National Fly Fishing Team, will teach you a series of highly effective floating and sinking line techniques and tactics that will significantly improve your chances of hooking and landing greater numbers of trout. You'll also learn about the importance of colour and lighting, and how it effects fly pattern selection.
Your time spent in the classroom will not only increase your overall angling success, but will allow you to approach your favorite still waters with a whole new approach and a much greater level of confidence. This course is unlike any other course that you'll ever attend.
The "Advanced Stillwater Strategies" course will cover the following topics and much, much more:
"What Trout See" - understanding the vision of trout and its impact on your presentation
"The importance of Colour" - UV, colour and lighting, and how to design the perfect fly pattern
"The Take" - understanding how a trout takes a fly and how to improve your hookup ratio
"Floating Line Techniques" - understanding how to use your floating lines more effectively
"Sinking Line Techniques" - a lesson on how to use your sinking lines to their fullest potential
"An Introduction to Loch-Style Fly Fishing" - an in-depth study of this dynamic style of fishing
"British Fly Fishing Techniques" - this presentation will inspire you to "think outside the box"
"Fly Tying Demonstration" - a tying demonstration and theory behind several of Todd's favourite and most productive stillwater patterns

Date and time:
Saturday, April 20th, 2013 @ 9:00am - 4:00pm
Location:
Upstairs Learning Centre @ Hatch Match'r Fly & Tackle
22935 Lougheed Highway, Maple Ridge
Cost:
$50.00 per student
Please bring your own lunch. Complimentary coffee and muffins will be available. Please phone: 604-467-7118 to reserve a spot or email Todd at toishis@uniserve.com. Seating is limited, and all of the past presentations have sold out, so call today in order to secure a spot at this presentation!