Fishing is Free This Father's Day Weekend!
Posted on June 11th 2013, by Family Fishing Society of BC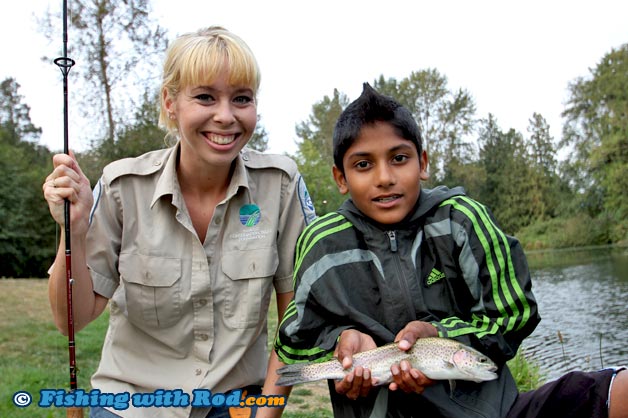 From June 14th to 16th 2013, fishing without a licence is not only legal, it's encouraged – thanks to BC's 14th Annual Family Fishing Weekend. The province-wide event, presented by The Family Fishing Society of BC and hosted by volunteer led community groups, is part of an ongoing effort to get more people hooked on fishing and appreciative of our tremendous aquatic and marine resources.
Family Fishing Weekend is a once-a-year opportunity to fish BC's lakes, rivers, streams and tidal waters for free, compliments of the BC's Ministry of Forests, Lands and Natural Resource Operations and Fisheries and Oceans Canada (DFO). DFO is also offering free saltwater fishing over Fathers' Day weekend. As with the provincial program, certain regulations apply.
"For many BC families, Family Fishing Weekend marks the unofficial start of summer," said Forest, Lands and Natural Resource Operations Minister Steve Thomson. "A licence-free weekend of fishing is a great way to encourage families to get outdoors and enjoy sport fishing across British Columbia."
The 14th annual Family Fishing Weekend is made possible by financial support from the Habitat Conservation Trust Foundation, the Freshwater Fisheries Society of BC and the Province of British Columbia. Material and volunteer donations are made by numerous like-minded organizations and businesses, and by all the communities that host events. In addition to free fishing, the weekend will be celebrated with 50 specific community events across the province, many featuring the Freshwater Fisheries Society's popular "Learn to Fish" sessions.
A complete list of participating communities, locations and event descriptions, along with step-by-step fishing instructions and regulations can be found at www.bcfamilyfishing.com.
"These events offer a great opportunity to learn about and how to fish in a fun and supervised environment," said Executive Director of the Family Fishing Society of BC, Owen Bird. "The hundreds of volunteers who organize and participate in these events are passionate about fishing and even more passionate about passing on their love of the sport. They really are the heart of Family Fishing Weekend."
The Family Fishing Society of BC was established in 2001 to encourage new anglers as well as promote and coordinate Family Fishing Weekend and other angling initiatives targeted toward families and young people. In 2012, the Society was honoured to receive the National Recreational Fisheries Award by Fisheries and Oceans Canada, in recognition of its efforts to introduce thousands of young people and families to the sport.
For more information:
Owen Bird
Executive Director
BC Family Fishing Weekend
604-805-6554
info@bcfamilyfishing.com
Events to check out in the Lower Mainland Fraser Valley on June 14th to 16th:
Lafarge Lake Family Fishing Day