20th Annual Ridge Meadows Rivers day Celebration
Posted on September 17th 2013, by Alouette River Management Society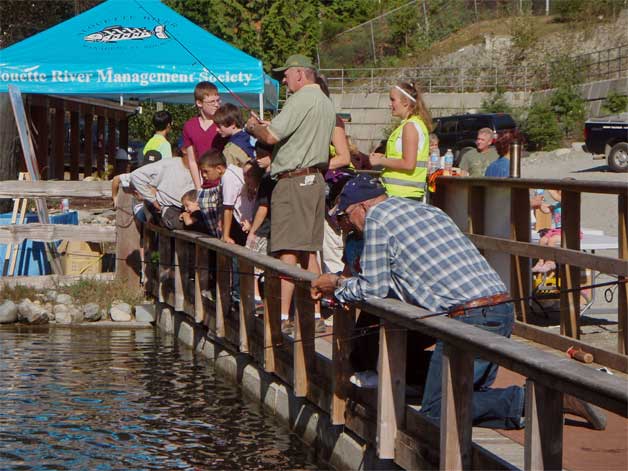 Alouette River Management Society, in celebration of World Rivers Day, is hosting the annual Ridge Meadows Rivers Day event at the Allco Community Hatchery on Sunday September 29th. The festival will take place from 11:00am to 3:00pm.
This year is also the 20th anniversary for this local event! This event, and like thousands of others around the world, celebrates the rivers in our communities with song, dance, food, art, environmental exhibitors, children's activities and much, much more. For parents who enjoy fishing, the highlight of the day will be the children's fishing pond where young anglers can test their fishing skills.
The 20th Annual Ridge Meadows Rivers Day event is the work of many hard-working volunteers and would not be possible without the support of the District of Maple Ridge, BC Hydro, the Ministry of Justice (formerly the Ministry of Public Safety and Solicitor-General), and BC Federation of Driftfishers.
The Alouette River Management Society (ARMS) was formed as a society in 1993. The primary focus of ARMS, at that time, was to negotiate with BC Hydro an increase in the river's base flow from the Alouette Dam. This would require changes to the management of the Alouette Dam and Hydro's methods of flow releases. This goal was achieved in 1996, when the base river flow release was increased by fivefold.
Since 1996, ARMS has become involved in almost all aspects of watershed stewardship, including education, inventory and monitoring, habitat restoration and lobbying for the protection of aquatic habitat. ARMS is extremely active in the community and often attends private properties in order to assist landowners with the implementation of sound stewardship practices on their land. ARMS works closely with the Fraser Regional Correctional Centre (FRCC); this partnership being a long-standing, vital, and perhaps, a largely unsung collaboration.
FRCC runs the Allco Community Hatchery 365 days per year raising millions of salmon (and other) species including chinook, coho, chum, steelhead, and cutthroat trout. These young fish are eventually released into the streams of Maple Ridge and other creek systems in the Lower Mainland. The District of Maple Ridge is also a long-standing partner supporting ARMS each year in its mission to proactively protect and improve the Alouette Watershed and surrounding areas by creating a healthy environment connecting parks, trail systems, public centres and waterways.
Volunteer supported, ARMS is also involved in salmon spawner surveys, local environmental issues, public education, and Adopt-a-Stream, liaising with all levels of government and private landowners, and working towards the protection of aquatic habitat. ARMS has provided environmental education programs including fieldtrips, classroom and habitat programs, and day camps to thousands of children over the years in Maple Ridge and other nearby communities.
ARMS is currently advocating for a fish ladder over the Alouette Dam, connecting the river and lake after almost 90 years. This reconnection will enable the long-diminished sockeye, and other salmon species, to be able to access the upper Alouette Watershed which is their traditional spawning grounds. Community support for this fish ladder will be vital in the near future.
To learn more about the Alouette River Management Society, the Allco Community Hatchery, or Ridge Meadows Rivers Day, please visit this page.
Contact:
Greta Borick-Cunningham
Executive Director
Alouette River Management Society
(604) 467-6401