Hyde Creek Salmon Festival
Posted on November 13th 2013, by Hyde Creek Watershed Society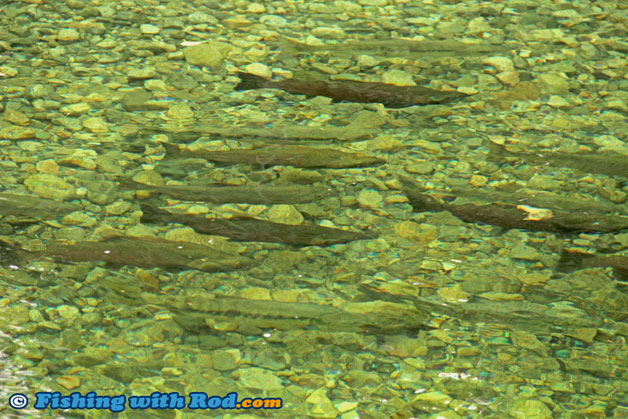 November 17th 2013 is the 14th annual Hyde Creek Salmon Festival in Coquitlam. Over 5,000 visitors attend this event each year, for a day of exploring, experiencing and learning about Pacific salmon and life in a watershed.
Each fall, in October and November, coho salmon and chum salmon make the marathon journey from the ocean to Hyde Creek. They have only one goal, to lay and fertilize their eggs. It is the final stage of their life span, where another generation of salmon will begin their journey the following spring.
Hyde Creek is a small salmon bearing stream located in the residential areas of Coquitlam and Port Coquitlam. Like other urban watersheds, it faces many challenges including poor water quality, fluctuation of stream discharge and abundance of nutrient.
Over 30 years ago, a group of volunteers began working within a backyard on Hyde Creek with a bathtub and home-made incubators. Their goal was to help the diminishing coho salmon population. After years of success, the group was formally formed as the Hyde Creek Watershed Society, which now operates an education centre and community hatchery by Hyde Creek.
On Sunday November 17th, from 11:00am to 3:00pm, Fisheries and Oceans Canada will be on hand displaying live adult salmon. Orphaned Wildlife Society will present owls and other orphaned raptors. Ongoing salmon dissections and observations of aquatic insects under microscopes will be available for visitors. Learn about bears in our community, build a birdhouse, enjoy salmon chowder, salmon burger or hot dog from the fundraising BBQ, take a guided walk to examine native and invasive plants, tour the salmon hatchery, this is an excellent Sunday event for families!
The festival is co-sponsored by the City of Port Coquitlam and held at the Port Coquitlam Recreation Centre (1379 Laurier Avenue) and the Hyde Creek Education Centre & Hatchery (3636 Coast Meridian Road) in Port Coquitlam. The two venues are linked by a short trail along Hyde Creek, where spawning salmon can be seen (See map).
For more information about this festival, please visit Hyde Creek Watershed Society's website.