70th Chilliwack River Boxing Day Steelhead Derby Results
Posted on December 27th 2013, by Chris Gadsden, Fraser Valley Salmon Society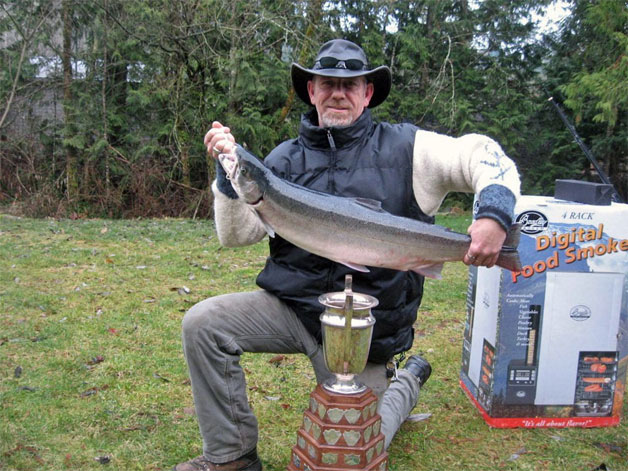 The 70th annual Boxing Day Chilliwack River Steelhead Derby organized by the Chilliwack Fish & Game Protective Association is in the books with 331 anglers out on the Chilliwack/Vedder River in quest of the Ferguson Furnell Perpetual trophy.
Anglers were treated to mild temperatures and ideal water conditions but the hatchery steelhead proved to be a scarce commodity for this derby through the length of the event to the 2pm deadline as only 7 fish were brought to the scales. However, there were the usual reports of wild fish taken and fish lost, there even was a report of a large wild steelhead around 18lb caught and released.
When the results of the derby were tallied by derby chairman Mel Dureen and his volunteers, it was angler Wade Dean, with his King fish of 12.87 pounds taking home the coveted Ferguson Furnell perpetual trophy. Dean, who said he took his fish on roe had it on the scales at 10:48am so he had a few hours to pace and see if any other angler would knock him off the top rung.
The closest fish to the winner was a 11.73 pound steelhead taken by Earl Berry in second place although the first fish entered, at 9:12am by Edward Riel was 0.10lb heavier at 11.83 pounds but an angler can only claim one prize so Berry was awarded second place.
The smallest fish taken was just over 5 pounds at a weight of 5.27lb by Nelson Rodrigues.
Other anglers with fish were, Cameron Underhill (11.54lb), Steve Roseboom (9.02lb) and Mark Dyck rounding out the anglers catching a steelhead weighing 8.69 pounds.
Many unsuccessful anglers won an array of prizes donated by supportive local stores. Club president and derby organizer Mel Dureen said "it was another successful derby with funds raised which helps to contribute to fish and wildlife habitat conservation projects in the coming year."
More derby photographs can be found at Fraser Valley Salmon Society's Facebook page