Vancouver Boat Show Returns Early in 2014 with Extended Hours,
New Dates and Exciting Attractions
Posted on January 10th 2014, by Vancouver International Boat Show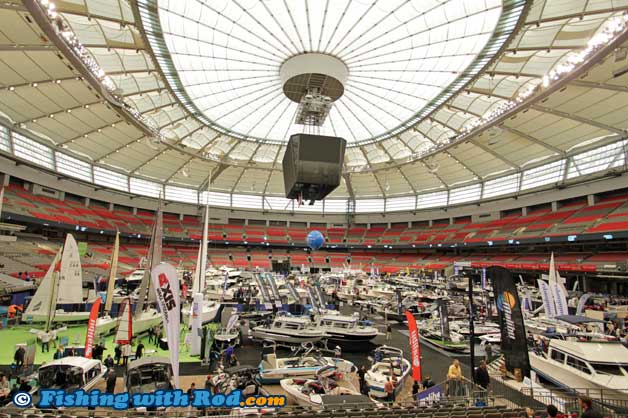 Vancouver, B.C. – Start the boating season early this year at the Vancouver International Boat Show, running from Wednesday, January 22 to Sunday, January 26, 2014. The 52nd annual event marks the start of the boating season in BC and features more than 250 exhibitors showcasing the best and biggest selection of boats and boating products.
Along with the widest selection of boats at the best deals of the year, Western Canada's premiere boat show includes exciting new additions to its feature lineup, along with returning favorites. New for 2014, Show goers can take a step back in TV history as they meet one of the world's most famous castaways, Dawn Wells, who played Mary Ann Summers on the long running hit sitcom, Gilligan's Island. Summers will accompany the original S.S. Minnow to BC Place. Fans have the chance to meet with Dawn at the Vancouver Boat show on Wednesday, January 22 and Thursday, January 23, between 5pm – 8pm on each day.
Leading angling experts will be on hand in the Sport Fishing in BC feature to help finesse your
technique for the upcoming season. Guests can learn from saltwater and freshwater fishing experts
who know the ins-and-outs of BC's world-class fishing destinations. And kids can test their skills first hand at the new 'Catch and Release' Trout Pond.
Whether you're visiting the Boat Show as a novice boater or sailing veteran, show goers will be thrilled with the diverse seminar line-up of seasoned speakers from around the world as they share their experience and expertise on everything from boating basics to riveting adventures at sea. Three seminar rooms will feature hourly seminars from knowledgeable presenters and industry experts including Lorna Malone, Hilary Malone & Alison Malone Eathorne, the authors of the sailing-themed cookbook Sea Salt: Recipes from the West Coast Galley. Other speakers include, sport fishing expert David Korsch and Wayne and Margy Lutz, who will be teaching techniques for establishing a remote home that features boat-only access and no public utilities in their seminar "Off-the-Grid Living".
The popular Kids Zone is back with lots of fun activities to entertain the youngest boat enthusiasts,
including the Nautical Play Centre and paddleboat rides. Kids can also visit the Breakwater Marine
booth to enter to win cool LEGO® prize sets and see LEGO Certified Professional Builder, Robyn
Sather, construct a scaled replica of this year's Grand Prize boat.
From nautical products and sailing services to maritime destinations and more, this year's SailFest
offers an unmatched array of all things sailing-related.
Show goers can explore the sailing features inside BC Place, including interactive displays, top-of-the-line sailboats, and high-performance racing crafts from premier manufacturers and board sailboats at the Floating Show at Granville, which include vessels from top manufacturers such as Benneteau, Jeanneau, Hunter and more.
With two great locations – an indoor venue at BC Place and an in-water venue at Granville Island –
people of all ages and expertise will be inspired to get their season started as they take advantage of family-friendly activities, incredible deals on all the latest marine products, and an expanded seminar lineup featuring top boating experts.
The Vancouver International Boat Show runs January 22-26, 2014 at BC Place and Granville Island.
Pre-plan your show experience by visiting the official show website.
Date:

January 22-26, 2014

Show Hours:

Wednesday, 11am to 9pm
Thursday, 10am to 7pm (Special Canucks Game Day Hours)
Friday, 11am to 9pm
Saturday, 10am to 9pm
Sunday, 10am to 5pm
Granville Island in-water venue closes at 5 pm daily

Admission:

Adults: $15
Seniors: $13
2-day Adult Passes: $20
2-day Senior Passes: $17
Kids (16 and under): FREE
Buy online and save $3/ticket

Locations:

BC Place – 777 Pacific Boulevard, Vancouver
Granville Island Maritime Market and Marina – 1676 Duranleau Street,
Vancouver
Free shuttle buses and water ferries run continuously between BC Place and
Granville Island

Features:

The original SS Minnow and Dawn Wells, an interactive LEGO® display and
contest, an expanded Seminar series, FREE Discover Boating boat rides at
Granville Island; Kids' Zone; Sport Fishing in BC; SailFest; and the Discover
Boating Centre, an educational, one-stop-shop where attendees can find
unbiased answers on how to get started in boating.
Western Canada's largest consumer boating event, the Vancouver International Boat Show is owned by the British Columbia Marine Trades Association (BCMTA), and produced by Canadian Boat Shows.
To win tickets to this year's Boat Show from Fishing with Rod, please go to our Facebook page!