Two-Day Skagit Spey Casting Class
Posted on February 28th 2014, by Sea-Run Fly & Tackle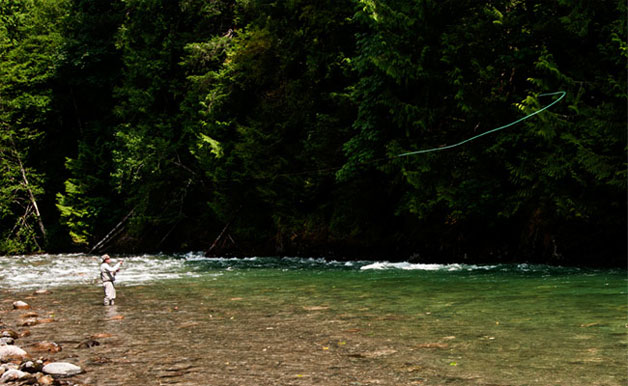 Sea-Run Fly & Tackle in Coquitlam is offering a two-day Skagit spey casting class! This 2-day spey casting class is taught by FFF Certified Instructor Aaron Goodis. It will focus on "The Modern West Coast Skagit Style" of spey casting.
Classroom topics include:
Theory
Rods
Reels
Lines
Flies
Fishing/Mending Techniques
On the water casting topics include:
The Theory
Your Equipment – Understand The Gear
Casts such as, The Skagit Poke, The Skagit Circle Spey, The Skagit Double Spey
River Right versus River Left
Dealing With The Wind
Sink Tip Selection
Mending Techniques
What to bring for Day 2:
You will need your waders, rain jacket and Skagit Spey set up. Rod/Reel/Line can be provided with notice
Bring a lunch & drinks
Rain or Shine
You will complete this class with a much better understanding of Skagit Spey casting and fishing, they will be able to overcome the obstacles faced during a real fishing day.
Price: $125 per person (limit 10 students)
Day 1 Classroom Theory: Thursday March 6, 2014, 6:30pm – 8:00pm
Location: Sea-Run Fly & Tackle #110-1140 Austin Avenue, Coquitlam
Day 2 On the Water Casting: Sunday March 9, 2014, 10:00am – 1:00pm (3 hours)
Location: Kilby Park & Boat Launch on the Harrison River approximately 1.5 hours from Vancouver
You can register at the store #110-1140 Austin Avenue, by calling 604-931-5044 or by email at searun2013@gmail.com.