It is Salmon Release Time!
Posted on April 21st 2014, by Rodney Hsu, webmaster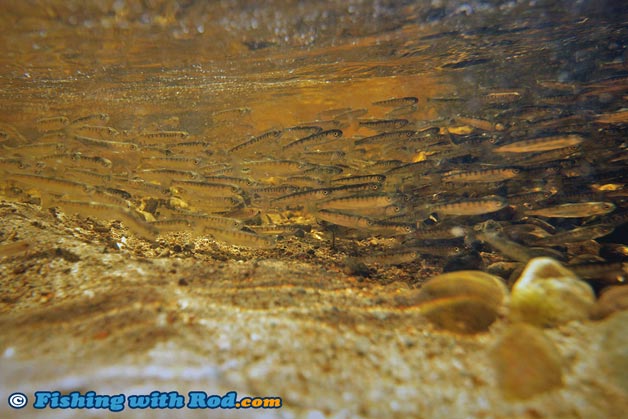 From late April to mid May, various community salmon hatcheries in the Lower Mainland will be hosting juvenile salmon releases for families to experience. These are great learning opportunities for parents and children. Below is a list of this year's events.
8th Annual Coho Smolt and Fry Release into Hyde Creek, April 26th
Come out on Saturday, April 26th and be a part of the big release of thousands of salmon. The Hyde Creek Watershed Society members have spent 18 months raising coho from eggs through to fry and smolt stages. The coho are now ready to travel to the ocean.
You can participate by carrying a bucket of salmon from the hatchery to the creek where you will release them and send them on their journey to the ocean.
While you're at the hatchery, visit the Education Centre and have a tour with one of the volunteer members. Exhibits will be set up, along with a fund raising hot dog BBQ.
The event is on Saturday April 26th from 10:00am to 3:00pm at the Hyde Creek Education Centre & Hatchery (3636 Coast Meridian Road, Port Coquitlam). Parking is available at the Hyde Creek Recreation Centre on Laurier Avenue. It's a short walk west along the Poco Trail to the Hyde Creek Education Centre & Hatchery. For more information, please visit www.hydecreek.org or email hcws.info@gmail.com.
Goodbye Chums, April 27th
Kanaka Education and Environmental Partnership Society (K.E.E.P.S.) is hosting its annual Goodbye Chums event at Bell-Irving Hatchery on April 27th from 11:00am to 3:00pm. The whole family can come and help sending chum salmon fry into Kanaka Creek to begin their journey to the ocean. This annual spring event is co-hosted by K.E.E.P.S. and Metro Vancouver Parks. There will be stewardship displays and interactive activities, and visitors can find out ways to become involved. Admission is free.
For more information, please email admin@keeps.org or phone 604-970-8404.
23rd Annual Fingerling Festival, May 3rd
The 23rd annual Fingerling Festival will be held on Saturday, May 3 at the Port Moody Recreation Centre and Noons Creek hatchery (located over the footbridge by the rink).
The Fingerling Festival celebrates the release of salmon into Noons Creek with a fabulous environmental festival that is visited by over 4,500 people of all ages. This event is supported primarily by the City of Port Moody, Pacific Coast Terminals (PCT), thev3h.com, and Port Metro Vancouver.
Bobs & Lolo entertain with two concerts at 11:30am and 1:00pm; we put on a fund raising hotdog lunch; and adults and kids learned more about our local environment from over 60 exhibitors in the ice hockey rink which is taken over each year for the day for our festival.
Kids help make up a bucket brigade and they help us to release 40,000 young chum salmon from the hatchery into Noons Creek for their four year journey in the Pacific Ocean. Buckets were donated to us and are provided free of charge each year so that all members of our community can get involved.
For more information, please visit this page.