Fly Fishing Film Tour in Vancouver
Posted on May 28th 2014, by Fly Fishing Film Tour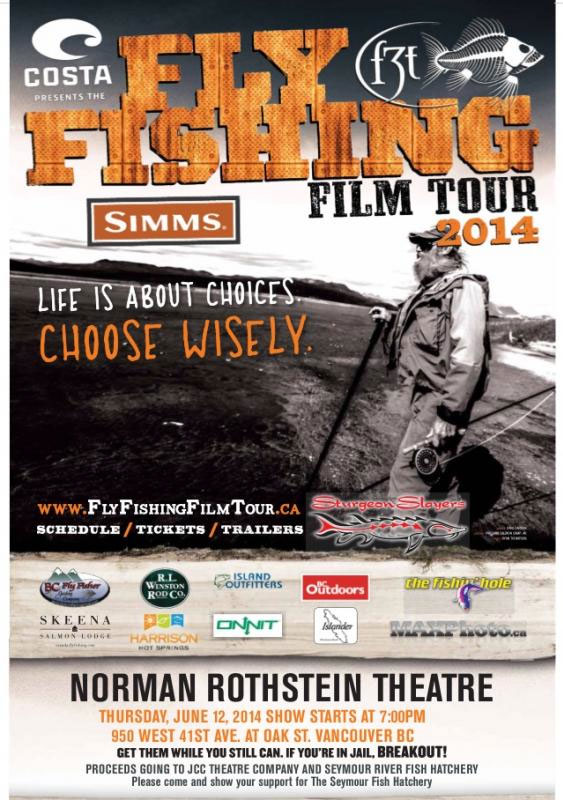 Due to the success of the last show, the Fly Fishing Film Tour is back in Vancouver once again on June 12th. Proceeds from this year's show will benefit the Seymour Salmonid Society in North Vancouver and Norman Rothstein Theatre.
Last year we were able to raise $2,100, so that was $1,050 to the Steelhead Society of BC and $1,050 for the Norman Rothsetin theatre.

The date is June 12th, right before Fathers Day. The doors will open again at 7:00pm and the show starts at 7:30pm. The Norman Rothstein Theatre is located at 950 west 41st ave in vancouver, which can be easily accessed by skytrain via Oakridge Center. Cold beer and wine as well as non alcoholic beverages will be available again this year.
The films are absolutely stunning. The cinemtography is top notch. Trailers of this year's films can be seen on this page.
The show admissions are $15 for adults and $10 for those who are under 16. Tickets are available online. They are also available at Berry's Bait and Tackle, Pacific Angler, Sea-Run Fly and Tackle. They will also be available at the door.
Draw prizes and show updates...