Hyde Creek Salmon Release
Posted on April 6th 2015, by Hyde Creek Watershed Society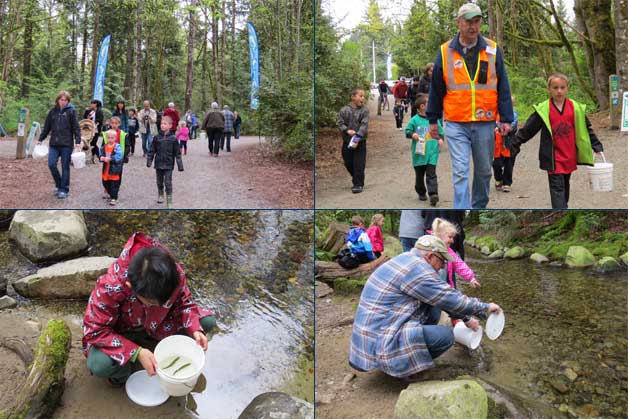 You can help the Hyde Creek Watershed Society members release thousands of salmon into Hyde Creek in Coquitlam on Saturday April 25th. Members have spent 18 months raising coho salmon from eggs through to fry and smolt stages and these coho are now ready to travel to the ocean.

Carry a bucket of salmon from the hatchery to the creek where you will release them and send them on their journey to the ocean.

While you're at the hatchery, visit the Education Centre and have a tour with one of the volunteer members. Exhibits and crafts are part of the day, along with a fundraising hot dog BBQ kindly sponsored by Coopers Foods and Save On Foods, Port Coquitlam.

This event will take place from 10:00am to 3:00pm at the Hyde Creek Education Centre & Hatchery, 3636 Coast Meridian Road, Port Coquitlam. Parking is available at the Hyde Creek Recreation Centre on Laurier Avenue. It's a short walk west along the Poco Trail to the Hyde Creek Education Centre & Hatchery.

Please see www.hydecreek.org, or email hcws.info@gmail.com for more information.