Chinook Salmon & Coho Salmon
By Rodney Hsu, Fishing with Rod | Published in September 2006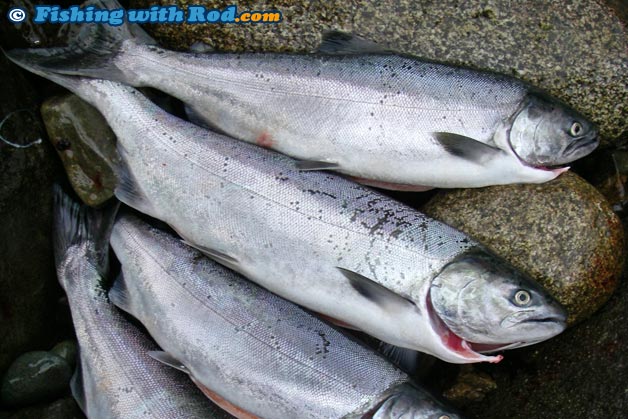 When fishing in Southern BC during September and October, it is crucial to know the difference between all the salmon species. In these two months, all five pacific salmon can be caught in the Lower Fraser tributaries. Some can be kept, while others are protected and must be released immediately. It is every angler's responsibility to recognize the differences and follow the daily quotas of the stream where he or she is fishing.
The biggest confusion that most new anglers have sits on knowing the difference between a chinook salmon, especially a jack, and a coho salmon. This article illustrates the main differences between the two.
A jack chinook salmon is a male that returns to the river before it completes the full four-year adult cycle. Due to the minimal amount of time it spends in the ocean, a jack chinook salmon is usually not very big. In the Fraser River, a chinook salmon under the length of 50cm is considered as a jack, while the same classification is used for a chinook salmon under 62cm in the Chilliwack River. The adipose fin of all chinook salmon in the Southern BC streams is not clipped, so anglers are allowed to keep any chinook salmon with an adipose fin if a daily quota is given.
A full-grown adult coho salmon in most Southern BC rivers has an average weight between 4 and 10lb, which is very similar to a jack chinook salmon in size. Due to heavier fishing pressure, hatchery programs have been established over the years to produce coho salmon. These hatchery produced coho salmon always have their adipose fin clipped before released into the river. This is done to allow anglers keeping hatchery raised fish while a safe passage is created for all wild fish that still have their adipose fin.
Many new anglers always have difficulties when they need to distinguish between a wild coho salmon and a jack chinook salmon. Both have adipose fin, but only jack chinook salmon can be harvest while wild coho salmon need to be released. Many times anglers would mistakenly kill a wild coho salmon, thinking that it is a jack chinook salmon. This only further threatens the coho enhancement program and can result in a fine for anglers. To avoid making this mistake, there are several body features that can be used to distinguish the two fish.
Common name
Chinook salmon
Coho salmon
Scientific name
Oncorhynchus tshawytscha
Oncorhyncus kisutch
Average size
Jacks: 30cm - 50/62cm
Adults: 50/62cm+
Jacks: 25cm - 35cm
Adults: 35cm+
Spots
Large, cover the entire back, dorsal fin and the entire tail.
Small, cover the entire back and upper section of the tail.
Mouth
Black gum and base of the teeth.
White gum and base of the teeth.
Colour
Silver body, blue-green back
Silver body, metallic-blue back
Additional information

All chinook salmon have an adipose fin.

Chinook salmon can be found in Southern BC rivers between May and September.

When chinook salmon reach spawning maturity after spending quite some time in the river, their body colour becomes black, brown or dark olive.

Wild coho salmon have an adipose fin while hatchery-raised coho salmon do not have one.

Coho salmon can be found in Southern BC rivers between late August and early December.

When coho salmon reach spawning maturity, after spending quite some time in the river, their body colour becomes dark red.