Fishing in BC: White Sturgeon
By Rodney Hsu, Fishing with Rod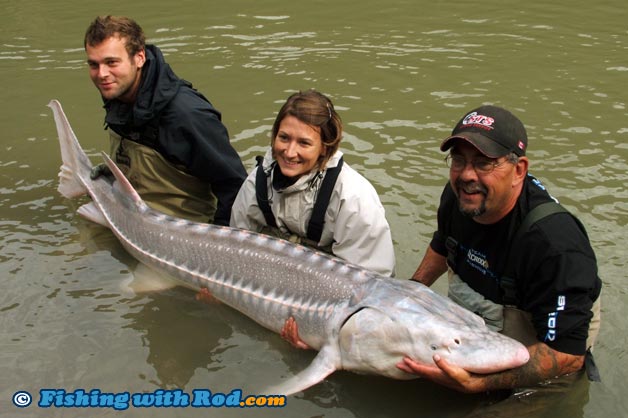 One of the biggest attractions in British Columbia's freshwater fishery is battling with white sturgeon, which are the largest freshwater fish in the world. These prehistoric-like fish are found in six different watersheds - Upper, Mid and Lower Fraser River, Nechako River, Columbia River and Kootenay River. Unfortunately, due to damming and overfishing in the past century, most of these populations are now listed as endangered by the Species at Risk Act. Today, the Lower and Mid Fraser River are open for white sturgeon fishing. This is a sustainable catch and release fishery, which attracts anglers from all over the world.
White sturgeon can be caught in the Fraser River throughout the year, but the best fishing months are April to October. In April, before spring freshet begins, eulachon make their way into the river to spawn. These oily baitfish make up an important diet for white sturgeon. After being inactive throughout the winter months, they are eager feeders so bites are frequent if you can find where the fish are feeding. They continue feeding on small fish throughout the summer months until the arrival of spawning salmon. The presence of spawning salmon shifts white sturgeon's diet from baitfish to salmon roe. As salmon lay their eggs, white sturgeon enjoy eating loose eggs that are carried downstream by the current. Once spawned out salmon die, their diet shifts once again to rotten salmon flesh. Between August and November, sacs of salmon roe and flesh from salmon carcasses become two commonly used bait for white sturgeon.
Fraser River white sturgeon fishing areas can be broken down into three sections - The tidal portion of the Fraser River between Steveston and Mission, the non-tidal portion of the Fraser River between Mission and Hope, and the mid section of the Fraser River between Hope and Lillooet.
In the tidal portion of the Fraser River, fishing can be done during either the incoming or outgoing tide. As long as there is a current that carries the scent of your bait, then you are likely to be successful. In this section of the river, fishing can either be done from shore or from a boat. Shore anglers often target them from piers and points where direct access to deep water is available.
In the lower/non-tidal portion of the Fraser River, most of the white sturgeon fishing is done from a boat due to the lack of access from shore. Anglers who do not have a boat usually hire a guide who offers fishing from a jet boat. Guiding service for white sturgeon fishing in the Fraser River is widely available but they are often booked up due to the popularity of this fishery, so you should always book in advance if interested. This is the ideal fishing experience for families, tourists and corporate groups. Your guide provides all the fishing gear and the comfort of a canopied boat, while you simply have to show up and be ready to fight the biggest fish in your lifetime.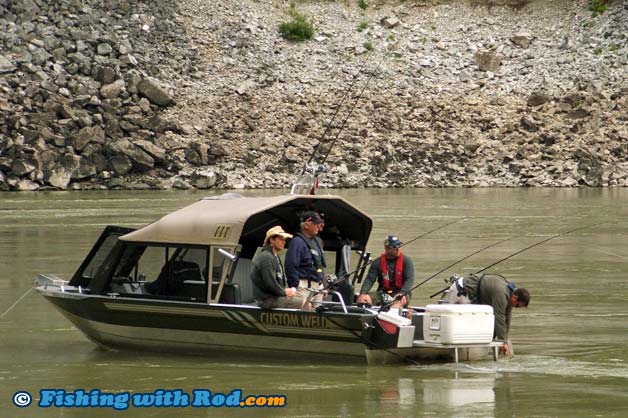 While shore fishing for white sturgeon is available at places in the mid section of the Fraser River, fishing with a guide from a boat is highly recommended. This section of the river is surrounded by canyons so the steep terrain can be dangerous for anglers who are unfamiliar with the area. Because of the turbulent water course, sturgeon fishing is usually combined with whitewater jet boating in this section of the river. Only a few guiding companies offer this service due to the difficult terrain. Fishing pressure in this area is significantly lower than the lower sections of the river, therefore these white sturgeon are often more willing to bite. If you are looking for an adrenaline pumping trip, then this is definitely for you.
White sturgeon found in the Fraser are usually between 2 and 6 feet long, but they can be as long as 10 feet and occasionally even larger fish are caught. Because of their size and unforgiving strength, good quality, heavy-duty fishing gear is required. Your rod and reel should be rated for 40 to 80lb test, while a good quality 6/0 hook or larger is needed. Your main fishing line is usually braided, to avoid abrasion in the silty Fraser River. 8 to 16oz is usually the size of the weight used to anchor your bait on the bottom, depending on where you are fishing. You also need to carry a pair of thick gloves so you can handle white sturgeon safely. The scutes on the side of a white sturgeon can be rather sharp. Waders are not required but recommended, for landing big fish by the river bank if they cannot be brought onto the boat.
Although white sturgeon are known for their toughness, great care should be given when catching and releasing them. When photographing the catch of your lifetime, please remember to keep white sturgeon in the water and only lift the fish out briefly when the photo is taken. When lifting your fish, please provide as much support as possible. For bigger fish, more support maybe needed. Please prevent lifting large fish into a boat. Lifting or dragging a large fish without proper support may damage the fish during the process. By doing these safe practices, we can ensure the survival of the Fraser River white sturgeon population.