Beach Fishing for Pacific Salmon
By Rodney Hsu, Fishing with Rod | Published in July 2013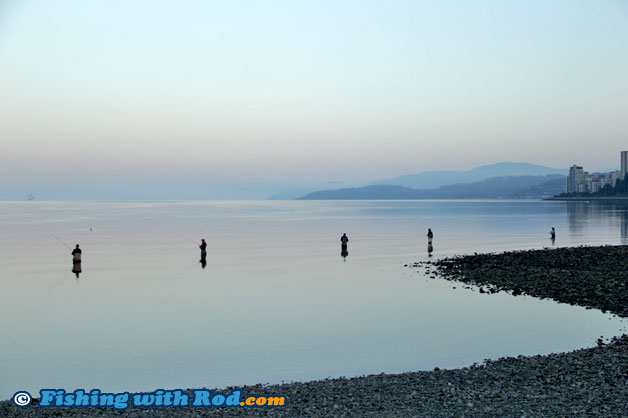 Beside catching them from a boat in the ocean, several Pacific salmon species can also be targeted from beaches in British Columbia. This seasonal fishery is extremely fun yet challenging for anglers who do not have the luxury to venture out in a boat. By dialling in the timing and polishing up the casting and retrieving techniques, it is in fact not too difficult to bring home some ocean fresh salmon from shore.
Target Species
Two species of Pacific salmon have a tendency to travel close to shore in the ocean. They are pink salmon and coho salmon. As they approach the end of their adult phase in the ocean prior to entering spawning streams, these two species feed aggressively along beaches where food is often abundant. Their diet include herring, anchovy, needlefish, sandlance, stickleback, shrimp and crab larvae. Because they are always hungry, luring them should not be a problem.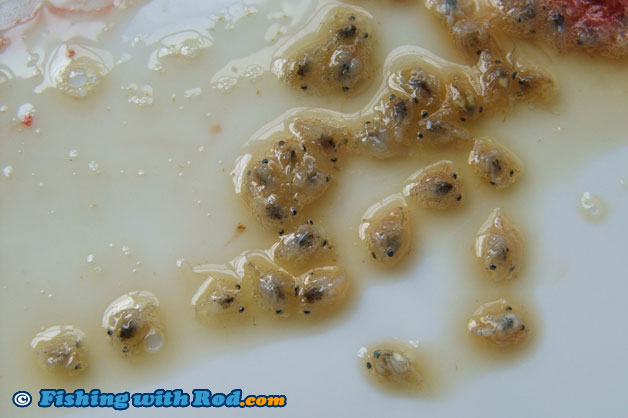 With that said, they appear to be lock-jawed more often than not because they just do not want to bite whatever you are using. The question you should ask yourself is, what are they feeding on? With an array of prey available for these fish, it is important to determine what they are feeding on at any given time, so you can match it with your lure or fly.
Fishing Tackle
Two main techniques are used to target salmon from a beach - Spincasting and fly fishing. Unlike casting a lure in a river, the key to beach fishing is casting distance. Reaching schooling fish is important if you want to improve your catch success. If they cannot see your lure, then it is unlikely that you will find a tug at the end of your rod. Quite often fish are feeding pretty far from shore, so you should have a setup which allows you to cast fairly far. To achieve this, a fishing rod measuring at least 9' long is required. It can either be a spinning or baitcasting rod, but the rating of the rod should be at least between 6lb and 10lb test. This rod also needs to be able to cast lures weighing up to 1/2oz. While a long rod is preferred, I personally do not use one which is over 10' long. This is a fishing rod used to cast repeatedly, so a long stick would result in a pair of rather sore arms by the end of the outing, especially if no fish are caught.
A spinning or baitcasting reel which has the capacity to be spooled with at least 8lb test monofilament line is best. Most of the fish you will encounter in this fishery are between 4 and 12lb. Thinner lines allow you to cast further but are more easily cut by rocks and other debris. Thicker lines are tougher but your casting distance can be compromised. Another good alternative is to spool your reel with braided fishing line. When choosing your reel, be sure to select one which can withstand the saltwater. A good drag system is also advantageous to handle the abrupt runs by these strong fish.
Popular lures for beach salmon fishing include Buzz bombs, Zingers and other saltwater jigging lures. Freshwater spoons such as Gibbs Croc spoons also work well. Beach fishing lures are often higher in density, so they can be slim yet heavy, designed for long distance casting. For pink salmon, colour selection is not a huge factor. Pink, orange, chartreuse or even a plain silver lure works great. For coho salmon, lures which resemble small baitfish such as needlefish, sandlance and stickleback are commonly used. Lure weight influences your casting distance. 3/8oz lures or more can be cast out pretty far, but they also sink pretty fast and more easily snagged. Lure selection should also take the water depth into account. Freshwater spinners are also commonly used for coho salmon, but additional weights are needed on the line to achieve the casting distance required. A fixed weight is usually tied to the end of the main line, followed by 2 to 3 feet of leader, which is tied to the spinner.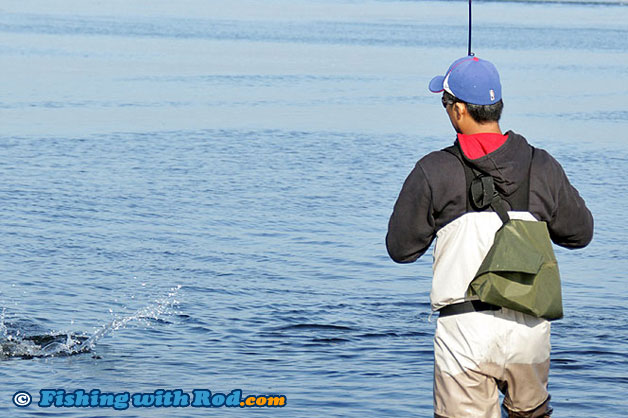 Depending on the size of the fish you are targeting, a 5 or 6 weight fly fishing rod should be adequate enough for beach salmon. If there is the likelihood of encountering the odd chinook salmon, then you may wish to try a heavier setup. Your rod should be at least 9 feet long and a fast action blank is preferred to achieve the casting distance required. Because the fishing depth is fairly shallow, a floating line is sufficient enough. A tapered leader around 9 to 12 feet long is usually used and the fly is slightly weighted so it can sink down gradually to the strike zone. Typical beach salmon fishing flies imitate shrimp, crab larvae, minnows, sandlance, needlefish.
Season and Timing
Timing plays a huge role on beach salmon fishing success. The sea is big so fish are usually quite scattered out unless they are feeding in one particular area. You can start looking for salmon on your local beaches a few weeks before they are expected to return to their natal streams. For pink salmon, they can be found from late July to early September. Coho salmon are found along beaches in September and October, with the exception of early runs such as the Capilano River stock, which can be found along beaches of West Vancouver in July and August. Although early morning is generally better for any type of fishing, tide is a bigger factor when choosing the time of your outing. The change of tide is usually when fish become active close to shore. Low tide appears to be very productive for some locations, while a flood tide can push a big school of fish inshore at certain spots. Every fishing location is different, so the only way to find out is by fishing it often and recording your findings in a diary. Over time, you can develop a pattern on when fish are most likely to show up.
Fishing Techniques
Before making your first cast, it is important to be observant. Stand back, look for signs of fish in the water. They can be very close to shore if undisturbed and wading can spook them easily. Cruising fish will show the dorsal part of their body occasionally, this is especially true for pink salmon. Baitfish leaping out of the water can be an excellent sign, because it suggests salmon are feeding below the surface. Abundance of jumpers does not necessarily translate into good fishing results. Staging fish at the estuary have a tendency to jump when schooling in a tight spot. These fish have most likely been targeted repeatedly so they have seen most lures.
Once you cast out your lure, you can begin retrieving immediately to keep it away from the bottom. The retrieve speed is generally faster than what you would do in a stream. These salmon are aggressive feeders, which will not hesitate to chase down a prey. Twitch the rod regularly to provide more action to the lure. If you are using a jigging style lure, then you should lift and drop your rod repeatedly as it is being retrieved. Maintain the tension of your line so you can strike as soon as a bite is felt. Keep your rod tip close to the water surface so you have plenty of room to raise the rod when needed. If fly fishing, the stripping of your fly is also more rapid, to simulate a shrimp or baitfish darting and suspending in the water.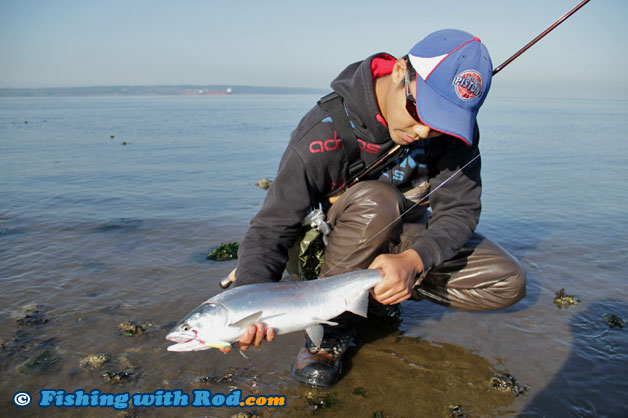 A landing net is not necessary as your fish can usually be brought into the shallow, identified, beached if you wish to retain it. You should wear a pair of waders because most of the time you need to walk out from the beach to access deeper spots. Always keep an eye out for big waves approaching shore, you do not want to be hit by a surprising bath. If you decide to walk out to a exposed sand bar during low tide, then be aware of the tide level so you do not end up being stuck. Although the water can be shallow and seemingly calm, the current can be quite strong. Finally, make sure you have a valid saltwater fishing licence and salmon conservation stamp before taking part in this fishery. Check the regulations of the area where you are fishing for gear restrictions and daily retention quota of salmon.
Fishing Locations
Beach salmon fishing can be done near many towns along the East Coast of Vancouver Island such as Port Hardy, Port McNeil, Campbell River, Qualicum Beach. On the Sunshine Coast, it is also practiced between Sechelt and Gibson. There are many locations around Vancouver where this fishery is available. Popular spots include Furry Creek in Howe Sound, Ambleside Beach in West Vancouver, Cates Park in Deep Cove. Productive beaches are usually near a stream where salmon are expected to return.