Baked Salmon Fillet: Fast and Delicious!
By Rodney Hsu, Fishing with Rod | Published in November 2004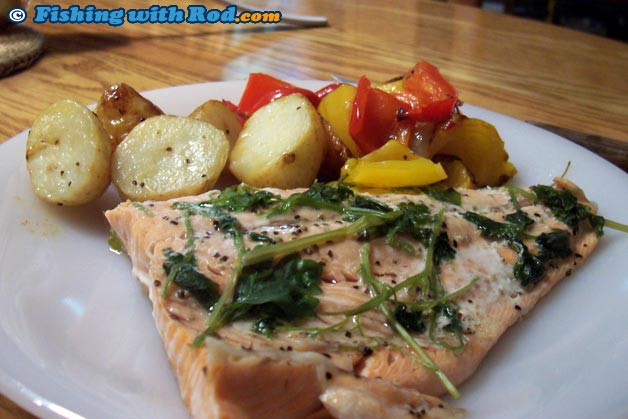 Although Pacific salmon is recognized by many as the best eating fish in North America, many people find it hard to prepare it. A fresh fillet can be transformed into a dry, stale steak when cooked incorrectly. The recipe shown below is a simple and fast way to prepare your fine catch without disappointing your taste buds.
Ingredients:
Fresh fillet of coho or chinook salmon
Dried dill
Lemon pepper
Salt
Dried onion flakes
Butter
Place the fillet skin side down on a tray. Sprinkle finely chopped dried dill, lemon pepper and salt. The amount sprinkled on depends on personal taste.
Allow the fillet to sit for 10 minutes while the oven is preheated to 180°C.
Once the oven reaches the desired temperature, place one table spoon of butter on the fillet and cover the tray with aluminum foil. Bake for 15 minutes and it is ready to be served!