Respect Your Subject's Welfare
By Rodney Hsu, Fishing with Rod | Published in March 2012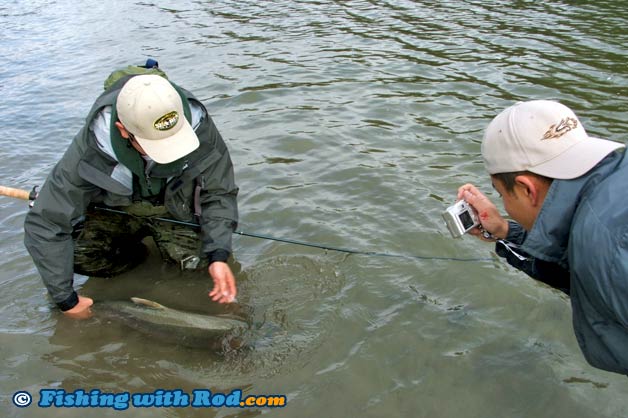 If the fish is to be released, then your priority is to ensure the damages to that fish is minimized. It becomes pointless to take a photograph of a live fish but jeopardizing its survival when it is released.
This means the fish should be kept in the water so it can breathe until the photograph is ready to be taken, avoiding external and internal injuries by holding it correctly while the photograph is being taken.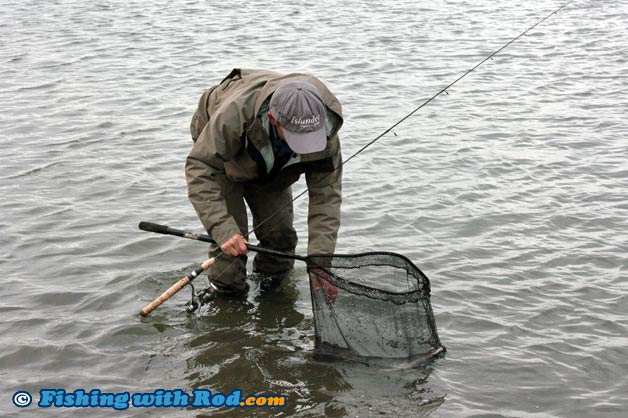 I prefer to carry a catch and release landing net whenever possible so I can keep the fish in the water without losing it while fetching for my camera. The long handle acts as a supporting frame, which can be held between the legs or anchored on rocks so your hands are free.
Wearing a pair of waders or gumboots allows you to stand in the water to make this process easier. If you are on dry land, chances are you will either get wet or the fish will end up thrashing on rocks or sand. The loss of slime and scales on a fish's body can sometimes result in diseases after the fish is released.
There isn't one perfect way to handle a live fish for photographing, so one should not stress too much about making mistakes. The most important thing to remember is simply doing the best you can to protect the fish while capturing a picture or two of your memorable catch.