Tunkwa Lake, Tunkwa Lake Provincial Park
By Rodney Hsu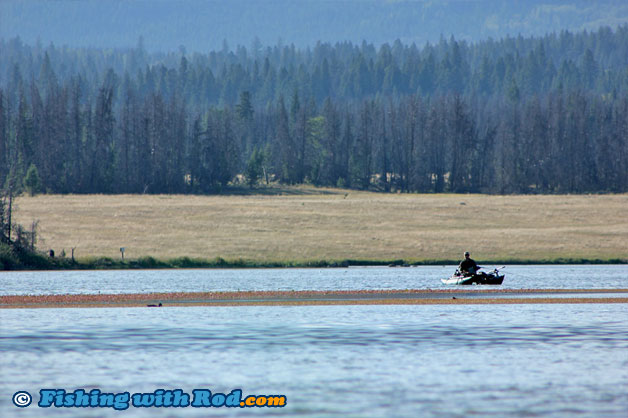 Tunkwa Lake has been a long-time favourite for families from Vancouver who enjoy fishing and spending quality time in the outdoors. It is the ideal destination for those who can only get away for the weekend. This lake offers fabulous rainbow trout fishing throughout the year. The wind can be a challenge, but it is well worth it when you capture that trophy trout and the memory that goes with it.
How to Get There?
Tunkwa Lake is located at Tunkwa Lake Provincial Park. From Vancouver, travel to Logan Lake via Highway 97C. Once at Logan Lake, travel north on Tunkwa Lake Road and follow the signs to the lake. Only a small portion of the road prior to arriving at the lake is not paved. The lake can be accessed from either the provincial campground or Tunkwa Lake Resort. Tunkwa Lake Resort offers tent and RV camping, rustic cabins and larger luxury log cabins for those who wish to stay for several nights.
Fishing Season
Ice fishing is a popular activity at Tunkwa Lake from January to April. Spring is a busy time at the lake because fly fishermen always take advantage of the good fishing between late April and early June. July can be a slow month, but fishing often improves in August when the "bombers" are hatching. Bombers are the exceptionally large chironomids that are found at Tunkwa Lake as well as nearby lakes. Fall fishing can also be great once water temperature lowers.
Fishing Techniques
Many fishing techniques can be used when fishing at Tunkwa Lake. Kids can simply toss a bobber and worm out from shore or docks, where large fish can be caught at times. If shore fishing does not fancy you, then take a boat out and slowly troll a spinner, spoon, or fly. Trolling is often successful when all other methods fail.
Fly fishing is what draws most anglers to Tunkwa Lake. Suspending a fly under the indicator is by far the most popular method because it keeps the fly in the strike zone. Chironomids in sizes 12 to 16 and a variety of colours are usually productive in spring, while larger chironomid patterns are needed to match the bombers in July and August. This is not a very deep lake, making chironomid fishing less challenging. When chironomids are not hatching, it is best to switch to other patterns such as blood worm, scuds, dragonfly, mayfly and leeches.
Freshwater Fisheries Society of BC stocks Tunkwa Lake with a variety of rainbow trout. These trout are usually released at the fingerling stage and can grow up to 5lb within a couple of years. Larger fish are always reported several times each year by few lucky anglers. These are the exceptions of course, most rainbow trout encountered are between 1 and 3lb. A light spinning setup is best for trolling, while a 4 or 5wt setup is ideal for fly fishing.
Ice fishing is done between January and April. It is best to spend several days at the lake during the winter. Tunkwa Lake Resort is the ideal venue for this fishery because the resort is fully equipped to keep you warm when waiting for those trout to bite below the ice. Bait such as krill, salmon eggs, shrimp, worm are all productive when ice fishing.
Important Notes
Before your first fishing trip to Tunkwa Lake, please make sure you know the following information:
You must have a valid British Columbia freshwater fishing license.
Tunkwa Lake is located in Region 3 in the British Columbia freshwater fishing regulations.
Tunkwa Lake is in a provincial park. Please respect park rules and other users. You should also pay attention to the motor restriction if you plan to take a boat out.
Tunkwa Lake can be extremely windy at times, so you must take caution when boating. This lake is also at a higher elevation, so the weather can change very fast. Night time temperature can dip pretty low, even in summer months, so warm clothing are always needed.