Derby Reach, Langley
By Rodney Hsu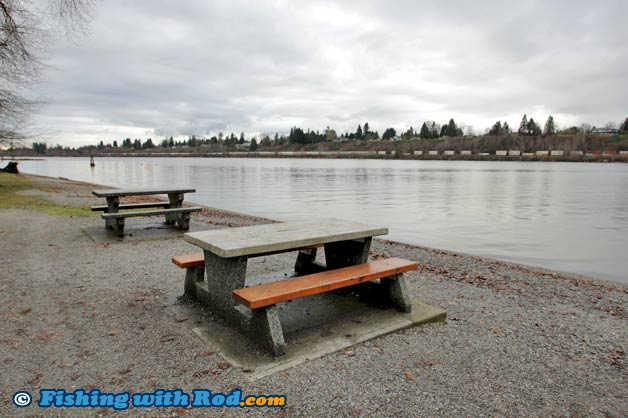 Located at the edge of Langley, Derby Reach Regional Park is a family-friendly fishing spot which produces salmon between August and November, as well as smaller coarse fish species between early spring and late summer. The public washrooms, trails, picnic tables and beaches mean parents can bring their children and fish safely.
How to Get There?
Derby Reach Regional Park is located along Allard Crescent. To reach there from Highway One, exit at 200th Street and travel north. Turn right onto 96th Avenue, followed by a left onto 208th Avenue, which leads to Allard Crescent.
Fishing Season
Like other sections of the Tidal Fraser River, coarse fish such as peamouth chub and northern pikeminnow can be found between April and October. Chinook and sockeye salmon pass through Derby Reach from July to September. During odd years, pink salmon can be found returning between mid August and late September. Coho salmon and chum salmon can be caught in October and November. Coastal cutthroat trout and bull trout can be caught occasionally in spring and fall.
Fishing Techniques
The beaches at Derby Reach Regional Park are mainly made of mud, with wooden debris scattered in the water so can be snaggy at places. These structures can be excellent for finding trout and char, but can also be a nuisance when either fishing with a lure or a baited hook on the bottom.
To fish for coarse fish, a bar rig with baited hooks is the best setup. Bait such as dew worm, dough balls are excellent. Keep the hook size small (size 8 to 12) for these fish. Because the tidal current can be strong, you need to use adequate amount of weight to keep the bait on the bottom.
For salmon, spin casting a variety of lures is the best method. Watch your lure depth and retrieve speed to avoid snags in the water. Lure fishing for salmon is most effective between late August and November when water clarity is good. Water clarity is generally poor between May and August due to freshet in the Fraser River.
For trout and char, casting small spoons and spinners with a light spinning rod and reel setup is the way to go, but you can also target them with a light fly fishing rod. Small minnow patterns work well as flies in spring when salmon fry are migrating downstream.
Important Notes
Before your first fishing trip to the Derby Reach Regional Park, please make sure you know the following information:
You must have a valid British Columbia tidal fishing licence.
Derby Reach Regional Park is located in Fisheries and Oceans Canada's Area 29. Please read the general tidal fishing regulations and Area 29's regulations. The salmon fishing openings are usually announced during the season, so it is always best to check for opening times and other restrictions before heading out.
There is often a bait ban for salmon fishing in September and part of October, so please be sure to check before you choose to use bait. Your local tackle stores will have the latest information.
Please release closed fish species with care.
Please respect other park users and wildlife by keeping this area clean.
Watch your steps! The Fraser River can be very muddy and turbulent at times.