Matsqui Trail Regional Park, Abbotsford
By Rodney Hsu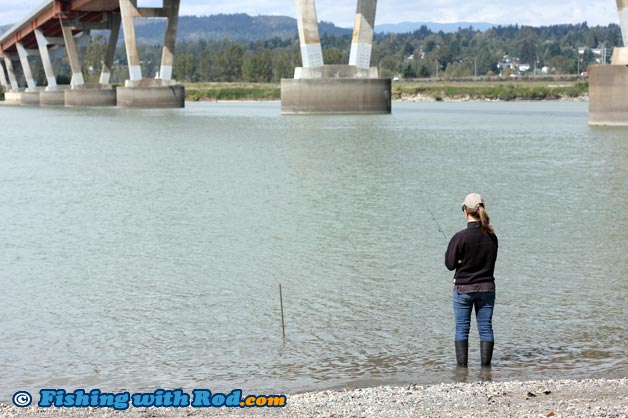 Located under the Mission-Abbotsford Bridge, this is the top boundary of the Tidal Fraser River. The gravel and sand beach along the shoreline makes it a good fishing location for families with small kids. Beside small northern pikeminnow and peamouth chub close to shore in the summer time, this is also a productive spot for pink and coho salmon.
How to Get There?
Matsqui Trail Regional Park can be accessed from Highway 11 just south of Mission-Abbotsford Bridge. Turn onto Harris Road from the highway and head west, then turn right onto Riverside Street at the first set of traffic lights. Riverside Street will take you to the main public parking lot at the park. From here, you can either walk upstream or downstream from the parking lot. You should note that the tidal boundary of the Fraser River is the railway bridge further upstream. If you are fishing downstream from the railway bridge, you need a tidal fishing licence. If you are fishing upstream from it, you need a freshwater fishing licence. Additional vehicle accesses on the freshwater side at the park are Walters Street and Beharrell Road.
Fishing Season
Northern pikeminnow, peamouth chub and other coarse fish species can be caught throughout the summer. During odd years, pink salmon can be very good in September. Coho salmon can also be caught in October and November as they migrate through to tributaries further upstream. In the winter and spring months, occasionally coastal cutthroat trout and bull trout are available, especially when they feed on out-migrating juvenile salmon fry.
Fishing Techniques
This section of the Fraser River can be snaggy at places so it is not ideal for bottom fishing if you are targeting salmon further out from the beach. If you are fishing for small minnow species, then anchoring some bait on the bottom close to shore should not be a problem. Dough balls, dew worms, shrimp should all work very well for northern pikeminnow and peamouth chub. For pink salmon, casting and retrieving a spoon, spinner or jig works well. A pair of waders or gum boots is good to have, but don't wade too far out as pink salmon prefer to travel close to shore. Incoming tide is best, so be sure to add three hours to the Vancouver tide table when planning your outings to this area.
Important Notes
Before your first fishing trip to the Matsqui Trail Regional Park, please make sure you know the following information:
You must have a valid British Columbia tidal fishing licence.
Matsqui Trail Regional Park is located in Fisheries and Oceans Canada's Area 29. Please read the general tidal fishing regulations and Area 29's regulations. The salmon fishing openings are usually announced during the season, so it is always best to check for opening times and other restrictions before heading out.
There is often a bait ban for salmon fishing in September and part of October, so please be sure to check before you choose to use bait. Your local tackle stores will have the latest information.
Please release closed fish species with care.
Please respect other park users and wildlife by keeping this area clean.
Please respect local residents by keeping your noise down and slowing your vehicle down when driving by.
Watch your steps! The Fraser River can be very muddy and turbulent at times.