2012 Wally Hall Junior Memorial Steelhead Derby Awards
Posted on March 18th 2012, by Chris Gadsden, Fraser Valley Salmon Society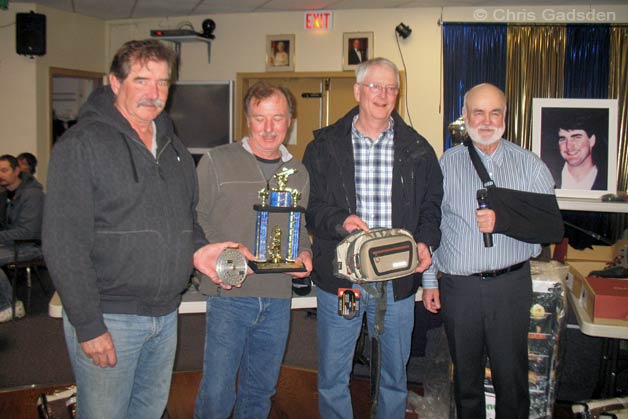 The Wally Hall Junior Memorial Steelhead Derby held its 2012 awards on Sunday March 18th at the Vedder Legion. The awards ceremony was very well attended by close to a hundred avid steelheaders, who were first treated to lunch before the presentations took place. The tables were once again full of great prizes with most of the attending anglers taking home a prize, with the exception of yours truly, among the 15 others who did not win. 2 or 3 of the 15 won one of the six hidden weight prizes of $100 each. This was the 12th anniversary of the derby.
The 2011 - 2012 edition of the derby saw 497 fishers entered, which is 213 entries more than the previous one. The derby saw 417 fish entered at Fred's Custom Tackle, the official weight-in station from December 1st 2011 to March 15th 2012. Out of these 417 fish, 303 were does and 114 were bucks while the previous season saw a total of 399 fish with does once again being the most willing biters at 273 to 126 males.
Wally Hall Senior presented all the awards with 2-time winner Peter MacPherson winning the Wally Hall Junior Memorial Perpetual Trophy once again along with 10 crisp $100 bills. Peter had won in 2010 with a 18.40 pound buck. This season MacPherson's 19.085 buck was landed on January 5th. It was also the first fish over 17 pounds, which gave him a further $100.
Gerry Dewar was in second spot as his steelhead, also a buck, was close behind hitting the scales at 18.821. Dewar took home a Milner centerpin reel for his winning fish.
Peter Buck was also very close behind Dewar as his 18.447 buck was only 0.374 of a pound short of second place. This gave him a waist pack with tackle and a $100 bill inside. Buck also had the first steelhead weighed in so that gave him another $50, a good pay day for him as well.
Major draw prize winners included Dave Hiross, who won a helicopter trip for four with the flight donated by the Far West Helicopter Company. Art Giroux won a Bradley Smoker courtesy of Fred's Custom Tackle.
Many thanks to the Wally Hall family, Far West, the Legion for once again hosting the awards as well as serving lunch, and to Fred Helmer along with his staff for being the weight-in station as well as for their donation of the Bradley Smoker.
Also thanks to all those who supported the derby, it is a great way to remember Wally Hall Junior who was also an avid steelheader like many of us.