Fish for the Future 2012
Posted on July 5th 2012, by Rodney Hsu, webmaster
On Saturday July 14th, we will be hosting our annual community event "Fish for the Future"! This will be our tenth year hosting the event and we welcome all families with kids under the age of 16 to join us for a day of fishing. The festival will once again take place at the No. 2 Road Pier.
This year's event will run from 10:00am to 2:00pm. The tide will be low and incoming, which means fishing will be much easier and productive with the absence of current. Bring your fishing gear with you and our volunteer anglers will help you if you have questions on how to improve the setups. If you do not have fishing equipment, Freshwater Fisheries Society of BC will be providing fishing rods and reels for kids under the age of 16. Bait such as dew worm, krill, salmon eggs will also be available for you to experiment with.
Once you catch your fish, you will have the opportunity to release them into our aquariums so they can be looked at closely. All fish will be released back into the Fraser River eventually. Your target species will be peamouth chub, northern pikeminnow, sculpin, redside shiner. At past events, participants have also encountered starry flounder, largescale sucker, American shad, trout and char!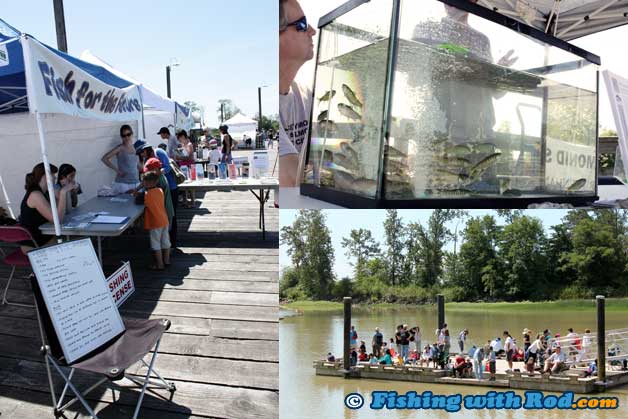 Beside fishing activities, other features at this year's event include fly casting demonstration by Pacific Angler. Participants will also have a chance to try it out between demonstrations. Fly tying lessons are also back by popular demand! Try tying up a fish or insect that you can use to catch your next trout or salmon.
Seymour Salmonid Society is returning to the event with their display of juvenile coho salmon and aquatic invertebrates. Find out what critters live in our local streams and what you can do to protect them. Orphaned Wildlife Rehabilitation Society will be bringing their birds of prey once again. Fisheries and Oceans Canada will be answering your questions on fishing regulations, enforcement and management. RCMP will be bringing their patrol boat to the pier during the event so be sure to stick around for a tour.
Berry's Bait and Tackle in Richmond will once again be supplying bait for the event. You will have a variety of bait to choose from, including dew worm, krill and Pautzke Bait single eggs.
Kids under the age of 16 will be able to obtain their free saltwater fishing licences at the event on July 14th. No registration is required for this event. We look forward to see you catching a fish from the Fraser River!
For more information, please check out the official website of Fish for the Future or RSVP on Facebook.