No. 2 Road Pier, Richmond
By Rodney Hsu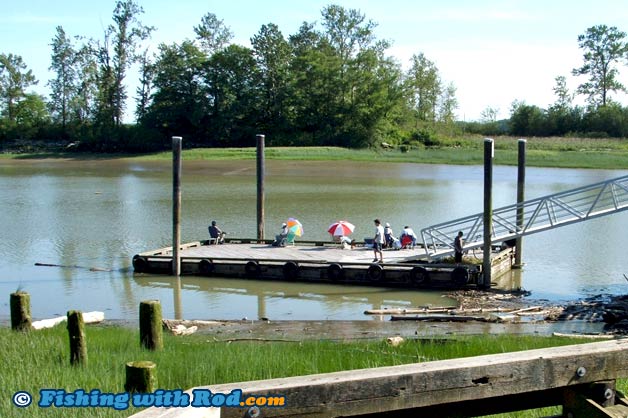 Located at the heart of the sleepy community called Steveston, No. 2 Road Pier at London's Landing is a popular fishing spot between May and September. It is hard to believe that such a peaceful refuge for anglers still exists in one of the fastest growing Canadian cities. Although there are no large fish to catch, this family oriented venue is consistently productive in the summer.
The floating dock at the end of the pier serves as an excellent platform for fishing. Due to Shady Island and the breakwater that is exposed during low tide on the east side, this narrow channel is usually calm even on a gusty day. The nearby bike park, picnic area and washrooms also make London's Landing a welcoming destination for those who do not fish.
How to Get There?
No. 2 Road Pier is located at the southern end of No. 2 Road in Richmond. Once you reach the end of No. 2 Road, turn left onto London Road then right onto Dyke Road. The pier is located at the next corner. A parking lot can be found at the pier.
Fishing Season
The fishing between May and September is consistently good, especially during a strong incoming tide. No. 2 Road pier sits in the Fraser River estuary, therefore it is not unusual to catch both fresh and saltwater fish species on the same day. There are over ten types of fish that anglers may encounter, but the most common ones are bull trout, peamouth chub, northern pikeminnow, pacific staghorn sculpin, shiner perch, pacific herring and starry flounder. Occasionally, pink and chum salmon also travel through this narrow channel during incoming tides.
Fishing Techniques
There are three common fishing techniques used at No. 2 Road Pier. Spincasting with a small spoon or spinner is effective on bull trout and northern pikeminnow if the water visibility is good.
In the summer, the water can be somewhat muddy due to the spring freshet. If this is the case, bait fishing can be just as effective. Typical bait used are roe, shrimp, bread and dough. Roe and shrimp should be fished with a bottom rig that anchors the bait on the bottom. This is necessary if the tidal current is strong. If present, bottom fish such as the pacific staghorn sculpin and starry flounder usually fall for the bait easily.
If the water is calm, float fishing is an enjoyable way to catch your fish. Use a tiny float that only requires several split shots to balance. Adjust the float depth so the bait sits near the bottom. Try using a small hook (size 10 to 14) baited with a piece of bread or dough. This technique usually yields a good catch of shiner perch or peamouth chub.
Important Notes
Before your first fishing trip to No. 2 Road Pier, please make sure you know the following information:
You must have a valid British Columbia tidal fishing licence.
No. 2 Road Pier is located in Fisheries and Oceans Canada's Area 29. Please read the general tidal fishing regulations and Area 29's regulations. The salmon fishing openings are usually announced during the season, so it is always best to check for opening times and other restrictions before heading out.
Quite often, many anglers' actions degrade this wonderful sport at this location. Due to the "infestation" of the bullheads, some anglers would catch and leave them to die and rot on the pier. This is clearly unacceptable. Although bullhead maybe useless to us and has no economical value, it may play a great role in the Fraser river ecosystem that we have not even encountered yet. It is also extremely cruel to leave unwanted fish to die, not to mention it is illegal.
Please respect other users and keep the area clean.