Lower Mainland Urban Lake Trout Season Begins
Posted on March 22nd 2013, by Rodney Hsu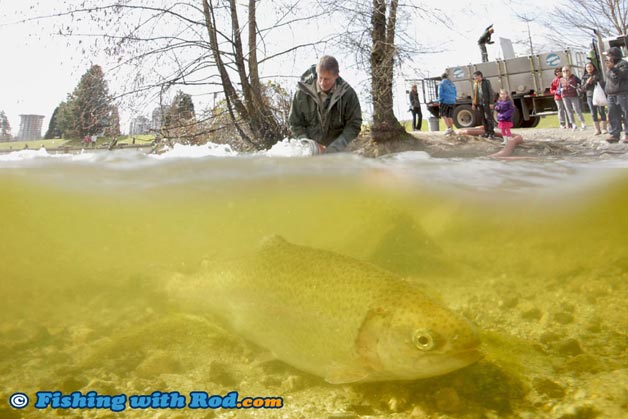 It is time to dust off that spinning rod in your garage, 2013's Lower Mainland urban lake trout fishing season has begun this week. With the arrival of spring, Freshwater Fisheries Society of BC has restarted its catchable rainbow trout stockings by releasing fish into four urban lakes on March 21st. Lafarge, Como, Rice and Green Timbers Lake are now producing rainbow trout.
The Fraser Valley Trout Hatchery, operated by the Freshwater Fisheries Society of BC, is responsible for stockings of these fish between March and June, September and November, so fishing is expected to be excellent during these months. These angling opportunities are fantastic for families, youth and entry-level anglers due to high catch success rate.
As usual, we will once again be providing regular stocking reports to keep you updated so you can plan your next weekend fishing trip better.
Where To Fish?
Here are some of the lakes in Region Two that are stocked with rainbow trout.
Additional Readings
It's Trout Season in Vancouver!
Rainbow trout fishing in the Lower Mainland can be excellent between March and June.
Bait Fishing for Stocked Rainbow Trout
The most basic method used when fishing for stocked rainbow trout is bait fishing.
Lure Fishing for Stocked Rainbow Trout
Lure fishing is another effective fishing method in urban lakes. It is preferred by anglers who want to be active.
Good Fishing at Lower Mainland Lakes
A trip to Alice and Edith Lakes shows how good the trout fishing can be around the Lower Mainland.
A Convenient Alternative
Put and take lakes are a good alternative when fishing is slow else where.
"Fishing in the City" Launched
Fishing in the City is a new urban fishing program launched by the Freshwater Fisheries Society of BC.
Regulations
Before heading out, please be aware of the followings:
You must have a valid BC freshwater angling license if you are 16 or older.
You are permitted to keep four trout per day in Region 2 lakes, unless stated otherwise in lake-specific regulations.

Please note that daily quota of trout for Lafarge, Como, Rice, Green Timbers, Deer and Mill Lake has been reduced to two fish per day in 2013.

If fishing from shore, only ONE fishing rod/line is permitted for each angler.
If fishing alone in a boat, an angler is allowed to use TWO fishing rods/lines, only ONE hook is allowed on each fishing line.
There are exceptions/specific regulations for some lakes (such as catch and release only, requirement of barbless hook, boating restrictions), please see the table in Region Two's regulations where each lake is listed for exceptions.
If you witness a violation, please phone 1-877-952-7277 (RAPP) and report it.
More Information
For stocking plans, please contact the Fraser Valley Trout Hatchery at (604) 504-4716.