Wally Hall Junior Memorial Steelhead Derby
Posted on December 6th 2013, by Fred's Custom Tackle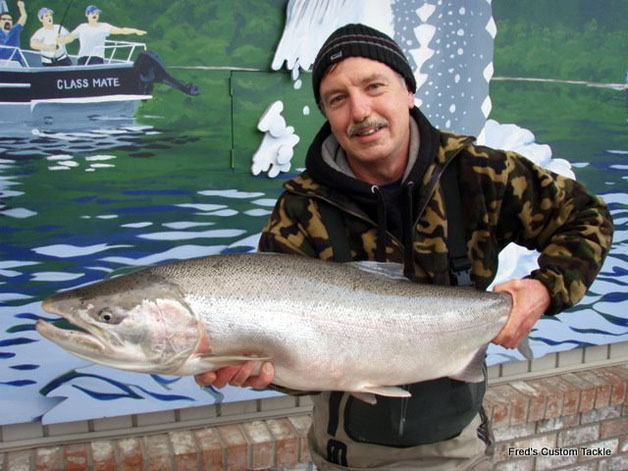 The 2013/2014 Wally Hall Junior Memorial Steelhead Derby has begun! Hosted by Fred's Custom Tackle in Chilliwack, this annual Chilliwack/Vedder River winter steelhead derby takes place from December 1st to March 15th. Due to its fantastic prizes, this event has become a favourite among steelhead anglers in the Fraser Valley and Lower Mainland.
To be eligible for this seasonal derby, you must register at Fred's Custom Tackle (either at the Chilliwack or Abbotsford store) the day before entering your first fish. Registration fee is $15. All fish must be weighed in at the Chilliwack store (1-5580 Vedder Road Chilliwack).
The angler who weighs in the first fish of the year will receive $100 cash. The winner with the heaviest fish of the season will receive $1,000 and bragging rights! Banquet and prize awarding will take place on Saturday March 22nd. Other prizes being awarded include second place, third place, hidden weights and random draw prizes which must be claimed in person at the banquet.
Please note that all steelhead retained must be hatchery-marked as required by the regulations, which you should be familiar with before heading out. You should also make sure that you have a valid BC freshwater fishing license and a steelhead conservation surcharge. For more information on Chilliwack River's winter steelhead fishery, please see this article.
For more information, please visit or phone Fred's Custom Tackle at 604.858.7344. Derby standings will be available throughout the season on this page.