Ucluelet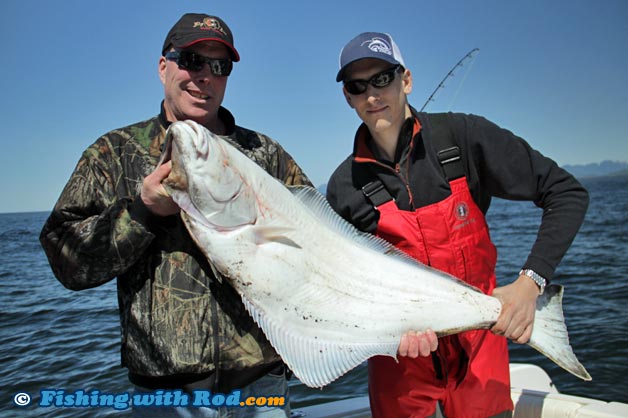 The little sleepy town of Ucluelet has recently become a tourist attraction in both summer and winter. Located along the northern edge of Barkley Sound, Ucluelet is one of several popular saltwater fishing destinations along the West Coast of Vancouver Island. Many luxurious resorts have recently established along the beaches of Ucluelet, making this area an excellent weekend fishing get-away option for those who do not wish to travel too far from Vancouver.
How to Get There?
Ucluelet is the last stop along the Pacific Rim Highway. From Vancouver, take the ferry to Nanaimo. The ferry travel is approximately one hour and 40 minutes long. Vehicle reservation is recommended, especially if you are travelling on a weekend. From Nanaimo, travel north on Highway 19 to Parksville, which takes around 30 minutes. From Parksville, travel west on Highway 4 (Alberni Highway). This highway takes you to both Tofino and Ucluelet. The drive is roughly 2.5 hours long, depending on how often you wish to stop. Along the way, you may want to stop at MacMillan Provincial Park's Cathedral Grove to see some massive trees in the old growth forest. Port Alberni is a good pit stop to refuel yourself and vehicle. The stretch from Port Alberni to the surf junction is very scenic, but drive with care as the road is very windy. From the surf junction, turn south (left) onto the Tofino Ucluelet Highway, which eventually turns into Peninsula Road before reaching Ucluelet.
Fishing Season & Techniques
Most anglers come to Ucluelet for one thing, to experience boat fishing on the West Coast of Vancouver Island. The main target species are chinook salmon and Pacific halibut. The season starts in early spring, when both species can readily be caught not too far from shore. As the season progresses, most of the fishing takes place further offshore. Toward the tail end of the season in late summer/early fall, most of the fishing is done in Barkley Sound where both chinook and coho salmon return to the Alberni Inlet. Other groundfish species are often targeted, these include lingcod and several rockfish species.
Salmon are mainly caught by trolling at depths where baitfish present and feeding takes place. Depending on the time of the year, chinook and coho salmon can be feeding on herring, anchovy, needlefish and sandlance. Either artificial spoons or natural baitfish are used to entice these fish. The average size of chinook salmon caught in Ucluelet are between 10 and 20lb, but bigger fish up to 30lb+ can be encountered in August and September. Toward the end of the season, coho salmon can also be targeted near the surface near shore, either with lures or flies.
Halibut fishing is closed in the winter months and it is usually excellent right after its opening in the spring. Anglers do not have to travel too far from shore to catch these tasty fish in April and May. A short boat ride to the waters in front of Long Beach can usually result in a successful outing. Fish between 10 and 20lb, known as chicken, are most commonly caught. They are also the tastiest sizes. Halibut fishing is done by jigging with a large grub jig tipped with a piece of bait such as salmon flesh or octopus. A spreader bar rig can also be used by letting your bait drifting in the current while the weight anchors on the bottom. The boat can either be anchored or slowly drifting, depending on the tide. A change of tide usually triggers a good bite. Occasionally, halibut are also caught when trolling for salmon if the rig is near the bottom.
Lingcod and rockfish are mostly caught in waters where the sea bottom is made of rocks and kelp beds. These are also caught by jigging.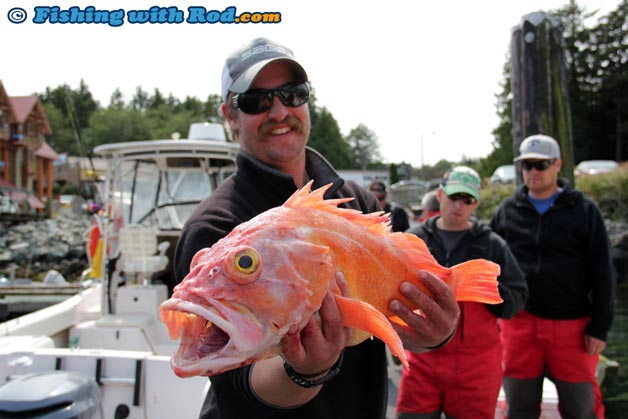 This is not a fishery for inexperienced boaters. If you have never tried fishing on the West Coast of Vancouver Island, be sure to book a trip with reputable local guiding companies such as Big Bear Salmon Charters. These charter boats are fully equipped with fishing and required safety gear, so clients can enjoy the fishing with a peace of mind. Most charter trips are eight hours long, which are often split into two sessions, four hours for salmon and four hours for halibut and other groundfish. While the summer can be hot, it is important to bring extra clothings because the marine air can be quite cold, especially early in the morning when the boats depart. The sea can be rough at times, so medication for seasickness should be considered.
Beside charter boat fishing, shore fishing is also available for families who wish to spend a day in the harbour. There are public docks where this can be done. Species such as perch, greenling, flounder, sole, dogfish are readily available and can be very exciting on light tackle.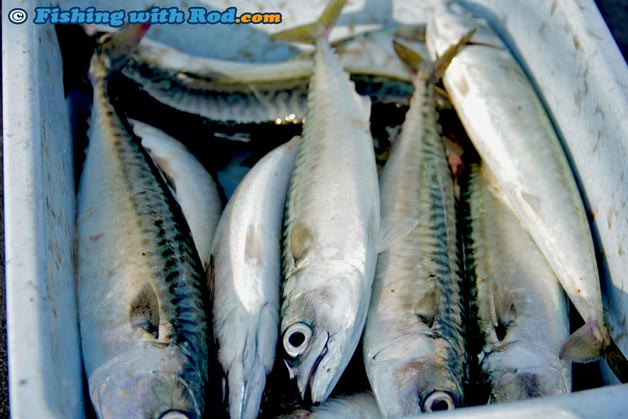 During years when the Eastern Pacific experiences warm current from the west, big schools of chub mackerel can be found in the harbour. These can be caught by a variety of methods, such as casting and retrieving a small lure, jigging with a herring jig, or even fly fishing. Crabbing opportunities are also available.
Ucluelet Aquarium
When visiting Ucluelet, you should also consider checking out Ucluelet Aquarium. This fantastic facility is built and funded by the community. It is a seasonal catch and release aquarium, where specimen are caught in the spring for the summer exhibits and released in the fall. The aquarium gives you the opportunity to see dozens of other fish species that you will not see at the end of your fishing line.
Related links