Stave River, Mission
By Rodney Hsu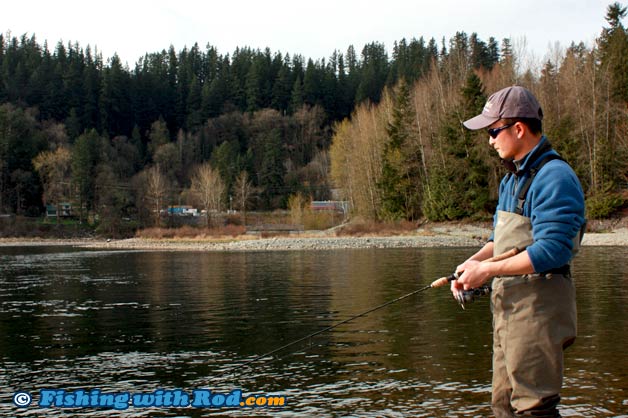 Approximately 50km east of Vancouver is the Stave River in Mission. Although it is only several kilometres long, this river offers year-round fishing opportunities for Lower Mainland anglers. The BC Hydro Dam maintains the water height at a fishable level even on rainy Autumn days. While the salmon season can be quite crowded on weekends, solitude can be found during the winter and spring flyfishing seasons when coastal cutthroat trout are abundant.
How to Get There?
From Vancouver, there are two travelling options to the Stave River. One way is via Lougheed Highway on the north side of Fraser River, or via Highway One on the south side.
When travelling via Lougheed Highway from Vancouver, turn left onto 287th Street, which is around 10km east from Port Haney.
When travelling via Highway One, take the Abbotsford/Mission exit (Sumas Way), travel north and cross the Mission Bridge into Mission. Once in Mission, travel west on Lougheed Highway until 287th Street, where you make a right turn.
Access points to the river can be found along 287th Street as well as the BC Hydro Picnic Area where you can access by crossing the dam.
The lower section of the Stave River has less foot access so it is mainly accessed by boats that are launched from Mission.
Fishing Season
Fishing can be done year-round on the Stave River. It is heavily utilized in October and November when chum salmon return to the river. Its coho salmon fishing is typically available from mid October to early December. In odd years, pink salmon also return to the Stave River, but its return number is significantly lower than other Lower Fraser tributaries.
From December to April, coastal cutthroat trout and mountain whitefish can be targeted at times. This river also has a small hatchery steelhead program, so it is possible to catch a winter steelhead between January and April.
While this river's fishing is not as productive in the summer, large numbers of coarse fish such as northern pikeminnow make it a fantastic family fishery.
Fishing Techniques
In the main channels of the Stave River, drifting a float is a popular technique for salmon that return between September and December. A simple wool tie can entice chum salmon quite easily, while freshly cured roe is a better choice for coho salmon. The key is to keep the presentation a couple of feet above the river bed, so snagging of fish and river bottom can be avoided.
In parts of the river where current is slow or absent, spincasting and flyfishing can be deadly for coho salmon.
When targeting trout and whitefish between December and April, be sure to match your presentations to the types of feed that are available at the time. These species change their feed from salmon eggs to small minnows and juvenile salmon as winter progresses. A light spincasting setup or a 3 to 5wt flyfishing setup is ideal for these species because they are usually between 10 and 18 inches in length.
Important Notes
Before your first fishing trip to Stave River, please make sure you know the following information:
You must have a valid British Columbia freshwater fishing license. If you intend to retain salmon, then you must also purchase the freshwater salmon conservation surcharge. If you intend to fish for steelhead, then you must also purchase the steelhead conservation surcharge.
Stave River is located in Region 2 in the British Columbia freshwater fishing regulations. The regulations are often different from one season to another, so please check them before your trip.
Intentionally snagging fish is illegal! If you keep your float depth too long and allow fish to snag themselves when retrieving your line, then you are snagging fish. If fishery officers observe you continuously catching fish by snagging, you will be fined.
If you are releasing a fish, please make sure the fish remain in the water at all times. Do not drag your fish onto the river bank and kick it back after unhooking it.
Identify your fish before you decide to kill it. Wild coho, steelhead and trout have to be released. If you cannot identify it, please release it.
If you decide to keep a fish, please kill it immediately. Keeping fish alive in a pool of water or tying it onto a rope and letting it swim in the river is illegal.
Respect other anglers' space! If a spot is already taken, find a different spot instead of crowding the same area. You can make everyone's fishing experience enjoyable by spreading out.
Please do not litter. Pick up your own garbage as well as others' on the river bank so we can still enjoy this fantastic fishing stream in the future.
Respect private properties by not trespassing. Keep your noise down early in the morning when walking by private properties.