Imperial Landing, Richmond
By Rodney Hsu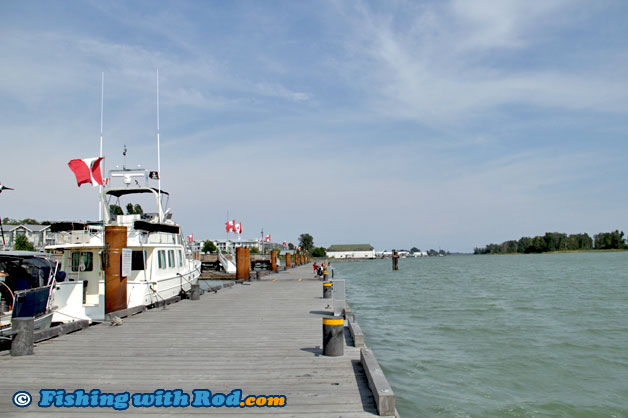 Imperial Landing is a new waterfront park wedged between Britannia Heritage Shipyard and the vibrant Steveston Village. This landing is a popular leisure ground for both local residents and tourists. The stroll along the wide 1km walkway can be very relaxing and fishing is readily available from both the edge of the walkway and the newly built floating dock. The floating dock is spacious and can accommodate a large number of anglers. Because it is sheltered by the breakwater, fishing can be comfortably done year-round. The nearby stores, cafes and restaurants are convenient to get to when fishing is slow. It is an excellent choice for parents who wish to bring their kids out for a day of fishing.
How to Get There?
Imperial Landing starts at the southern end of No. 1 Road in Richmond. Once at the end of No. 1 Road, turn right onto Bayview Street and you can find parking along this stretch. Once parked, walk down to the Fraser River and you will find the walkway and fishing pier. Richmond also has an extrensive network of bike paths, so you can also cycle down to this location easily.
Fishing Season
In the summer, you can expect to encounter both freshwater species from the Fraser River as well as saltwater species in the estuary. These include peamouth chub, northern pikeminnow, largescale sucker, shiner perch, starry flounder, Pacific tomcod, American shad and sculpin. In the winter, the primary target species is Pacific herring, which can be caught during both day and night from December until March. Between September and November, you can expect to see the odd Pacific salmon moving through this narrow stretch instead of the main South Arm. Along the shallow parts of the river, you can find bull trout and coastal cutthroat trout between October and April.
Fishing Techniques
When fishing from the floating dock at Imperial Landing, the best method in the summer for coarse fish is bait fishing. If the tidal current is strong, try using more weight to anchor your bait near the bottom, where most fish are found. At low tide, when water is often still and shallow, float fishing can be quite productive. Because most of the fish you will encounter are small, you should keep your setup as light as possible. Popular bait are dew worm, dough balls, shrimp, fish pieces.
In fall and winter, try fishing along the walkway where wooden structures and reeds are found. By casting small spinners and spoons, you should be able to find the odd bull trout and cutthroat trout. These fish are mainly found in the shallow parts of the Fraser River, where they prey on minnows, sculpins and juvenile salmon.
If you decide to cast a lure from the pier between September and November, you just might encounter a salmon. Every odd year in September, it is common to find large schools of pink salmon moving through during incoming tides. When this occurs, try casting a 1/4oz Gibbs Croc spoon in either pink, orange or chartreuse.
Pacific herring are commonly caught from the floating dock in the winter months. To target these, use a herring jig. Lightly jig the line as you retrieve. You do not necessarily have to cast far, as many fish are often found directly underneath the dock, especially at night.
Important Notes
Before your first fishing trip to Imperial Landing in Steveston, please make sure you know the following information:
You must have a valid British Columbia tidal fishing licence.
Imperial Landing is located in Fisheries and Oceans Canada's Area 29. Please read the general tidal fishing regulations and Area 29's regulations. The salmon fishing openings are usually announced during the season, so it is always best to check for opening times and other restrictions before heading out.
Quite often, many anglers' actions degrade this wonderful sport at this location. Due to the "infestation" of the bullheads, some anglers would catch and leave them to die and rot on the pier. This is clearly unacceptable. Although bullhead maybe useless to us and has no economical value, it may play a great role in the Fraser river ecosystem that we have not understood yet. It is also extremely cruel to leave unwanted fish to die, not to mention it is illegal.
Please respect local residents, tourists and other users and keep the area clean.