2012 Lower Mainland Rainbow Trout Stocking Begins
Posted on March 8th 2012, by Rodney Hsu, Fishing with Rod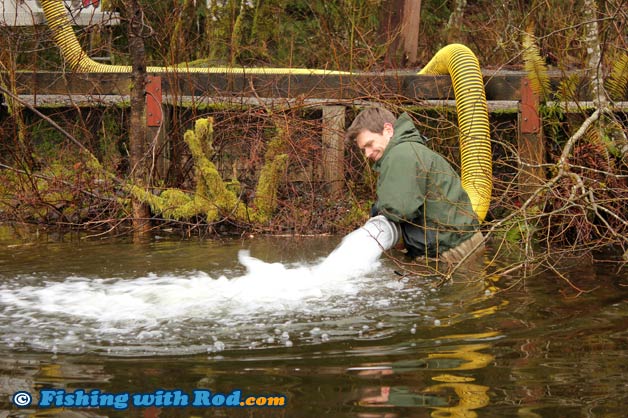 Get ready trout fishermen, fishing is about to heat up around Metro Vancouver! Fraser Valley Trout Hatchery, operated by the Freshwater Fisheries Society of BC, will start its rainbow trout stockings in the Lower Mainland today.*
* Please note! Stockings have been postponed. A few fish were added into Lafarge Lake but after seeing them not responding so well in the lake for, hatchery staff have decided to bring the rest back to the hatchery and try this again in the near future. Updated at 1:30pm on March 8th, 2012.
* The hatchery has determined that temperature shock (difference in temperatures between hatchery water and lake water) was the factor. Whonnock, Rolley and Mill Lakes were stocked on Friday March 9th. Stockings at Lafarge, Como, Rice and Green Timbers Lakes have been rescheduled for late next week. Updated at 11:00am on March 10th, 2012.
* The hatchery has now stocked Lafarge, Como, Rice and Green Timbers Lakes on March 15th. Updated at 1:00am on March 16th, 2012.
Each year, thousands of "catchable" rainbow trout are stocked into many lakes in the Lower Mainland and Fraser Valley so families and entry-level anglers can enjoy fishing with plenty of success. These fish are raised at the hatchery until they are 250g to 300g before being released, so they are ready to be targeted immediately.
They can be caught by using several methods. The most popular method is bait fishing with a spinning rod and reel. Popular bait used are deli shrimp, dew worm, corn, marshmallow, trout or salmon eggs. Because these fish are not too big, try using an ultralight setup with a small hook.
You can also catch them with spinners and spoons. Small lures that weigh 3/8oz or less are ideal. Simply cast and retrieve your lure slowly until you feel a tug.
For the latest updates on catchable rainbow trout stockings, please check our database.
The four lakes that are being stocked today are Lafarge Lake, Como Lake, Rice Lake and Green Timbers Lake.
Additional readings:
Before heading out, please be aware of the followings:
You must have a valid BC freshwater angling license.
You are permitted to keep four trout in Region 2 lakes, unless stated otherwise in lake-specific regulations.
If fishing from shore, only ONE fishing rod/line is permitted for each angler.
If fishing alone in a boat, an angler is allowed to use TWO fishing rods/lines.
Only ONE hook is allowed on each fishing line.
There are exceptions/specific regulations for some lakes (such as catch and release only, requirement of barbless hook, boating restrictions), please see the table in Region Two's regulations where each lake is listed for exceptions.
If you witness a violation, please phone 1-877-952-7277 (RAPP) and report it.