2012 Boxing Day Steelhead Derby
Posted on December 17th 2012, by Chilliwack Fish & Game Protective Association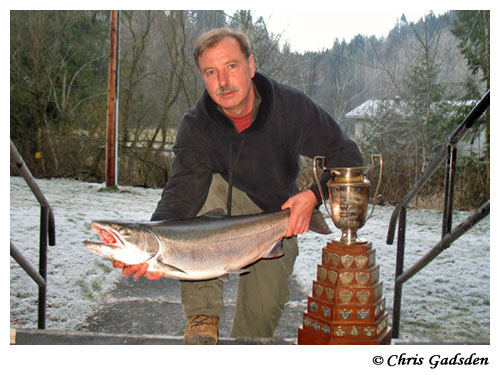 Chilliwack Fish & Game Protective Association will once again be hosting its annual boxing Day Steelhead Derby on the Chilliwack/Vedder River. Started in 1938, this event has a long tradition, drawing out both avid and new anglers who hope to to catch the largest steelhead after Christmas Day.
Entry Fees
Chilliwack Fish & Game Club members, juniors (17 and under), seniors (over 65) - $10.00
Non-members - $20.00
Ticket Sales
Tickets are available until December 24th, 2012 at Fred's Custom Tackle (both in Chilliwack and Abbotsford), Chilliwack Dart & Tackle and Kent Outdoors.
On the way of the derby, tickets will be available from 6:00am to 10:00am at the Chilliwack Fish & Game Club House (48685 Chilliwack Lake Road, across from Thompson Park).
Fishing Areas
For the purpose of this contest, fishing will be on the Chilliwack/Vedder River from the confluence of Slesse Creek and downstream to the Highway One Bridge. Fish must be caught in the Chilliwack/Vedder River on December 26th 2012, during the contest.
Ticket Punches
All participating anglers must have their ticket punched at one of the designated punch stations on the morning of the derby, before proceeding to fish. Only one ticket may be purchased per angler and those who weigh in a fish must present both their punched ticket and their valid and legally filled licence to validate their fish's place in the contest.
Punch stations will be located at:
| | |
| --- | --- |
| Likcman Road | 6:30am to 8:30am |
| Tamahi Bridge | 6:30am to 8:30am |
| Chilliwack Fish & Game Club House | 6:30am to 10:00am |
Derby Day Schedule
| | |
| --- | --- |
| Coffee at Club House stars | 6:00am |
| Ticket sales at Club House | 6:00am - 10:00am |
| Lunch | 10:00am - 3:30pm |
| Weigh-in scale closes | 2:00pm |
| Prize distribution starts | 2:30pm |
Trophy Categories
Trophies will be awarded in the following order:
Heaviest fish weighed in (King Fish Trophy)
First fish weighed in
Second heaviest fish weighed in
Third heaviest fish weighed in
Fourth heaviest fish weighed in
Fifth heaviest fish weighed in
Heaviest fish by a club member
Heaviest fish by a lady
Heaviest fish by a junior
Heaviest fish by a senior
Smallest fish weighed in
Hidden weight fish
More Information
Please note that all recreational fishing regulations apply to this derby. Only hatchery-marked steelhead can be retained and there is a one fish limit per day.
For more information about the derby, please phone the Chilliwack Fish & Game Protective Association at 604-858-4202.