Region Two Saltwater Fishing Locations
Lower Mainland & Sunshine Coast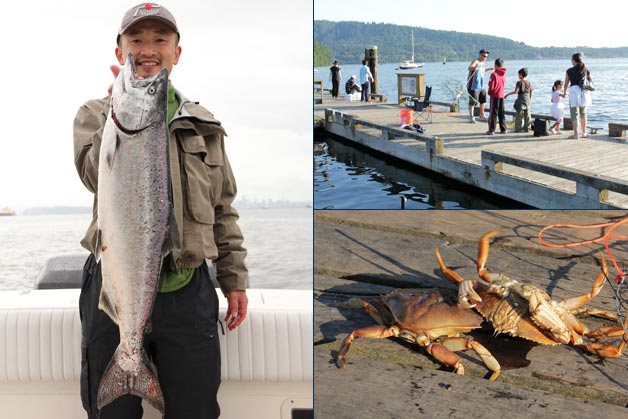 Sheltered by islands and mountains, Vancouver and nearby regions offer excellent saltwater fisheries which can be enjoyed year-round.
The piers are ideal for family outings in the summer, when flatfish, perch, greenling and other small benthic species are active.
Beaches near the estuaries are productive for salmon in the summer when they stage. The same waters also produce cutthroat trout and bull trout at times, usually in spring and fall when they feed on juvenile salmon or follow adult salmon to their natal streams.
If ocean fresh salmon are what you are looking for, then consider hiring a local charter company which can lead you to salmon feeding grounds without the need to travel too far. Chinook salmon feed in Vancouver Harbour in winter and spring, while coho salmon are caught in the summer months. Fraser River mouth also offers excellent chinook, sockeye and pink salmon fishing between July and September. While trolling for salmon, be sure to drop a crab trap or two to complete the delicious fresh feast.
Below is a list of piers, beaches and popular boating locations where you can try out saltwater fishing for salmon, trout and a variety of groundfish species.