Fishing in BC: Handle Your Catches Properly
By Rodney Hsu, Fishing with Rod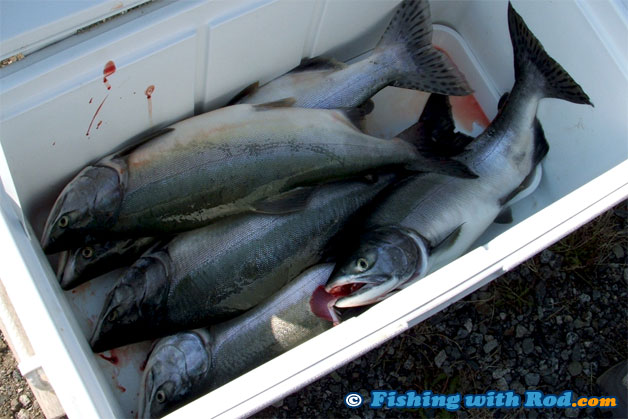 One of the highlights of sportfishing in British Columbia is the privilege of keeping some of your fresh catches to enjoy on the dining table. From battered halibut fillets to smoked salmon and trout, there are many tasty choices to spoil your palate.
Beside knowing what species and how many fish that you are allowed to keep, it is important to know how to keep your catches fresh before they make it to the kitchen. There's nothing worse than discovering that your harvest has gone bad after investing the money, time and effort to catch them.
Here are some tips that may assist you.
Dispatch your catches quickly: Once you decide that you would like to keep the fish on your line, you must dispatch it quickly. This can be done by hitting its head with a club or a rock. In British Columbia, you are required by law to carry this out because you cannot possess any live fish.
Bleed it: Once your fish is killed, proceed to bleed it by removing its gills. Hold the fish upside down to allow blood being drawn out by gravity. Removal of blood prevents it from spoiling the meat.
Pack it on ice: Before your fishing trip, it is a good idea to have a cooler packed with ice ready. Your catches should be stored in ice as soon as possible, especially on a hot summer day. Avoid keeping your fish in water, especially if it is warm. This may in fact spoil your catches faster. The size of your cooler should depend on how large your target species are.
Gut it: Before heading home, remove the stomach content of your fish. This prevents acid and other enzymes from degrading the meat. You can do so by making an incision from the fish's anus to the gills with a sharp knife. Disposing all stomach content at your fishing site is also beneficial to the environment, as it returns nutrient back to the source. If you are fishing by a river, do not dispose it on the river bank. Throw it in the river so it does not attract bears.
By following these steps, you can get the most out of British Columbia's world class fisheries.