Fishing in BC: Steelhead
By Rodney Hsu, Fishing with Rod
When it comes to river fishing in British Columbia, the most talked about target species is definitely steelhead. It is difficult for experienced steelhead anglers to explain what fishing for steelhead is like to those who have never tried it, but it is usually very easy to be hooked after you experience catching one. The take is usually more than a quick tug, the fight is often explosive. By the end of a fight with a steelhead, the angler is usually exhausted or high on adrenaline.
Steelhead are in fact sea-migratory rainbow trout. Like anadromous Pacific salmon, they migrate into the ocean after spending one or two years in their natal streams. After spending several years in the Pacific Ocean, they return to and spawn in their natal streams. The similarity ends there, as steelhead can survive after spawning and return to the ocean again to repeat the cycle. Unlike rainbow trout that only live in lakes and rivers throughout their entire lifespan, steelhead can grow much larger due to the higher abundance of food in the ocean. Depending on the stocks, steelhead usually weigh between 5 and 15lb, but some populations have larger specimen, which can be over 20lb at times.
Two types of steelhead are found. They differ in the timing of their return to the streams. Summer steelhead return in summer and fall, while winter steelhead return in winter and spring. Despite of the difference in return times, both summer and winter steelhead usually spawn around the same time, which is late winter or early spring.
There are many rivers along the entire coast of British Columbia where steelhead fishing is available. In the Lower Mainland, anglers mainly target winter steelhead while only a few streams have summer steelhead returning. The winter steelhead fishery in the Chilliwack River and several other Lower Fraser tributaries are very popular. On Vancouver Island, winter steelhead fisheries are available in many streams along the East Coast of Vancouver Island. The more popular fisheries take place in Stamp River and Cowichan River.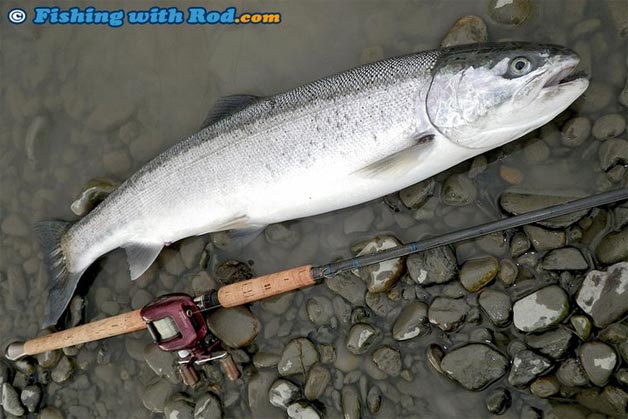 Due to heavy demand of these fisheries in populated areas, hatchery programs have been set up so anglers can retain some of these prized catches. A juvenile steelhead raised at a hatchery has its adipose fin clipped before being released so when it returns as an adult, a healed scar can be found at its adipose region. This is the key feature used to identify a hatchery marked steelhead which can be retained in some fisheries.
Beyond these "urbanized" steelhead fisheries, there are many legendary streams where wild steelhead return to. The Thompson River, a large tributary of the Fraser River, has a run of steelhead between September and December. These summer/fall steelhead are much larger, and stronger, than steelhead found in the Lower Fraser tributaries. When returning from the ocean, they have to endure the rugged terrain through the Fraser Canyon, so the ones that make it back are the toughest in the population. It is a fishery that challenges and deters anglers, who have to deal with icy rocks, freezing water and the lack of success. Today, only several hundred fish return to the mighty T each season, so finding one on your line is rare but not impossible.
As you travel further north in British Columbia, you will find higher quality steelhead streams where fishing pressure is lower and catches are bigger. Remote systems such as the Dean River offers fly-in trips which can be expensive but well worth it if you seek for undiscovered waters. The Skeena River and tributaries provide countless options. Every fall, seasoned steelhead anglers make their way up North for at least a couple of weeks to live in steelhead paradise.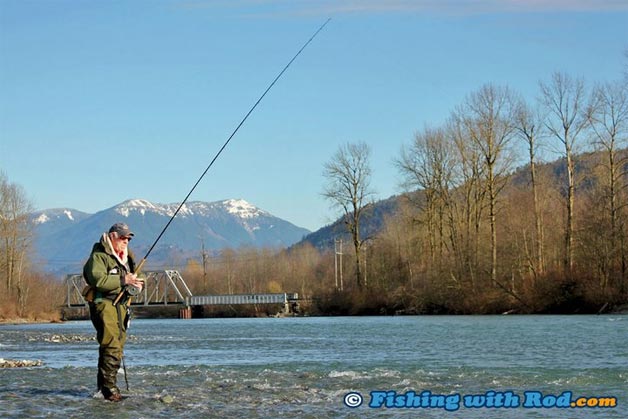 Steelhead can be caught by many different methods. The traditional way of catching them is by float fishing with a centerpin rod and reel. What hangs beneath the float to entice the fish can be a cluster of eggs, a rubber worm, a jig, or even a small metallic lure. In slower rivers, they can also be caught by simply casting and retrieving a spoon with a spinning outfit. If you are looking for a challenge, fly fishing is your ultimate way of connecting with a steelhead. In recent years, swinging large flies with a double handed fly fishing rod has become a popular method for targeting steelhead throughout British Columbia.
While they are few and far in between, steelhead are extremely aggressive and will readily strike at anything being placed in front of them. To be successful in steelhead fishing, one should not stay at one spot for too long. Instead, covering as much water as possible only increases your chance of connecting with a fish. The most unlikely places are sometimes where the fish are hiding, so there are always surprises even for anglers with years of experience in steelhead fishing.
Before you decide to try out steelhead fishing, you should be aware of the followings.
Beside your basic freshwater fishing licence, you must purchase a steelhead conservation surcharge.
Some steelhead fisheries take place in classified waters. If that is the case, you must purchase classified fishing licences applied to those waters.
When you decide to keep a hatchery marked steelhead, you must mark it on your freshwater fishing licence.
In streams where hatchery steelhead fisheries take place, you must stop fishing once you keep your daily quota.
Please respect other steelhead anglers. The unspoken rules are to work your way downstream when fishing for steelhead. You should always start fishing upstream from another angler who is already fishing. If you decide to start downstream from the angler, you should always ask him or her first out of courtesy.
Please release a steelhead with great care by following these recommended catch and release techniques.