Fishing in BC: Introduction
By Rodney Hsu, Fishing with Rod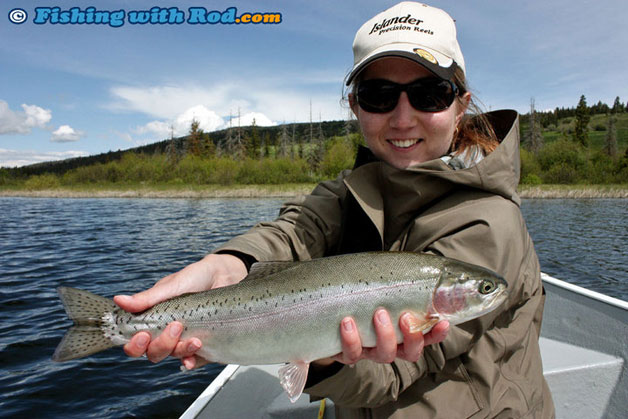 Sportfishing in British Columbia is a popular recreational activity that anyone can participate due to its availability and diversity. From world class steelhead fishery in the Skeena tributaries to put and take trout fishing in urban ponds, there is something for everyone who can hold a fishing rod. This guide is intended for readers who have not had any fishing experience but would like to wet a line. You will find all essential information such as licencing, regulations, general etiquettes, available fisheries, techniques and tips. By reading through this guide, hopefully you can choose a fishery that suits you and plan a enjoyable fishing trip on your own.
Both salt and freshwater fishing are available in British Columbia. Each fishery requires a different technique to catch the target species successfully. Techniques vary in difficulty, so not all fisheries are suitable for everyone. As an angler learns and improves fishing skills, he or she would progress from entry-level fisheries to more exotic ones.
The most popular gamefish species in British Columbia are the five pacific salmon species – Chinook, sockeye, coho, pink and chum salmon. Each return to their natal streams and spawn at different time of the year, depending on how far they have to travel. Early Fraser River chinook salmon begin their upstream journey in March and April, some travel as far inland as Prince George. The chinook runs end in early October when coastal river runs complete their journey. Sockeye salmon, the most sought after among all pacific salmon, return to spawn between June and September. Pink salmon are the smallest of all pacific salmon, due to their two year life span. They return to spawn between July and September. Coho and chum salmon are fall spawners, which make their way back between September and November. As these salmon approach the coast of BC, they are widely targeted in the ocean, estuaries and rivers by a variety of techniques.
Beside salmon, halibut, lingcod and rockfish are also very popular saltwater species. Between April and October, they are widely fished by both boat and shore anglers from Victoria to Prince Rupert. These benthic predators are aggressive and always willing to attack a baited hook, jig or fly. Other species that inhabit the coastal ecosystem include perch, greenling, flounder and sole, which can easily be caught from shore. If finfish do not fancy you, then crabbing and prawning maybe a good alternative.
Because Southwestern British Columbia's climate is very tolerable year round, fishing can be enjoyed in all four seasons. Beside salmon fishing in summer and fall, Lower Mainland and Vancouver Island fishermen have many opportunities to target steelhead, coastal cutthroat trout, bull trout and dolly varden. These same species are also available for fishing in late fall and early spring further north, where the climate is more seasonal.
In interior regions of British Columbia, hundreds of lakes await for you to explore. These lake fisheries, which can often be combined with a camping trip, offer spectacular world-class stillwater fisheries. The Freshwater Fisheries Society of BC, which is funded by your freshwater fishing licences, stocks rainbow trout, cutthroat trout, brook trout and kokanee into these lakes for anglers to catch. Is there a better way to spend your summer weekends than camping by a remote lake and catching big trout on a consistent basis?
Another popular fishery that attracts anglers from around the world to British Columbia is Fraser River's white sturgeon. Although the number and size of fish are significantly smaller than what it once was over 100 years ago due to overfishing, this catch and release fishery is now rebuilding the population while allowing anglers to catch one of these prehistoric giants.
Although remote, quality fisheries in British Columbia usually require some travelling, fishing is readily available in most urbanized areas. Take Vancouver for example where over a dozen lakes are stocked with thousands of rainbow trout each year. These trout, typically have an average weight of 300g, are ready to be caught when released. These put and take fisheries are ideal for entry-level anglers and families who would like to have frequent success.
If there is not a preference in target species, then there are many other kid-friendly fisheries to choose from. In rivers and estuaries, coarse fish species such as northern pikeminnow, peamouth chub, sucker and sculpin populate the water column in the summer. Even though they are not good table fare, these species are very popular among young anglers because they are very abundant and the bites are always frequent.
As you can see, there are countless numbers of fishing opportunities that you can take advantage of in British Columbia. Once you purchase the appropriate fishing licence, know the fishing regulations and general etiquettes, then you are ready to explore!