East Vancouver Island BC Saltwater Fishing Report
Chris Steinbach, Crabby's Charters | Last updated: July 11th, 2016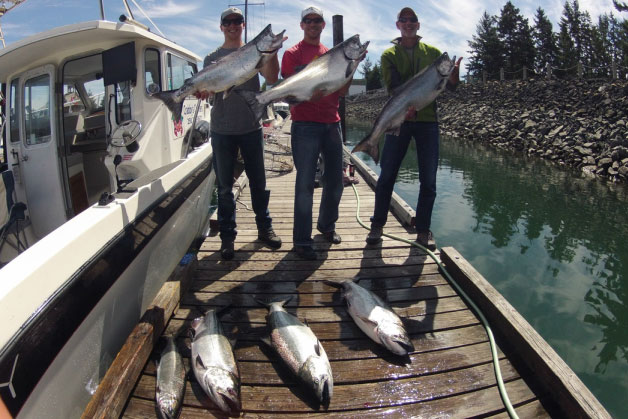 June ended with some fantastic fishing all over the northern strait of Georgia.
Yesterday, June 30th was non stop Chinook action off the Green can in Campbell River!
The bait (extra large herring) was over 100ft thick on the sonar in places!
Fishing the bottom under the bait with plugs or BIG spoons is the way to get them. Early morning the bait is closer to the surface and in shallower water. Green hootchy's and spoons work best then.
The Ling cod around the Campbell River hump are plentiful this year and some really good size as well. Last week my guests hooked a double header in 180ft of water on Gibbs Delta Tackle Purple Onion flashers with glow hootchy's, ended up being a 20LB Ling and 60LB Halibut!
Bates Beach/Kitty Coleman hump is producing well the last few weeks with Chinook in the 8-20 pound range hitting all gear including flasher/hoochy's in green and white/glow. Plugs in all colors are working well also.
Spoons like the Silver Horde and Gold Star Fishing Lures KingFisher 940 are working well for Coho.
Coho is open for hatchery marked fish!
Grants reef is always a good bet this time of year also! I like the North West end of the reef trolling the 160-220 FT contours. The same gear we use around Bates beach works well here. Up in the shallows of the reef you will find a lot of coho feeding, these fish are very easy to catch and great for beginners!
A few nice halibut have been trolled up lately on Grants to!
July is shaping up to be another great Chinook month in our waters. Larger fish are starting to come through now and should only get better with time!
Chris Steinbach
Crabby's Charters
Phone: 250-338-8661
Cel: 250-218-0671
Email: chris@crabbyscharters.com