Kamloops BC Fishing Report
By Jordan Oelrich, Interior Fly Fishing Co. | Last updated: June 7th, 2019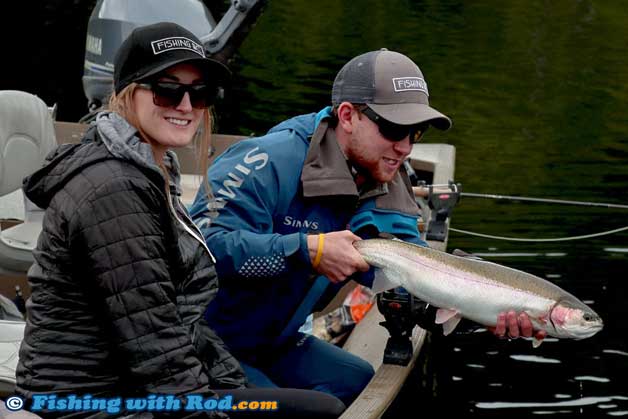 May has come and gone in the blink of an eye (as it always seems to), and fishing in the Kamloops area remains fantastic at a multitude of elevations. Chironomid hatches are strong, often met with Callibaetis (mayfly), Damsels and the occasional Caddisfly skittering the surface. As Stillwater season progresses, it is important to be both observant and adaptive of your surroundings. Here are a few tips for fishing during the month of June.
Matching the Many Hatches
It is good to be prepared for anything this time of year. It is not uncommon to start your morning fishing leeches, see a solid few hours of chironomid action from late morning into the afternoon, followed by a flurry of Mayfly activity. Damselflies are making their way towards shoreline structure to emerge into the adult stage, imitating the nymph with an intermediate sinking line can be an incredibly exciting and productive method of fishing.
Do not be surprised to see the beginning of the Sedge hatch taking place, with both the pupa and adults being devoured by rainbow trout in the shallows, along ledges, and against fallen trees and other structure. When no bugs are present, it never hurts to do some searching with your favourite attractor. 
Flies to Use & How to Fish Them
Morning favourites have been size 12 Pumpkin Heads, BMW's, Dubbed Leeches and Flashback Marabou Damsels on a clear camo intermediate line. Suspending balanced or micro leeches underneath a strike indicator is also a wildly effective tactic for fish that are not yet keyed in on any specific emergence. 
As the chironomids begin hatching, we have been finding great success with everything from simple black and silvers to platinum, shiny chromies. It is not uncommon to find hatches of Bombers this time of year, large chironomid pupa that are often imitated with hooks as big as a size 8 2xl. 
Seeing these big bugs hatch does not always mean that is what the fish are looking for, as sometimes a throat pump will reveal traditional size 16 and 18 pupa in amidst a bomber hatch. A great point to keep in mind is that when fish are marking close to the bottom of the lake, darker flies are often a great choice. As they make their way up the water column, you will find them eating shinier, gassed up chironomid pupa.
Hare's Ear and Pheasant Tail Nymphs have come in very handy during the odd Mayfly emergence, while the Pumpkin Head can do a great job doubling as a damsel imitation when you are searching for feeding fish. Should you find yourself stuck, never hesitate to put on a gaudy attractor such as a Booby or Blob on a sinking line.
If you have any questions, feel free to reach out!
Jordan Oelrich
Interior Fly Fishing Co.
Ph. 250-463-2266 | info@interiorflyfishingco.com