Kamloops BC Fishing Report
By Jordan Oelrich, Interior Fly Fishing Co. | Last updated: May 1st, 2019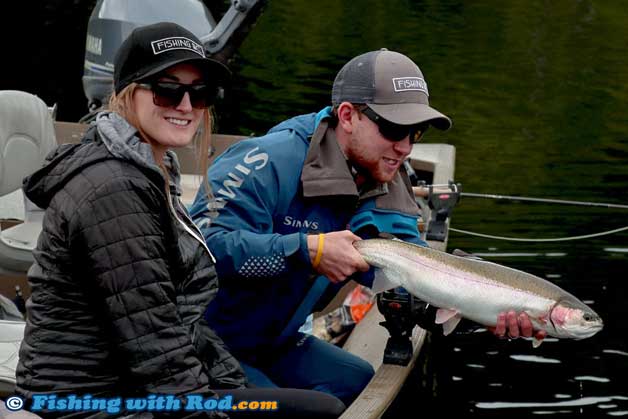 More and more lakes every day are becoming ice-free, and stillwater fly fishing season is underway in the B.C. interior. Though we are in the earlier parts of the season, some lower elevation lakes have already completed the turnover process and are experiencing prolific chironomid hatches.
The weather and barometric pressure have been seemingly changing daily, occasionally making fishing a little bit more challenging during periods of drastic pressure changes. Most lakes below the 2500' mark in elevation have completed turnover, or are in the tailing end of the process.
What to look for right now
When fishing the ice-off window of a lake, you will often find fish in shallow water. Though not every lake has the clarity to support sighting them in the shallows, be on the lookout for fish moving on the surface. Even if it is not necessarily a feeding rise, it has revealed the location of not only itself, but likely a school of cruising fish beneath the surface.
Transition areas from deep to shallow water are great areas to drop anchor as you can intercept fish that are sliding onto, or off of the shallow flats. When fishing near bulrushes and reed beds, do not hesitate with putting your fly tight against them. As the water begins to warm, you will find fish moving out into deeper water in search of chironomid pupa ascending the water column.
What to use
In cooler water, you will often find fish sporadically making their way into the shallows to feed. When there are no chironomids present, good options are bloodworms, micro-leeches, balanced leeches, immature damselfly nymphs, shrimp, and attractor patterns like blobs. I love suspending flies beneath a strike indicator in the early spring as it allows me to keep the fly presented in the zone, uninterrupted, for long periods of time.
Having the perfect fly on can be of less importance than simply finding numbers of feeding fish. Good flies to be fishing right now are Chromies, black and red Ice Cream Cones in sizes 14 and 16, Cranberry Larvae or a Bionic Worm in size 12, Balanced Leeches, UV Pregnant Shrimp and the trusty Vampire Leech.
The Best is on its Way
Many people ask me if there is a 'best' time of the season to visit Kamloops. I tell them that the best time to book a fishing trip is when you are able to go fishing, and that good fishing is available throughout the entire lake fishing season from early April until the bitter end of October. The best time of the year is upon us, if you have any questions please feel free to reach out via email to info@interiorflyfishingco.com.
Jordan Oelrich
Interior Fly Fishing Co.
Ph. 250-463-2266 | info@interiorflyfishingco.com