South Vancouver Island BC Fishing Report
By Tom Vaida, Island Outfitters Sportfishing Centre | Last updated: May 25th, 2018
Please make sure you go to our Facebook page and click on "like". We are constantly adding updates such as new videos, articles and contests on it. This report is usually updated weekly, so any last minute updates on river conditions, regulation changes etc usually go on our Facebook page right away.
Saltwater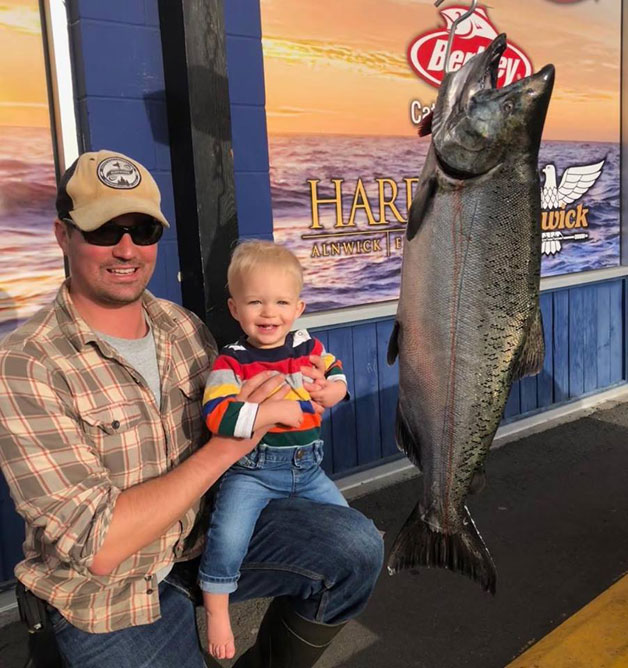 OVERVIEW – The Chinook fishing remains SPOTTY to FAIR around the south Island. Hatchery Chinooks running into the mid teens are what's available. Halibut fishing was FAIR this past week.
SOOKE – The salmon fishing was FAIR on this past week. Most of the fish are from 5 to 8 lbs in size with the occasional larger one into the teens. Otter Point provided the best catches this past weekend. Most of the salmon are close to the bottom in 100 – 140 feet of water but there are some at mid water depths. There has also been some wild, oversize fish into the 20's caught and released. Anglers are starting to get good results using anchovies for bait. Good choices for teaser head colors are Bloody Nose, Chartreuse and Purple Haze. Spoons such as Skinny G's, Coho Killers and 4″ Coyote spoons have been good. Hootchies in White, Glow/Green and Purple Haze are the top choices in plastic baits. Anchovies are still the most popular choice for those fishing bait. For flashers, Red/Glow Hot Spots, the Delta Guide Series UV Moon Jelly, Madi and the Lemon Lime Chartreuse are popular.
BECHER BAY – Salmon fishing was SPOTTY this past week with no outstanding catches reported. The hot spot this past week was inside the bay near Aldridge Point. Most of the fish have been from 5 to 8 lbs with the odd "teenager". The best depths off Aldridge Point were 70-80 feet and off Beechey Head 90 -100 feet was the best depth. The majority of anglers are using spoons with Coho Killers and Gibbs Skinny G's in green/glow and green/silver colors the favorites. The GIBBS Highliner Guide Series Outfitters, Madi, Lemon Lime and Red/Glow Hot Spot flashers have been working well. Hootchies in White, Glow/Green and Purple Haze are the top choices in plastic baits.
PEDDER BAY – Pedder Bay Marina reports FAIR TO GOOD salmon fishing. The majority of the salmon have been from 5 to 12 lbs in size but there have been some mid teen's hatchery fish being caught. One day it would be good in Pedder Bay and the next it would be good in Whirl Bay. In the bay the fish have been in water as shallow as 30 feet. In Whirl Bay, 80' has been the depth to fish. Squirts were the hot lures again this past week with a green and glow, Purple Haze or UV white good color choices. Spoons have been producing well and the Skinny G's, Wee G's, AP Tackleworks and Coho Killers are the top choices. Green with either silver or glow has been the color choice in spoons. Flashers that are popular include the Guide Series Madi, Outfitters and Lemon Lime. Anglers are also starting to get good results using anchovies for bait. Good choices for teaser head colors are Bloody Nose, Chartreuse and Purple Haze.
HALIBUT – Halibut fishing was FAIR this past Sunday. East Race and Constance Bank were the most productive spots.
VICTORIA – Fishing for salmon was SLOW off Constance Bank this past week when the currents were ripping. In closer, there weren't too many springs from Brotchie Ledge to Trial Island. It was spotty fishing with most boats getting skunked. The best depths to fish were still 90-140 feet but we've heard of some larger fish being caught at mid-water depths. Spoons have been successful in getting hook ups with Irish Cream Skinny G's, Green/Glow AP Tackleworks Anchovy 4" spoons and Green/Glow Coyote spoons popular choices.
HALIBUT – Fishing was FAIR for this past week. Halibut fishing has been best at Constance Bank and the Mud Hole.
OAK BAY – Salmon fishing was FAIR in Oak Bay. Most of the salmon have been from 5 to 10 lbs, but some nicer ones into the teens were caught over the week. The Flats was producing the best on the flood tide, while the tail end of the ebb produced the best at the Gap. Friday and Saturday were the most productive days this past week. It was much slower on Sunday. The salmon are feeding on needle fish and close to the bottom where the feed is located. Most of the anglers have been either bottom bouncing squirts and spoons or jigging close to the bottom. Best bets for Oak Bay trolling lures are Wee Gs and Skinny Gs, Coho Killers and AP Tackleworks Sandlance spoons. Squirts will also work with Jelly fish and Electric Chairs good bets. Jiggers are doing best with Deep Stingers and Point Wilson darts.
HALIBUT – Fishing was FAIR for halibut this past week. Border Bank was where most of the halibut were caught.
SIDNEY – Salmon fishing was FAIR in the Sidney area. Coal Island was good in the evenings with for springs up to 16 lbs. The Powder wharf area has been holding lots of bait and fish into the mid teens have been caught there. We've also heard of springs up to 10 lbs coming from Fairfax. Anglers using spoons found that AP Sandlance spoons, Coho Killers and Gibbs and Needle G spoons the most productive this past week. Suggested colours are Kitchen Sink and Irish Cream. Anchovies and Tiny Strip were also good producers of fish with teaser heads in Glow or UV Purple.

Freshwater
OVERVIEW – Fishing was GOOD in most lakes for trout and REALLY GOOD for bass.
COWICHAN RIVER – The water level has dropped and the river is in great shape. Near the lake the water level is at 0.51 meters and near Duncan it's at 0.45 meters, great conditions for those anglers wading in the river. Fishing for trout above Skutz Falls has been good. Anglers are reporting good action on both dry flies and nymphs. Good dry flies have been the Elk Hair Caddis and the Goddard Caddis. Pheasant tail nymphs have also been good.
TROUT – Trout fishing has been GOOD for trout to at the local lakes due to the recent trout stockings and as the water temperatures warm up. Shore anglers are catching trout on Powerbait, Gulp Eggs, and worms while fishing close to the bottom. Pink, Chartreuse and Fluorescent Yellow have been good choices recently for Powerbait. Fly anglers are fishing Wooly Buggers, Leeches and Muddler Minnow patterns on full sink fly lines most of the time to get into the lower water levels. There have been some chironomid hatches too. Trollers are catching trout with worms fished behind Gibbs Gang Trolls and on Gibbs Wedding Bands. 2" Tomic Plugs have also been working well for trout.
BASS – Bass fishing is REALLY GOOD on Island lakes. Most lakes are producing large fish as they are moving into the shallows for spawning. During the day, spinner baits and crank baits are working well at times. Soft plastics rigged "Texas Style" are also a good choice when fishing drop offs and deeper structure. The most productive colors in 4" Yum baits are Smoke or Pumpkinseed. Drop shot fishing can also be very effective this time of year. Langford Lake, Shawnigan Lake, Prospect Lake and Elk and Beaver Lakes are the best local bass lakes. St. Mary's Lake on Salt Spring Island is also a great lake for bass fishing.
Fish Tip of the Week
When fishing for salmon you should follow the bait for best results. Schools of needlefish and herring are often pushed around by the action of tides and currents, especially on flats, and it pays to locate and then stay with the bait. Once you're on the bait, it's only a matter of time before the salmon show.