South Vancouver Island BC Fishing Report
By Island Outfitters Sportfishing Centre | Last updated: June 7th, 2019
Please make sure you go to our Facebook page and click on "like". We are constantly adding updates such as new videos, articles and contests on it. This report is usually updated weekly, so any last minute updates on river conditions, regulation changes etc usually go on our Facebook page right away.
Saltwater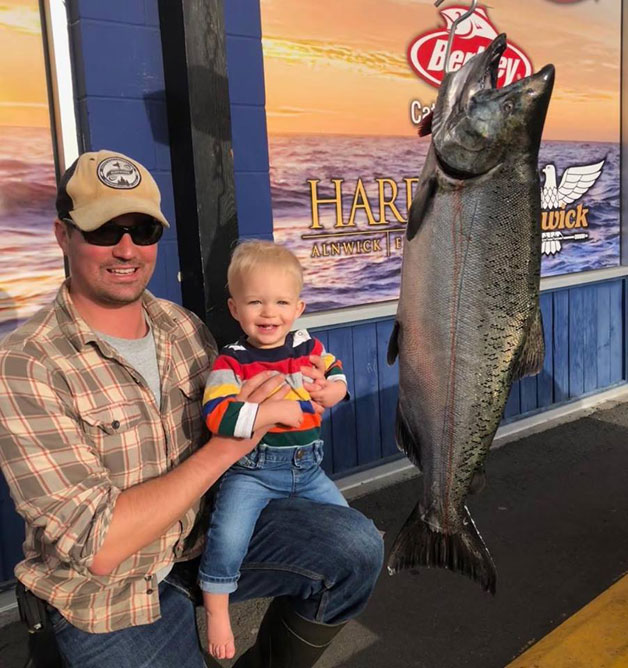 Halibut fishing has been GOOD in most areas. Anglers are doing well with Lingcod, Rockfish and Prawns. Only a few boats were out for catch and release salmon fishing in Victoria, Oak Bay and Sidney and GOOD and fishing was reported.
SOOKE– Salmon fishing has been GOOD despite the chinook retention closure. The best salmon fishing had been near Secretary Island and Possession Point. Spoons such as Skinny G's, specifically the Irish cream, Coho Killers and 4″ Coyote spoons have been good. Green and glow has been the best color combination for spoons. Hootchies in White, Glow/Green and Purple Haze are the top choices in plastic baits. Anchovies and herring have been great as well. Good choices for teaser head colors are Chartreuse, Glo Green and Bloody Nose. Popular flashers have been the Fandom Flasher Jelly Fish Glow ,the Bon Chovy, the Madi and the Super Betsey. 
BECHER BAY– Salmon fishing had been GOOD near Becher Bay. Anglers reported springs at 40 to 90 feet between Creyke Point and Beechey Head and towards the Trap Shack. Several large springs have been recently. Anglers were mostly using spoons for lures. Good spoons have been Skinny G's, Coho Killers and Coyotes with green in the colour mix.  Anchovies were working too and good colours for teaser heads were Chartreuse, Tiger Prawn and Bloody Nose. Needlefish hootchies in White, Glow/Green and Purple Haze are the top choices in plastic baits. The GIBBS Highliner Guide Series Outfitters, the Bon Chovy, and Gold Fever Hot Spot flashers had been working well. Other anglers that we know of fishing here were out for halibut and lingcod Halibut fishing was GOOD, and some nice Lingcod were taken as well.
PEDDER BAY– Pedder Bay Marina reported that no one has been salmon fishing this past week due to the chinook retention closure. The only anglers that we know of fishing here were out for halibut, lingcod and crabs. Halibut fishing was EXCELLENT with most boats having at least one halibut on board. Lingcod fishing and crabbing was GOOD this past week. Coyote style spoons had been working well for springs when people were fishing for them. Anchovies in green glow teaser had also been effective. Good choices for teaser head colors are Bloody Nose, Chartreuse and Purple Haze.  Hootchies and squirts were working with green and glow, Purple Haze or UV white good color choices.  Flashers that are popular include the Guide Series Madi, Bon Chovy and Lemon Lime.
VICTORIA – Salmon fishing was GOOD at Constance Bank for catch and release chinook fishing. That said, most anglers that we know of fishing were out for halibut, rockfish and lingcod. The halibut fishing was EXCELLENT, especially out at the Mud Hole. Closer in along the waterfront it had been SLOW for springs with the most productive area being from Esquimalt to Brotchie Ledge. Anglers had been trolling close to the bottom in 80 to 140 feet of water. Anchovies and herring had been working the best and glow teaser heads were better than the non glow colours. Spoons had been working very well with Skinny G's and Coho Killers in Irish Cream, Outfitters and the AP Tackleworks 3" herring spoon good choices.
OAK BAY– Catch and release chinook fishing was GOOD in Oak Bay. Springs in the 10 lb. to 25 lb. size were caught both jigging and trolling on the Flats. Trollers were catching the salmon bottom bouncing spoons in 90 – 120 feet of water. Coho killers, Wee G's and AP Tackleworks Sandlance spoons have been the spoons of choice. Squirts will also work with Jelly fish and Electric Chairs good bets. Jiggers had been having great success near Brodie Rock using Deep Stingers and Point Wilson Darts. Halibut fishing was GOOD in this area.
SIDNEY– Cole Island was the hot spot again this past week for spring salmon for anglers doing catch and release fishing. The fish were of good size, with many in the 10 – 15 lb. size range. Salmon fishing was fair near the Powder Wharf for anglers working jigs. Prawning has slowed down in Saanich Inlet. More anglers were prawning than fishing for finfish. Before the closure, anglers trolling for salmon had been using Skinny Gee spoons or anchovies. Suggested spoons are Coho Killers, Gibbs Skinny G and Wee G spoons and AP Tackleworks Sandlance spoons. Suggested colours are Cop Car and Trap Shack. Anchovies and Tiny Strip were also good in Glow or UV Purple teaser heads.

Freshwater
OVERVIEW – Fishing was GOOD for trout and EXCELLENT for bass. 
COWICHAN RIVER – Trout fishing is GOOD with the increased insect activity. The river level is good and anglers are now targeting trout in the upper reaches. As the water warms, look for trout to be moving into different holding water, especially riffles. Tried and true fly choices at the top end include Prince nymphs, stonefly nymphs, pheasant tail nymphs, rolled muddlers, wooly buggers, Copper Johns and egg patterns. Elk Hair Caddis and Goddard Caddis dry flies work quite well during periods of surface activity. There have been reports that some of the rainbows are now making their way back into the lake.
TROUT – Trout fishing has been GOOD for trout at local lakes. Shore anglers are catching trout on Powerbait, Gulp Eggs, and worms while fishing close to the bottom. Pink, Chartreuse and Fluorescent Yellow have been good choices recently for Powerbait. Fly anglers are mostly fishing Wooly Buggers, Leeches and Chironomid patterns. Chironomid fishing has been very good. Trollers are catching trout with worms fished behind Gibbs Gang Trolls and on Gibbs Wedding Bands. Tomic Plugs in 2"-3" sizes have also been working well for trout.
BASS– Bass fishing is EXCELLENT on Island lakes as the water temperatures rise and the bass move into the shallows prior to spawning. Bass from 2-5 lbs. are being taken on a regular basis from most lakes. Anglers are having success on a variety of lures. Crankbaits, Spinnerbaits and soft plastics are all producing well now. Black yum dingers have been very effective. Langford Lake, Shawnigan Lake, Prospect Lake and Elk and Beaver Lakes are the best local bass lakes. St. Mary's Lake on Salt Spring Island is also a great lake for bass fishing. 
Fish Tip of the Week
Buy Two! Murphy's Law dictates that if you have a hot lure, you're sure to lose it. If you don't have a back up you're out of luck. So next time you pick up the newest hot lure or fly, consider buying two. And don't miss out on all the bargains at this coming weekend's Fishing and Boat Show at Eagle Ridge Arena in Langford!