Vancouver BC Fishing Report
By Rodney Hsu, Fishing with Rod | Last updated: September 3rd, 2018
With the salmon fishing season in full swing, many of you will want to try salmon sashimi. It is incredibly good, especially with the fresh salmon that you are catching. There are some really important points which you should be aware of before eating a piece of fresh raw salmon, so take a look at the above video.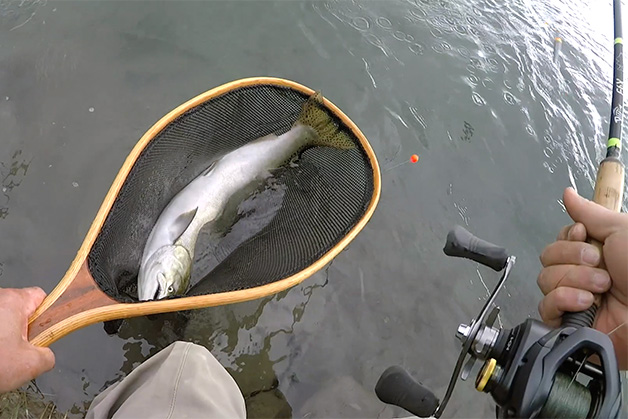 The Lower Fraser River has been excellent in the past several weeks as most anglers have been able to catch some sockeye salmon. All good things come to an end, sockeye salmon fishing is sheduled to be closed on September 4th for the Tidal Fraser River and 5th for the Non-tidal Fraser River. The river will however remain open for chinook and chum salmon fishing. This is fantastic news as fishing should stay pretty good for chinook salmon throughout September. What we are asking anglers to do during this time, is to practice selective fishing methods which would avoid by-catching sockeye salmon. This means, no bottom bouncing. Compliance will keep the river open throughout September.
Important fishery notices:
Chilliwack/Vedder river is low and clear, but we should start seeing some salmon showing up in the system. The two species which you will find soon are chinook and coho salmon. Sturgeon fishing in the Fraser River is also excellent due to the high abundance of food in the river (sockeye salmon). Capilano River mouth is producing coho salmon, we are just waiting for some rain to push these fish into the river now. Now that the weather has cooled down slightly, lake fishing should also be good.
For daily updates, please follow us on Facebook and Instagram.
Upcoming Events and Promotional News
Here are some of the latest news and upcoming events in the Lower Mainland and Fraser Valley!
Fraser Valley Salmon Society is doing a Fraser River cleanup on Thursday September 6th, meeting time and location is 9:00am at Gill Road Bar. The goal is to remove garbage left behind by anglers from the sockeye salmon opening this past month.
Check out the latest episode of "Learn How with Pacific Angler" which we've just produced. This one features Matt Sharp explaining how to pack and carry multiple fishing rods for your trips.
Capilano River
Capilano River is still very low. Most of the fishing action occurs at the river mouth and nearby beaches where coho salmon are staging. No fish will be making their way into the river until we get some rain. For the beach fishing at the river mouth, try early in the morning or during low tides. Casting and retrieving spinners, Croc spoonsand other saltwater jigs is the best way of catching them. They are usually pretty tight lipped, but persistence will usually get you a few bites.
Please remember that you might encounter the odd steelhead in the system. ALL steelhead (hatchery and wild) have to be released with care. Please report individuals who choose to do otherwise.
Stave River
Stave River has a good abundance of northern pikeminnow during this time of the year. This is a great kid-friendly fishery. Float fishing with bait such as dew worm is a good method. You may also encounter some cutthroat trout and mountain whitefish. If you are fly fishing, try nymphing during the day, and dry flies in the evening hours when fish are more active on the surface.
In a few weeks from now, we should start seeing the odd chum salmon returning to the river.
Hatch Match'r Fly and Tackle in Maple Ridge is your best one-stop shop on the North side of Fraser Valley. New owner Nick and his staff are always happy to help you, whether you are a beginner or a seasoned angler. They are open seven days a week.
Squamish River
Squamish River is dropping, still coloured. Cheakamus River has some opportunities in the upper section for fly fishing. Your target species are rainbow trout, mountain whitefish and the odd bull trout. There is a bait ban in effect year round, and catch and release applies to all species. In a few weeks from now, you should be able to encounter coho salmon, as well as chum salmon in the system.
Chilliwack River
Chilliwack River is very low and clear. This time of the year, there is always the possibility of getting into the odd coho salmon, or chinook salmon. It's still a bit early. In a couple of weeks from now, you should be able to find coho salmon spread out throughout the entire system in low numbers. These require lots of leg work to find, and the best time to catch them is early in the morning when it is just getting light out. Float fishing with roe is often the most productive method, but don't neglect casting and retrieving a spoon or a spinner.
Fred's Custom Tackle has a new store in Chilliwack! The address is 6336C Vedder Road, just north of Promontory Road. The store has up to 70 parking spots so very convenient for those who are towing a boat. Opening hours are 7:30am to 5:30pm on Monday to Saturday, and 7:30am to 4:00pm on Sunday.
Tidal Fraser River
Tidal Fraser River is still quite coloured. There is a bit of visibility so spincasting lures is not impossible. Sockeye salmon fishing closes on September 4th, but you can still target chinook and chum salmon. A bait ban will be in effect throughout September. These measures are done to protect several runs of fish, including sockeye salmon, Interior steelhead and coho salmon. If you want to target chinook salmon, your best bet is to cast a large spoon or a spinner. Incoming tide just before peak and the first two hours of outgoing tide is often the best time to catch them.
Please note that in spring 2016, Fisheries and Oceans Canada has issued a night time fishing closure for all finfish species in the Tidal Fraser River. To fish the Tidal Fraser River (downstream from the railway bridge in Mission), you are required to have a valid saltwater fishing licence.
If you would like more information on fishing in the Tidal Fraser River, please stop by Berry's Bait and Tackle in Richmond. Mike, Len and Michele have a team of knowledgable staffs who regularly fish this area and they can help you out.
Non-tidal Fraser River
Non-tidal Fraser River's water clarity is fair, good enough for bar fishing. Sockeye salmon fishing closes on September 5th, and we are asking anglers to practice selective fishing methods while targeting chinook and chum salmon which will remain open. Your best bet is to bar fish with a spin n glow. Compliance will keep the river open for fishing. If DFO observes too many sockeye salmon being by-caught then the river will likely to close for conservation measures.
Bass Fishing
Although the weather is cooling down a bit, bass fishing should still be good. Largemouth bass are active in some waterbodies around the Lower Mainland. Deer Lake in Burnaby, Mill Lake in Abbotsford, Sturgeon Slough in Pitt Meadows and Sumas River in Chilliwack are all good options to try out. Smallmouth bass have recently been reported in Cultus Lake.
Carp Fishing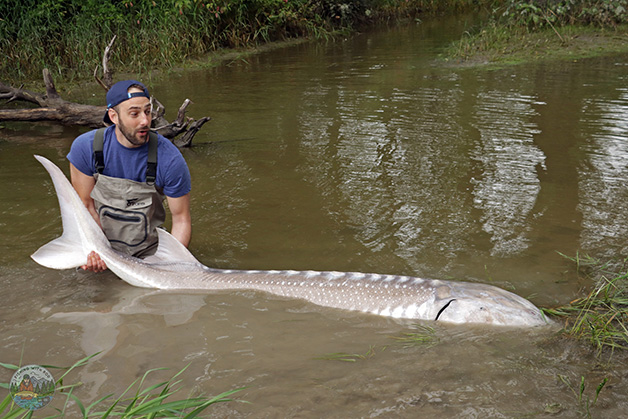 Carp fishing can in fact be incredibly fun on light tackle. Deer Lake and Burnaby Lake in Burnaby, Sumas River in Chilliwack, Sturgeon Slough in Pitt Meadows are good places to try this out. These can be caught by bottom fishing with corn and dough balls.
Lower Mainland Lakes
With the cooler weather, trout fishing in lakes should pick up again. Although urban lakes have not been stocked since June, there should still be some fish for you to catch. Catchable rainbow trout stockings will resume in late September for selected lakes.
These articles may assist you:
Please remember that for lake fishing, if you are fishing from shore, you are only allowed to use ONE rod. If you are fishing alone in a boat, then you are permited to use two rods. Only one hook is allowed on your rod. Please note that single barbless hooks are required to be used at some lakes. You should note the daily quota of trout for the lake where you are fishing. Catch and release is required in some lakes, please check regulations.
Before heading out, please read the freshwater regulations in Region 2 first. For more regular updates, make sure you follow our Facebook page. If you witness violations, please contact the nearest conservation office or phone 1-877-952-RAPP (7277). Conservation officers can not attend all calls, but they do their best to catch those who do not choose to play by the rules.
Good luck and please conserve your catches!
Rodney Hsu
Webmaster, Fishing with Rod Production