Vancouver BC Fishing Report
By Rodney Hsu, Fishing with Rod | Last updated: April 16th, 2018
New episode! Recently we visited Clearwater Beach in Florida and experienced its inshore fishing opportunities for redfish, snook and spotted seatrout. Check out the episode above to see what we caught!
Winter steelhead fishing in the Chilliwack River was fairly productive last week while river conditions cooperated. We have been getting quite a bit of rain this week, so conditions have not been as fishable. The odd coho salmon have been reported in the Capilano River but it is still very early for this fishery. Squamish River is still fishable but it has been high at times. Sturgeon fishing is excellent in the Fraser River. At the mouth of the Fraser River, bull trout fishing can still be done. Most lakes in the Lower Mainland and Fraser Valley have been stocked at least once with rainbow trout, so it is definitely the time for some lake fishing! For daily updates, please follow us on Facebook and Instagram.
Upcoming Events and Promotional News
Here are some of the latest news and upcoming events in the Lower Mainland and Fraser Valley!
Capilano River
Capilano River is quiet during this time of the year. Anglers have seen some winter steelhead in the system but please note that ALL steelhead, both wild and hatchery marked fish, have to be released with care. The Capilano River's steelhead run is threatened so please inform other anglers, and report those who choose to ignore by retaining steelhead illegally.
The odd coho salmon have been reported in the system, which is not too surprising. Capilano River has an early run of coho salmon, but it is still quite early in the season. This fishery typically peaks around late June/early July, depending on river level throughout spring. For best results, try fishing at first light. Float fishing with roe, casting and retrieving lures, or fly fishing with small streamers can all work. The key point is to be at the right place at the right time, where the fish are present.
Stave River
Stave River can be good for cutthroat trout fishing. Coastal cutthroat trout are highly mobile so fishing can turn on and off pretty fast. This time of the year fish are feeding on salmon fry, so if you are fly fishing be sure to give minnow patterns a try. Mountain whitefish are also present in the system. These can be caught by nymphing. If you are spin casting, try float fishing with bait (dew worm, single eggs), or casting and retrieving small lures. As the weather warms up, you'll also find northern pikeminnow becoming active in the system.
Hatch Match'r Fly and Tackle in Maple Ridge is your best one-stop shop on the North side of Fraser Valley. New owner Nick and his staff are always happy to help you, whether you are a beginner or a seasoned angler. They are open seven days a week.
Squamish River
Squamish River is fishable. Air temperature remains pretty low which is keeping the snow level down. This year's spring is definitely quite delayed. This time of the year can be great for trout and char fishing. These fish are preying on salmon fry right now so if you are fly fishing, try a minnow pattern. Bull trout are generally not surface feeders but because of what they are preying on, they can be enticed closer to the surface right now. You'll also find the odd rainbow trout and cutthroat trout in the system. It is winter steelhead season, so be prepared to bump into the odd steelhead even though the run is significantly smaller than other systems in the Fraser Valley. Please note that there is a bait ban for the Squamish River and its tributaries, and catch and release applies to all species.
Chilliwack River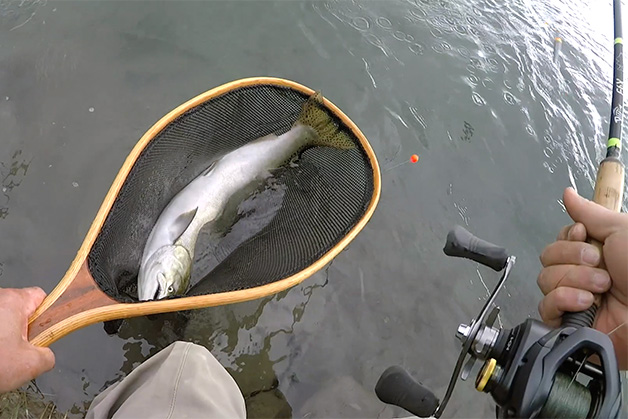 Chilliwack River's conditions were excellent last week. The river was a bit on the high side but water clarity was good. Steelhead fishing was also quite good according to many anglers who were out. This week conditions have not been as desirable. Rain has risen the river level quite a bit and water clarity is down. With that said, keep an eye on the hydrograph because it can drop and conditions can improve very fast. Once it settles down again, good steelhead fishing can be expected. This time of the year, because of the presence of salmon fry, these steelhead can in fact be preying on them. A small spoon like a Gibbs Gypsy being drifted under a float can work well. Casting and swinging a spoon can also be very efficient when covering large runs while river remains high.
Fred's Custom Tackle has opened a new store in Chilliwack! The address is 6336C Vedder Road, just north of Promontory Road. The store has up to 70 parking spots so very convenient for those who are towing a boat. Opening hours are 7:30am to 5:30pm on Monday to Saturday, and 7:30am to 4:00pm on Sunday.
Tidal Fraser River
Tidal Fraser River is getting dirty due to freshet. This time of the year can be really good for bull trout fishing in the section downstream from the Lower Pitt River. Most of these fish are originally from the Pitt River, and they are feeding on out-migrating salmon fry. They can be caught by using a small spoon or spinner, or you can even fly fish for them with minnow patterns. Please note that this is a catch and release fishery.
These fisheries are best done during the incoming tide.
Please note that in spring 2016, Fisheries and Oceans Canada has issued a night time fishing closure for all finfish species in the Tidal Fraser River. To fish the Tidal Fraser River (downstream from the railway bridge in Mission), you are required to have a valid saltwater fishing licence.
If you would like more information on fishing in the Tidal Fraser River, please stop by Berry's Bait and Tackle in Richmond. Mike, Len and Michele have a team of knowledgable staffs who regularly fish this area and they can help you out.
Non-tidal Fraser River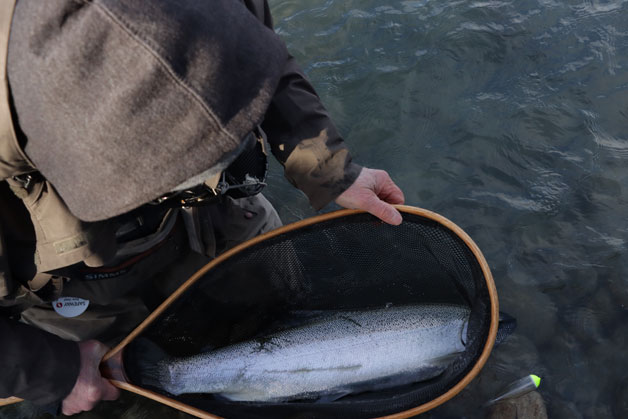 Non-tidal Fraser River's water clarity is no longer good as freshet begins. Productive cutthroat trout fishing can be found in the backwaters between Chilliwack and Hope, but your best to shift your effort to sloughs and creeks where water is clearer.
Local guides have reported good sturgeon fishing lately. Eulachon are now migrating into the Lower Fraser River so this is the primary diet. If you've never done sturgeon fishing before, it's best to try it out with a reputable guide first. Fred's Custom Tackle is currently offering sturgeon guided fishing trip specials until June 1st. $650 for an eight hour trip, available for up to four guests.
Lower Mainland Lakes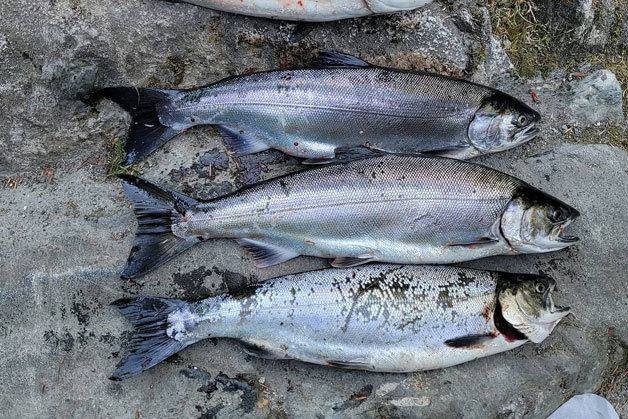 Lake fishing for trout is good right now and will only get better in the next two months. Many urban lakes have been stocked with catchable rainbow trout since the beginning of spring break. Our recommendations for kids are Rice Lake in North Vancouver, Lafarge and Como Lake in Coquitlam, Green Timbers Lake in Surrey, Deer Lake in Burnaby, Mill Lake in Abbotsford. Take a look at this page for these recommendations. Float fishing with a variety of bait such as dew worm, single eggs, deli shrimp, krill is the best way to catch these fish. These are excellent opportunities for introducing fishing to kids.
Kawkawa Lake is open for fishing. Kokanee fishing should slow down soon if you are bait fishing, but trolling should remain productive throughout the next two months.
Hicks Lake at Sasquatch Provincial Park has been stocked, so fishing should be very productive. Beside stocked rainbow trout, you'll also find native rainbow trout as well as cutthroat trout and kokanee in this lake. Nearby Deer Lake is also an excellent option.
Cultus Lake in Chilliwack can be good for cutthroat trout fishing near the surface. Look for risers as they chase down salmon fry. Bull trout can also be found near creek mouths. Water is still too cold for northern pikeminnow and other minnow species to be in the shallows.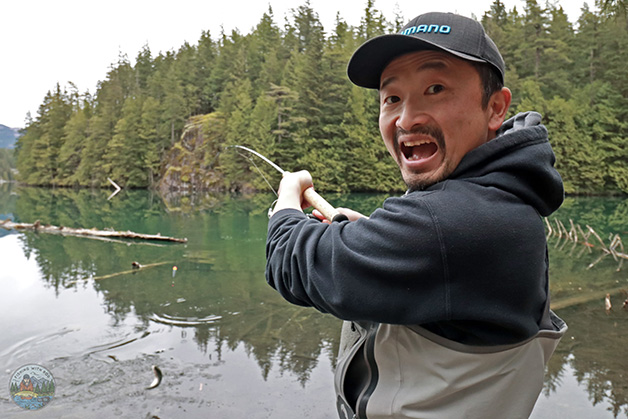 These articles may assist you:
Please remember that for lake fishing, if you are fishing from shore, you are only allowed to use ONE rod. If you are fishing alone in a boat, then you are permited to use two rods. Only one hook is allowed on your rod. Please note that single barbless hooks are required to be used at some lakes. You should note the daily quota of trout for the lake where you are fishing. Catch and release is required in some lakes, please check regulations.
Before heading out, please read the freshwater regulations in Region 2 first. For more regular updates, make sure you follow our Facebook page. If you witness violations, please contact the nearest conservation office or phone 1-877-952-RAPP (7277). Conservation officers can not attend all calls, but they do their best to catch those who do not choose to play by the rules.
Good luck and please conserve your catches!
Rodney Hsu
Webmaster, Fishing with Rod Production