Vancouver BC Fishing Report
By Rodney Hsu, Fishing with Rod | Last updated: May 13th, 2013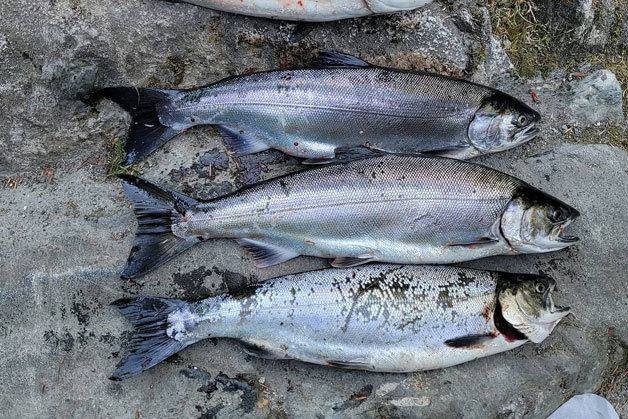 To celebrate its 10th anniversary, Freshwater Fisheries Society of BC is inviting all anglers to participate in its latest tagging research project. Tagged trout have been released into undisclosed lakes across this province. If you catch one of the first 150 tagged fish, you are eligible to win $100! More information...
This week's weather is expected to be a bit gross but the long term forecast for the May Long Weekend is looking promising. River fishing across the Lower Mainland is being put on hold for awhile as there are seasonal closures in effect. River condition is also not too favourable for systems that are currently open due to freshet. The streams that are worth trying out are Capilano River for the odd early coho salmon, Stave and Harrison River for cutthroat trout and mountain whitefish. Lake fishing is fantastic right now and will remain so for the next six or seven weeks. Urban lakes are well stocked with catchable rainbow trout, while more remote lakes are producing some quality fish for experienced and adventurous anglers. Fishing for carp, bass and crappie are also available in the Fraser Valley.
Please make sure you go to our Facebook page and click on "like". I am constantly adding updates such as latest fishing reports, new videos, articles and contests on it.
Upcoming Events and Promotional News
Here are some of the latest news and upcoming events in the Lower Mainland and Fraser Valley!
Our latest video feature takes a look at targeting lake rainbow trout and cutthroat trout with Gibbs Croc spoons.
Mystery fish contest #15 is now online! Identify for a chance to win ten Gibbs Croc spoons!
It's boating season, but be sure to have your pleasure craft operator card! If you do not have one yet, please go to this website and take the test. Conservation officers will be checking for your card and all boating requirements. We were checked and reminded last year during a trip to Alta Lake in Whistler.
BC Federation of Drift Fishers is having its annual general meeting on May 19th at 10am, at the Holiday Inn Express (9740 204th Street in Langley).
Capilano River
Capilano River remains quiet, with the odd winter steelhead being caught at times but they are now in spawning mode. Please note that ALL steelhead (hatchery marked and wild) have to be released with care. The odd coho salmon should start appearing in the system now. This river has an early run of coho salmon, which usually starts around May and peaks in late June and early July. If this week's rain results in the dam releasing more water into the river, don't be surprised to see some coho salmon entering the system.
Chilliwack River
Chilliwack River's condition is poor due to freshet and heavy rain. Please note that the river above the Vedder Crossing is now closed for fishing until July 1st. Downstream from the Vedder Crossing is only open for fly fishing until May 31st. When condition is favourable, the odd beautiful steelhead are still being caught.
Fred's Custom Tackle is your go-to store for the Chilliwack River fishery. Currently there are two locations, the original one by the Vedder Crossing in Chilliwack while a second new store in Abbotsford.
If you need accommodation or guide suggestions around Chilliwack, please take a look at the listing on Tourism Chilliwack's website.
Stave River
Stave River is still producing coastal cutthroat trout and mountain whitefish, which are feeding on salmon fry. If you are fly fishing, try minnow patterns but don't forget your dry flies and nymphs in case they are feeding on insects. These fish are generally between 10 and 16 inches long, so a 4wt or less is ideal for this fishery. You also have the opportunity to find some mountain whitefish, which primarily feed on insects. If you are spincasting, try using a small spoon such as a 1/8oz Gibbs Croc. You can also float fish with bait such as dew worm, single eggs.
Access to the BC Hydro picnic area is now closed due to dam construction (see map). Parking is also not allowed on the west side of the river so overall access has become quite difficult. You can still park at nearby parking lots and walk to the river. The best way is to access it by a boat from the Fraser River.
For information on salmon and trout fishing in the Stave River and tributaries on the north side of the Fraser River (Kanaka Creek, Nicomen Slough, Norrish Creek, Harrison River), visit Hatch Match'r Fly and Tackle in Maple Ridge. Owner Randy Morgan is also an eager flyfishing instructor so don't hesitate to ask him questions.
Lower Pitt River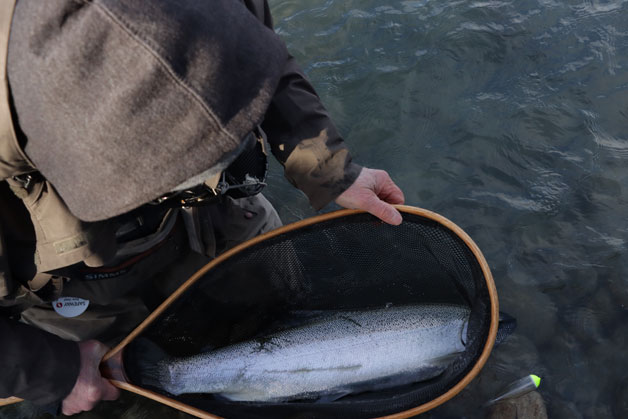 The Lower Pitt River is producing bull trout which can be anywhere from 1 to 8lb, or possibly more at times. This is a catch and release fishery. Because water clarity is poor due to freshet, the most common way to catch them right now is by bar fishing with roe. Please treat these fish with care so they can be released unharmed.
Harrison River
Anglers are still catching plenty of cutthroat trout. Kilby Beach area is a good shore access point, but those who have a boat seem to be doing much better by accessing creek mouths where fish are most abundant. These fish are feeding on salmon fry so small minnow patterns work well if you are fly fishing. If you are spincasting, small spoons such as 1/16 and 1/8oz Gibbs Crocs work well.
Squamish River
Squamish River condition is poor. Freshet has begun. Cheakamus River has also been raging due to large discharge from the dam. Fishing will be on hold for awhile.
Tidal Fraser River
Water clarity in the Tidal Fraser River is poor as freshet is happening until July. It is usually a bit better during incoming tide when clearer saltwater pushes into the river. Bull trout fishing is good during this time of the year, but poor water clarity means lure and fly fishing for them is almost impossible. The best way to target these fish is by bait fishing. Please note that all bull trout have to be released. The only fish you can retain are cutthroat trout that are hatchery marked (adipose fin mission).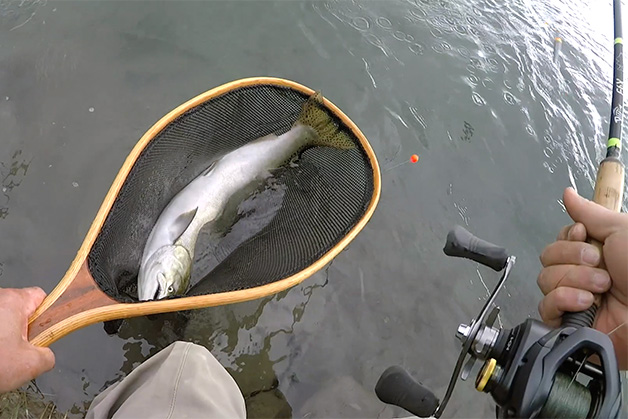 Now that the weather is warmer, you also have the opportunity to catch northern pikeminnow, peamouth chub and sculpin. While these species are not great table fare, they are fantastic species for introducing fishing to kids. Use small hooks baited with dough balls, dew worm, shrimp. Be sure to keep the bait right on the bottom, where the fish are.
To fish the Tidal Fraser River (downstream from the railway bridge in Mission), you are required to have a valid saltwater fishing licence.
For more information on this fishery and the latest updates on saltwater fishing around Steveston and the Tidal Fraser River, stop by the following stores in Richmond.
Non-tidal Fraser River
White sturgeon fishing has been good according to local fishing guides. Eulachon are now migrating into the system and spawning so they are what sturgeon feed on right now. This year's return of eulachon appears to be a bit better than previous years so that may have a positive impact on the white sturgeon fishery. Lamprey, dew worm are also excellent bait for this time of the year.
Book your guided white sturgeon fishing trip for this summer now before it is too late. Millions of pink salmon are expected to return to the Fraser River this September. When this happens, white sturgeon fishing will be excellent. September and October will definitely be the best time if you wish to experience this fishery. We recommend the following companies in the Fraser Valley.
Lower Mainland Lakes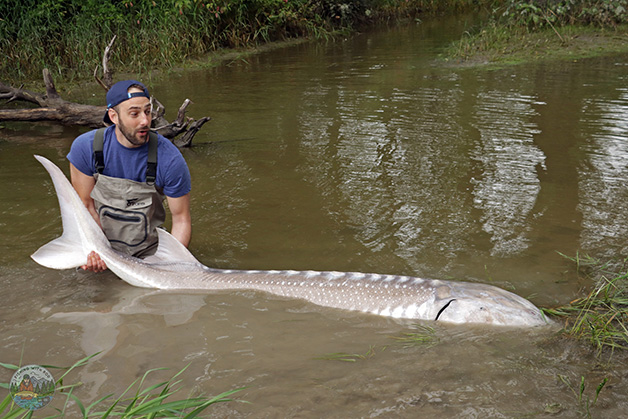 The Region 2's trout stocking database is usually updated once rainbow trout are stocked by the Fraser Valley Trout Hatchery. Spring stockings have been happening in the past month. Most lakes across the Lower Mainland and Fraser Valley have been stocked. Please note that the daily quota of trout has been changed this year for most Fishing in the City lakes, please check the regulations to see if it has changed for the lake where you plan to visit.
For all your introductory fishing needs, please visit Berry's Bait and Tackle in Richmond and Sea-Run Fly and Tackle in Coquitlam.
These articles may assist you:
Kawkawa Lake's kokanee fishery opened on March 1st but most fish are now in the middle water column, so fishing is poor. Fish will be found on the bottom feeding on plankton starting around mid June, when fishing will improve again.
Weaver Lake offers excellent rainbow trout fishing from shore and boats. Fishing is great right now. These trout are not very big, between 10 and 14 inches long so a light rod is needed. Check out this video feature if you are interested in this fishery.
Hicks Lake near Harrison Hot Spring is producing a variety of species, including cutthroat trout, rainbow trout and kokanee.
Lakes around Whistler have been ice free for several weeks. Alta Lake's catch and release fishery has been excellent, big cutthroat trout have been caught. Green Lake can be productive for bull trout near creek mouths. Alpha and Nita Lakes both produce small but plenty of rainbow trout.
Browning and Edith Lakes in Squamish have been stocked with catchable rainbow trout. Alice and Brohm Lakes are not stocked yet but can also be productive for both stocked trout from last year and small native cutthroat trout.
Cultus Lake has surface activities from coastal cutthroat trout and bull trout, which are feeding on salmon fry. Northern pikeminnow and largescale sucker are also moving into shallower water.
Chilliwack Lake offers good bull trout fishing, but you need a boat that can handle large lakes for this fishery.
Alouette Lake is now producing some kokanee.
Please remember that for lake fishing, if you are fishing from shore, you are only allowed to use ONE rod. If you are fishing alone in a boat, then you are permited to use two rods. Only one single hook is allowed on your rod. Please note that barbless hooks are required to be used at some lakes. You should note the daily quota of trout for the lake where you are fishing. Catch and release is required in some lakes, please check regulations).
If you witness violations, please contact the nearest conservation office or phone 1-877-952-RAPP (7277). Conservation officers can not attend all calls, but they do their best to catch those who do not choose to play by the rules.
Before heading out, please read the freshwater regulations in Region 2 first. For more regular updates, make sure you follow our Facebook page.
Good luck and please conserve your catches!
Rodney Hsu
Webmaster, Fishing with Rod Production