Vancouver BC Fishing Report
By Rodney Hsu, Fishing with Rod | Last updated: June 18th, 2018
Our latest episode features a trip in late May to Quennell Lake near Nanaimo on Vancouver Island. The target species is smallmouth bass, which can be challenging at Quennell Lake but the specimens this lake produces are often quite big.
Capilano River had a small bump on the water level recently but coho salmon fishing has not really improved. Chilliwack/Vedder River is closed to fishing in June and it will reopen on July 1st. Fraser River is high and dirty, sturgeon fishing is available and it has been good. Lake fishing remains excellent. This week's hot weather may change that however, try focusing on the evening bites instead. Bass and carp fishing is also picking up at local sloughs, marshes and ponds. For daily updates, please follow us on Facebook and Instagram.
If you are still thinking about booking an all-inclusive saltwater fishing trip this summer, take a look at our friends at Coastal Springs Lodge in Knight Inlet. Owner Cam and his team cater only up to 8 guests at a time, so it is an intimate experience where you will get the best service and fishing possible. The lodge still has a few dates left in July and August, so be sure to contact them and reserve a seat on that float plane.
Upcoming Events and Promotional News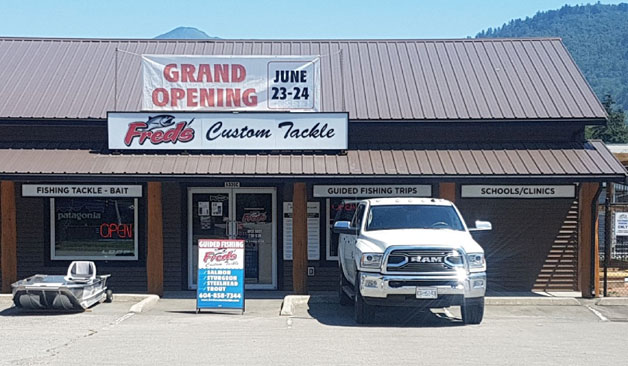 Here are some of the latest news and upcoming events in the Lower Mainland and Fraser Valley!
Fred's Custom Tackle will be hosting the grand opening of its Chilliwack store on June 23red/24th!
Fraser River Sportfishing Alliance hosted a town hall meeting last week. If you missed it, please check out the following video of the presentation from the meeting.
Capilano River
Capilano River is seeing the odd coho salmon in the system now. This river has an early run of coho salmon which typically peaks around late June/early July. This all depends on how high the river level is, which is controlled by the dam. The river level came up a bit last week due to rain but fishing did not really pick up.
Most of these coho tend to be on the small side, between 1 and 4lb, but some fish up to 6lb can be caught. Early in the morning is your best bet when targeting Capilano coho. Try float fishing with roe, or casting and retrieving a spoon or spinner. Fly fishermen also do well by stripping a small streamer.
Please remember that you might encounter the odd steelhead in the system. ALL steelhead (hatchery and wild) have to be released with care. Please report individuals who choose to do otherwise.
Stave River
Stave River can still have good cutthroat trout fishing this time of the year despite of the warm weather. Early morning and late afternoon when lighting is lower are probably your best bets.
Hatch Match'r Fly and Tackle in Maple Ridge is your best one-stop shop on the North side of Fraser Valley. New owner Nick and his staff are always happy to help you, whether you are a beginner or a seasoned angler. They are open seven days a week.
Squamish River
Squamish River is now running high and dirty due to freshet, Cheakamus River is also not very fishable for now.
Chilliwack River
Chilliwack River is now closed for fishing. The river will reopen on July 1st for its summer chinook salmon fishery. More information will be available as the opening date gets closer.
Fred's Custom Tackle has a new store in Chilliwack! The address is 6336C Vedder Road, just north of Promontory Road. The store has up to 70 parking spots so very convenient for those who are towing a boat. Opening hours are 7:30am to 5:30pm on Monday to Saturday, and 7:30am to 4:00pm on Sunday. Fred is inviting everyone to the GRAND OPENING of this store on June 23rd and 24th! There will be BBQ, gift card give-away, free seminars, and many more exciting features!
Tidal Fraser River
Tidal Fraser River is very dirty due to freshet. This time of the year can be good for bull trout fishing. This is a catch and release fishery so please release all bull trout with care. The only method possible right now is bar fishing with roe due to poor water clarity. There are other coarse fish such as northern pikeminnow and peamouth chub in the river now. These can be caught by using dough balls on a small hook. Fish close to the bottom where the fish are. Two hours before and after peak tide is the best period for catching these fish.
Please note that in spring 2016, Fisheries and Oceans Canada has issued a night time fishing closure for all finfish species in the Tidal Fraser River. To fish the Tidal Fraser River (downstream from the railway bridge in Mission), you are required to have a valid saltwater fishing licence.
If you would like more information on fishing in the Tidal Fraser River, please stop by Berry's Bait and Tackle in Richmond. Mike, Len and Michele have a team of knowledgable staffs who regularly fish this area and they can help you out.
Non-tidal Fraser River
Non-tidal Fraser River's water clarity is poor, and the level is high due to freshet. If you are out fishing on the boat, you must be aware of the large debris coming downstream with the strong current. This is a safety concern as large debris can be caught up by your anchor rope and accidents can occur very fast.
Local guides have reported good sturgeon fishing lately. Eulachon are now migrating into the Lower Fraser River so this is the primary diet. If you've never done sturgeon fishing before, it's best to try it out with a reputable guide first. Fred's Custom Tackle is currently offering sturgeon guided fishing trip specials until June 1st. $650 for an eight hour trip, available for up to four guests.
Lower Mainland Lakes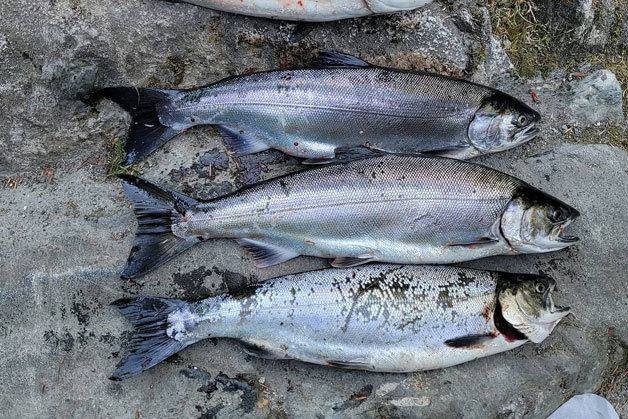 Lake fishing for trout is good right now and will only get better in the next two months. All urban lakes have been stocked with rainbow trout at catchable sizes (~250g). Our recommendations for kids are Rice Lake in North Vancouver, Lafarge and Como Lake in Coquitlam, Green Timbers Lake in Surrey, Deer Lake in Burnaby, Mill Lake in Abbotsford. Take a look at this page for these recommendations. Float fishing with a variety of bait such as dew worm, single eggs, deli shrimp, krill is the best way to catch these fish. These are excellent opportunities for introducing fishing to kids.
Kawkawa Lake is open for fishing. Kokanee fishing is slowly picking up. Fish are starting to school up again near the bottom at 40 to 45 feet deep. Trolling should produce well. If you can find a schooling fish near the bottom, anchoring up and bait fishing can be just as effective.
Hicks Lake at Sasquatch Provincial Park is still producing well. This lake produces three species - Rainbow trout, cutthroat trout and kokanee. Float fishing with bait is the most effective way of catching these fish. This can be done from a boat or shore.
Cultus Lake in Chilliwack can be good for cutthroat trout fishing near the surface. Look for risers as they chase down salmon fry. Bull trout can also be found near creek mouths. With the weather warming up now, fishing is best in early morning and late evening. You can also find northern pikeminnow and largescale sucker in the shallows now.
Chilliwack Lake can be good for bull trout now. Most of the fishing access is only available from a boat. Most of the fish are caught in deep water by trolling, but you can also bottom fish with roe as well. Please pay attention to the daily quota and size limit for bull trout.
Alta Lake in Whistler is still excellent for rainbow and cutthroat trout fishing. You can either fish from the docks at Lakeside Park or Rainbow Park, or from a boat where you have access to better spots. There is a bait ban at this lake, and all fish must be released. Try casting and retrieving a small lure, 1/16oz Gibbs Croc spoons have worked well for us. Other lakes worth trying in the area include Alpha Lake and Lost Lake.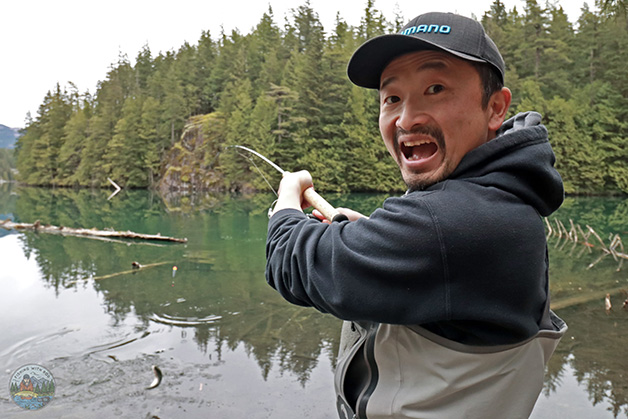 These articles may assist you:
Please remember that for lake fishing, if you are fishing from shore, you are only allowed to use ONE rod. If you are fishing alone in a boat, then you are permited to use two rods. Only one hook is allowed on your rod. Please note that single barbless hooks are required to be used at some lakes. You should note the daily quota of trout for the lake where you are fishing. Catch and release is required in some lakes, please check regulations.
Before heading out, please read the freshwater regulations in Region 2 first. For more regular updates, make sure you follow our Facebook page. If you witness violations, please contact the nearest conservation office or phone 1-877-952-RAPP (7277). Conservation officers can not attend all calls, but they do their best to catch those who do not choose to play by the rules.
Good luck and please conserve your catches!
Rodney Hsu
Webmaster, Fishing with Rod Production