Vancouver BC Fishing Report
By Rodney Hsu, Fishing with Rod | Last updated: August 6th, 2018
With the salmon fishing season in full swing, many of you will want to try salmon sashimi. It is incredibly good, especially with the fresh salmon that you are catching. There are some really important points which you should be aware of before eating a piece of fresh raw salmon, so take a look at the above video which we just published on our YouTube channel this week.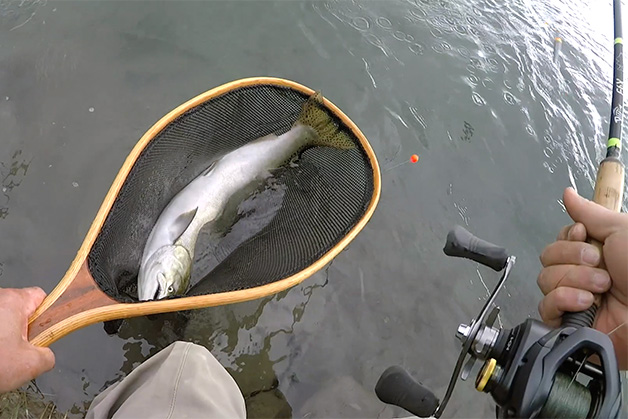 The Lower Fraser River opens to chinook and sockeye salmon fishing on Tuesday August 6th. Current in-season estimate of the total Fraser River sockeye salmon runs is around 14 million fish. There should be plenty of fish for all to enjoy. One important note that anglers should remember is that current water temperature in the Fraser River is at 20C and rising. This is going to increase the pre-spawn mortality significantly, meaning that a big percentage of the fish will never make it to their spawning grounds. Warm water means lower oxygen level, which is lethal for salmonids as they prefer water temperature at 15C or below. When you are out there fishing for sockeye salmon, please stop targeting them once you keep your limit. Any fish that you choose to catch and release, will likely be dead before the reach the spawning grounds. If you wish to target chinook salmon after you keep your sockeye salmon, give bar fishing a try as it cuts down the by-catches of sockeye salmon to almost none.
Important fishery notices:
Beside the Fraser River salmon fishery, you can also try trout fishing in most streams such as Skagit River, Chilliwack River, Chehalis River. Sturgeon fishing has also been excellent, and many guides are offering sturgeon/salmon combo trips right now. Capilano River mouth is seeing good numbers of coho salmon showing up, and anglers are getting into them.
For daily updates, please follow us on Facebook and Instagram.
Upcoming Events and Promotional News
Here are some of the latest news and upcoming events in the Lower Mainland and Fraser Valley!
Capilano River
Capilano River is very low due to the heat wave. The river itself is not really producing due to the low water level. You might find the odd coho salmon in the system, but your better bet is to focus on the mouth of the river where fish are likely to stage. This fishery is tidal dependent, it is best during low tide. If the low tide coincides with dawn, your chance of catching is even better. For this fishery, you'd need to cast lures such as spinners and saltwater jigs. So far this season the river mouth and saltwater fishery have been reasonably good. We are seeing good numbers returning to the area. This may possibly mean a very good fall coho salmon season this year, for all river systems.
Please remember that you might encounter the odd steelhead in the system. ALL steelhead (hatchery and wild) have to be released with care. Please report individuals who choose to do otherwise.
Stave River
Stave River has a good abundance of northern pikeminnow during this time of the year. This is a great kid-friendly fishery. Float fishing with bait such as dew worm is a good method. You may also encounter some cutthroat trout and mountain whitefish. If you are fly fishing, try nymphing during the day, and dry flies in the evening hours when fish are more active on the surface.
Hatch Match'r Fly and Tackle in Maple Ridge is your best one-stop shop on the North side of Fraser Valley. New owner Nick and his staff are always happy to help you, whether you are a beginner or a seasoned angler. They are open seven days a week.
Squamish River
Squamish River is now running high and dirty due to freshet, Cheakamus River has some opportunities in the upper section for fly fishing. Your target species are rainbow trout, mountain whitefish and the odd bull trout.
Chilliwack River
Chilliwack River is getting low and clear. The summer red chinook salmon fishery is pretty much over as most fish are now at their spawning stage. Between now and the fall salmon fishing season, you can try fishing for rainbow trout and mountain whitefish, possibly the odd bull trout as well.
Fred's Custom Tackle has a new store in Chilliwack! The address is 6336C Vedder Road, just north of Promontory Road. The store has up to 70 parking spots so very convenient for those who are towing a boat. Opening hours are 7:30am to 5:30pm on Monday to Saturday, and 7:30am to 4:00pm on Sunday.
Tidal Fraser River
Tidal Fraser River is still very dirty due to freshet. There isn't a whole lot of fishing going on, but there are coarse fish such as northern pikeminnow and peamouth chub in the river now. These can be caught by using dough balls on a small hook. Fish close to the bottom where the fish are. Two hours before and after peak tide is the best period for catching these fish.
Tidal Fraser River opens to salmon fishing on Tuesday August 7th. You can keep chinook and sockeye salmon, please see this fishery notice for details. For chinook salmon, bottom fishing with roe is your best bet, especially for chinook jacks. This time of the year however, has lots of coarse fish around so you may find yourself rebaiting your hooks quite often. For sockeye salmon, there really isn't one effective technique that works. In the past twenty years, I personally have only hooked perhaps three sockeye salmon by casting and retrieving lures. Sockeye salmon generally do not bite often once they enter the Fraser River, this is especially tougher when water clarity is really poor like right now.
Please note that in spring 2016, Fisheries and Oceans Canada has issued a night time fishing closure for all finfish species in the Tidal Fraser River. To fish the Tidal Fraser River (downstream from the railway bridge in Mission), you are required to have a valid saltwater fishing licence.
If you would like more information on fishing in the Tidal Fraser River, please stop by Berry's Bait and Tackle in Richmond. Mike, Len and Michele have a team of knowledgable staffs who regularly fish this area and they can help you out.
Non-tidal Fraser River
Non-tidal Fraser River's water clarity remains poor. Sturgeon fishing has been excellent. Fish up to 8 feet have been encountered. The odd 10 footers are also showing up once every few days! This is a great catch and release fishery which provides very useful data on the sturgeon population for biologists. If you've never tried it before, make sure you book a trip with an experienced guide. To target sturgeon in the non-tidal Fraser River and tributaries, you need to have a sturgeon tag on your freshwater fishing licence.
Non-tidal Fraser River opens to salmon fishing on Tuesday August 7th. As mentioned earlier, please consider bar fishing for chinook salmon once you catch your limit of sockeye salmon so incidental by-catches of sockeye salmon can be avoided. Catching and releasing fish in the Fraser River right now is not recommended as water temperature is already very high. Most of the released fish will have a very difficult time recovering and making it to their spawning grounds. Fishing is expected to be good, as we are looking at a fairly large return of sockeye salmon in the next several weeks.
We are expecting an opening for sockeye salmon retention soon, possibly by the end of the August long weekend. We will have the fishery notices posted as soon as they are released, usually on our Facebook page.
Skagit River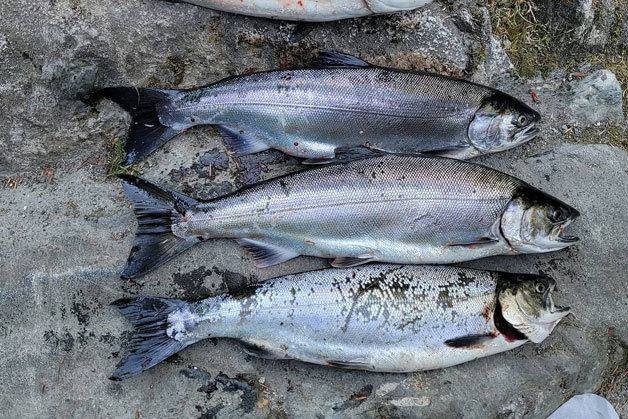 Skagit River just over one hour drive from Chilliwack is a good trout fishery. In the last couple of years, we have seen larger rainbow trout returning to the system and skinnier and smaller bull trout. This means the balance between the two populations has once again shifted. For rainbow trout, they can be a lot of fun in the evening time when dry fly action is hot. For bull trout, look for deeper holes and fly cast streamers or spin cast lures for these fish. The river is starting to get quite low. Mosquitoes are very active as usual, so be sure to bring bug sprays.
Bass Fishing
With the hot weather which we are experiencing, largemouth bass are active in some waterbodies around the Lower Mainland. Deer Lake in Burnaby, Mill Lake in Abbotsford, Sturgeon Slough in Pitt Meadows and Sumas River in Chilliwack are all good options to try out.
Carp Fishing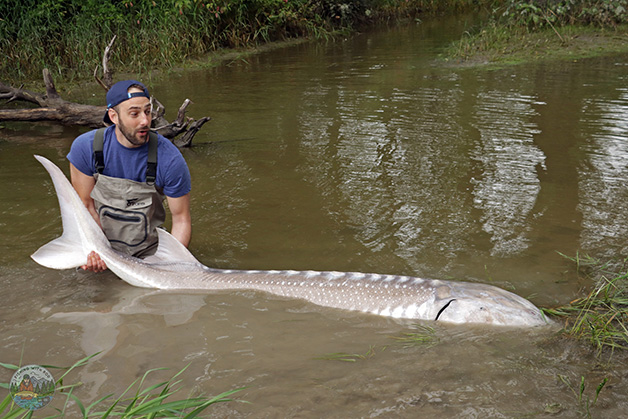 Carp fishing can in fact be incredibly fun on light tackle. Deer Lake and Burnaby Lake in Burnaby, Sumas River in Chilliwack, Sturgeon Slough in Pitt Meadows are good places to try this out. These can be caught by bottom fishing with corn and dough balls.
Lower Mainland Lakes
Urban lake fishing has slowed down due to the heat. If you are trying out these lakes, your best option is to go really late in the day or early in the morning when it is still cool. Fish are not active due to the higher water temperature, and are found in the deepest parts of the lakes. You should try fishing in deeper, cooler lakes that are found outside of Metro Vancouver for better results.
Kawkawa Lake is open for fishing. Kokanee fishing has been good, fish are schooling up on the bottom. Trolling works, you can also anchor up and fish bait or jig spoons on the bottom.
Hicks Lake at Sasquatch Provincial Park is still producing well. This lake produces three species - Rainbow trout, cutthroat trout and kokanee. Focus on the deeper parts of the lake right now as the weather is too hot.
Cultus Lake in Chilliwack is a great place to take kids. The lake has a good abundance of northern pikeminnow so they are easy to catch. Worms under a float can usually do the trick. Recently, catches of smallmouth bass have been reported. These are not native to the lake and report your catches if smallmouth bass are encountered.
Chilliwack Lake can be good for bull trout now. Most of the fishing access is only available from a boat. Most of the fish are caught in deep water by trolling, but you can also bottom fish with roe as well. Please pay attention to the daily quota and size limit for bull trout.
Ross Lake is open for fishing and it can be very productive for bull trout, rainbow trout and the odd brook trout. Most of the action takes place near the mouth of the Skagit River at the north end of the lake. With the hot weather, please release your fish as quickly as possibly when caught to ensure their survival chances.
These articles may assist you:
Please remember that for lake fishing, if you are fishing from shore, you are only allowed to use ONE rod. If you are fishing alone in a boat, then you are permited to use two rods. Only one hook is allowed on your rod. Please note that single barbless hooks are required to be used at some lakes. You should note the daily quota of trout for the lake where you are fishing. Catch and release is required in some lakes, please check regulations.
Before heading out, please read the freshwater regulations in Region 2 first. For more regular updates, make sure you follow our Facebook page. If you witness violations, please contact the nearest conservation office or phone 1-877-952-RAPP (7277). Conservation officers can not attend all calls, but they do their best to catch those who do not choose to play by the rules.
Good luck and please conserve your catches!
Rodney Hsu
Webmaster, Fishing with Rod Production